In a new documentary, In the Name of Your Daughter, two-time Peabody Award-winner Giselle Portenier tackles the grim subject of Female Genital Mutilation (FGM). The film centres around a woman-run Safe House in Tanzania that protects young girls during "cutting season." The film opens in Toronto at Hot Docs Ted Rogers Cinema on June 13.
We asked Portenier about the film and why she felt compelled to make it at this time.
SDTC: How were you first introduced to FGM?
GP: I first heard about FGM when I was in Kenya at the end of the 1990s but thought it was a custom limited to Ethiopia. At the time I was working for Britain's BBC. Efforts to persuade my executive producers failed miserably, and while I was making important documentaries on all sorts of other human rights issues, this film was left unmade.
Then I took early retirement and decided I needed to revisit this story. I subscribed to a Google alert on FGM, which I read every day from late 2010, keeping my eyes open to find a story that would be accessible, that might draw an audience, that might help get some attention to this issue.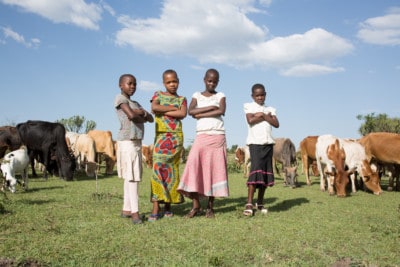 Then, I read about something happening in Tanzania and I knew I had my story, a story of courage, of hope, of girls standing up for their human rights. It was about Rhobi Samwelly and her Safe House that protects girls from FGM. Rhobi focuses on keeping girls safe during the so-called cutting season and then makes efforts to reconcile them with their families. Much of the time she is successful. Her Safe House is run with the support of donations from several charities. I knew this story was a way to get audiences to engage with this topic, and that's exactly what's happened. Audiences have fallen in love with the girls; adults can see that these children are just like their children; youth audiences can see that these girls are just like them, children with dreams that they want fulfilled. This is what inspired me and a small group of women to form the End FGM Canada (@CanadaFGM) network.
When I first started the documentary, I was still under the impression that FGM was something that happened here and there in a few communities; now I know that it is, in fact, the worst systematic human rights abuse committed against girls and women in the world today. Estimates are that every eleven seconds a girl undergoes female genital mutilation somewhere. And except for Antarctica, it's happening on every continent. In Africa, in Asia, in Europe, in pockets of South America, and in the West, even in Canada. We have over 100,000 survivors. Who knew? And what's worse is that unlike the rest of the Western world, there is little support for survivors, and no protocol to protect girls at risk. Government documents show that government officials themselves believe there are thousands of girls at risk, and yet there are no systematic efforts made to save these girls. That's astonishing.
Whose story stood out to you most, and why?
The story that stands out the most is Rosie's. Rosie is inspiring, adorable, and unintentionally hilarious. She was only eleven when she heard about the harmful effects of FGM at school; it was a week before the cutting season was due to begin in her community. She decided to confront her mother and asked her if she was planning to cut her. Her mother said Rosie had no choice; it was Rosie's grandfather's dying wish that every girl in the family was cut. So Rosie had to make a choice that no child should ever have to make: submit to female genital mutilation and child marriage, or run away from home. Rosie decided to bolt and was the only girl from her village who plucked up the courage to risk life and family and run away to the Safe House. At the end of the cutting season, accompanied by Rhobi Samwelly and in front of our cameras, Rosie confronted her mother in a heart-breaking scene. "Mama," she said, "I don't reject you, I just reject the cutting." Now Rosie is a beacon of light in a sea of darkness, teaching other children the wrongs of FGM.
What role does education play in ending FGM?
Education is huge in ending FGM, and there are lots of developments in this area; the international community is supporting education not just of parents, but of elders, community leaders, religious leaders, men's groups, and youth. It's a multi-faceted approach and strategy that's required to stop FGM. The Safe House is one such strategy – alternate rites of passage are another; getting youth involved is a third. They all have a part to play.
Do you think it's possible to end this practice during our lifetime?
I absolutely believe that we can. There is an incredibly strong grassroots movement that is growing by leaps and bounds. Men are joining the fight, and religious leaders (Christians and Muslims – this is not a religious requirement) are getting involved. Children and youth are themselves becoming leaders in the campaign. Just think, we've had a village screening campaign in Tanzania with this film and the day after the first such screening last July, three girls, just nine and ten years old, arrived at the Safe House. One was brought by her own brother who wanted to save her from FGM. Hearts and minds are changing.
How has your perspective on this practice shifted since making this doc?
There are people in some quarters who have turned a blind eye to this issue, especially in Canada, because they are afraid of offending other communities and treading on toes, thinking this is a cultural tradition we Westerners have no right to speak up about. This is my biggest shift. I absolutely 100% believe that not only does every human being have a right to speak up against FGM, we have an obligation to do so. This conviction comes from meeting the brave girls who are standing up against their parents, their elders, and their communities. The young girls who ran away from FGM and who were so clear in their thinking and saying that FGM is a fundamental abuse of a girl's human rights. It's child abuse, plain and simple, and it has to stop. It was such an honour to be able to be their trusted messenger. Pretty quickly my goal with this film became to give these girls a voice and change the conversation around FGM to be about girls' human rights, not culture.
We are all human beings, no matter our colour, race or religion, and speaking up and protecting each other's rights is a duty as well as a privilege.
What do you hope audiences take away from this film?
I want audiences to come away from this film about the world's bravest girls with absolute and total clarity. FGM is a human rights violation; it's child abuse. It has to stop. I want them to embrace the notion that every girl across the globe is entitled to the same fundamental human rights as their own daughters. There is no ambiguity here; girls everywhere have the right to live a life free from torture, a life free from the abuse that is FGM; the right to be educated; the right to be allowed to follow her dreams. And I want people to ask themselves, "How far would I go to protect my girl from this cruelty?" And then I want to challenge them: speak out, step up, take action, protect other girls' rights in the name of your daughter.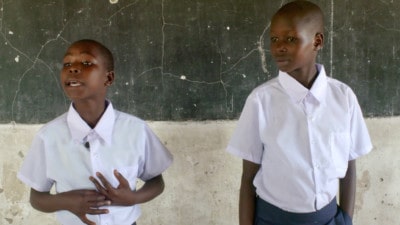 What specific actions would you like to see taken?
I want Canada's government and specifically our self-proclaimed feminist Prime Minister to embrace this issue publicly; I want him to focus development money on the battle against FGM globally; I want to see a National Action Plan in Canada to provide comprehensive, culturally sensitive care for survivors, and proper protocol to protect girls at risk.
I want Canadians to be as brave as the girls in the film and end the silence around this issue. Civil society, the media, government: everyone has a role to play in getting FGM prioritized both at home and abroad. Ending the current cloak of silence is a good place to start.