Lichia Liu is the artist behind Gotamago, a line of beautiful, handmade watercolour greeting cards. Her cards mix a whimsical aesthetic with a sense of humour, (see: a card depicting a bowl of noodles that reads "You're the one pho me,") a sense of adventure (a design featuring a stack of vintage suitcases beside the words "The world is waiting,") or a sense of place (like this scene from Beijing.)
SDTC: How did you get started creating?
Lichia Liu: I think I began to draw as soon as I could hold a crayon in my hands. Growing up, I was always making things for my family and friends: strangely-bound books, birthday and christmas cards, hand-drawn postcards and album covers. As I got older, I got into the habit of carrying a sketchbook wherever I go. Then one day, to my amazement, I discovered that people would actually pay me for my drawings!
SDTC: What's your favourite thing you've ever made?
LL: I was commissioned a series of four bicycle illustrations for Switchback Cyclery, a social-purpose bike shop that recently opened in Riverdale. All four bicycles were carefully selected and researched with my client's full involvement, which made the project a real joy to work on. My heart did a little dance when I finally saw all four drawings framed on the walls in the storefront!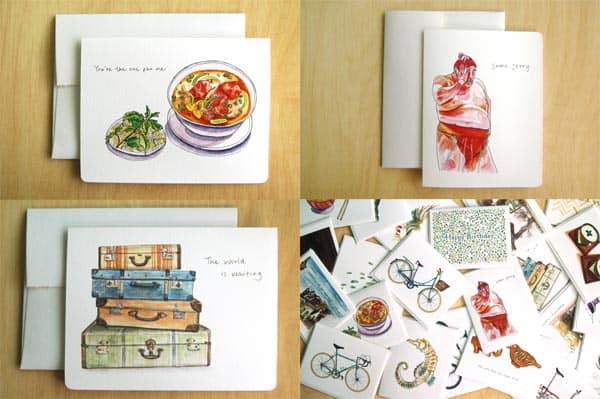 SDTC: What advice would you give to young artists?
LL: To paraphrase Marcos Chin: be prolific, and work very hard. Also, be savvy about marketing yourself, and give back to the community. I read recently that there are three key ingredients to success: talent, hard-work, and likeability. The catch is that not all three are required in the beginning; you only need to possess two traits out of three to be on your way!
SDTC: What's the best reaction/story/experience you've ever heard in relation to your pieces?
LL: Being a Taiwanese-Canadian with connections to Japan, many of my drawings contain references that are not apparent if you are not familiar with Asian culture. However, it becomes all the more personal and delightful when the reference is caught. When one of my clients saw my egg-cake animal drawing, she immediately cried out "bungeoppang!" — a Korean fish-shaped pastry filled with red bean. I am now in process of modifying the drawing for her wedding invitation!
SDTC: Why should people come to the Flea?
LL: The Gladstone Flea is a unique celebration of Toronto's diverse and talented community of artists and artisans. What better way to spend a saturday afternoon than discovering hidden treasures and people-watching in one of the most historical places of the city?
Find Gotamago at the Gladstone Flea on Saturday, August 3rd from 10 am 'til 4 pm at 1214 Queen St. W. Shop Gotamago on Etsy. http://www.etsy.com/shop/gotamago