Hailing from Guelph, producer/composer Kitzl plays with organically derived sounds in an electronic, pop-driven way, creating dramatic songs and otherwordly soundscapes. She'll sample everyday sounds (like gates, pottery, and branches), mix in the voices of coyotes, frogs, crickets and birds, and then layer in her own vocals.
She recently released the vid for her first single, Armadilla, which precedes her upcoming 2019 album.
We caught up with her this week.
SDTC: What tracks/sounds are currently in heavy rotation for you these days?
"Fennir yfir" – Ásgeir
"THE MESSAGE" – M. I. A.
"Baby" – Tei Shi
"Silos" – Cautious Clay
"Go to Hell" – Empress Of
"Miasma Sky" – Baths
"Dearly Beloved" (kingdom hearts soundtrack, the TPR cover is really nice)
Fave sound/set you've EVER created, and why?
One of my unreleased songs is built almost entirely from samples I took from a classical guitar trio I'm part of, with two really skilled guitar friends. There are pads I made from reversed sustained chords and then some jingly, baroque melodies pitched up and down. The overall sound is really exciting to me; kind of glitchy and textured, but the tone is mellow from the nylon strings.
What holiday tradition do you like to keep with your own family?
I think we all love watching my dog open his presents. He gets so hyped for Christmas presents…it gives me cute aggression.
What's your go-to song for getting stuff done?
Hmmnn. Orinico Flow makes the chores do themselves, so definitely that one on loop.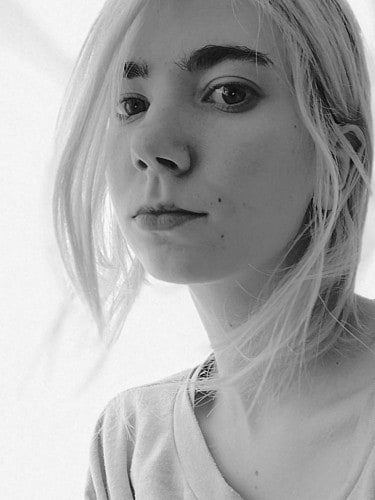 What advice would you give to your fourteen-year-old self?
Hey güüuürl, it me from the futuuůure. Time is sOOo coOoOL. ~~~~¿¶~§~~
Who has made a big impact in your life recently, and how?
Henlo, My Creator. Henlo recently taught me how to dance so I could make my music video. I've always felt extremely uncomfortable dancing, but now I'm extremely confident in my dancing.
What does your ideal Saturday look like?
I'd eat, sleep and jump in a jumpy castle. And adopt a cat or something.
What's the best part of being your current age?
I can travel back in time and tell my past self how cool time is!
What are you sick of hearing about?
Stress sweat.
What is your mantra these days?
Mad,
Sad,
Glad.
What art work would you love to have in your space/on your walls, and why?
I'd love to have a massive aquarium of realistic robotic AI fish. I love how fish and aquariums look but I feel bad for them and the "pet trade" is a disaster. Some happy AI fish might work well.
Fave rainy day comfort food? Or activity?
Fruit By The Foot! Favourite activity would be unwrapping them and whipping them out. Especially on a rainy day.
Fave place to spend time in Toronto?
My brother lives in Toronto. I like going to his place. I also love looking at the boats on the waterfront and watching the ducks play capture-the-flag.
When you were a kid, what did you want to be when you grew up?
Marine biologist fo' shooo.
What adult task would you like to get better at?
Being on time and just being faster at normal stuff like chopping vegetables and showering and going to sleep.
If you could spend a year studying something, what would it be?
Definitely another language or even two. German and Korean, I think.
What should we be paying more attention to?
Apparently we have been putting Earth microbes into space, which could seriously harm potential distant life. I think that's an important thing to address. Also plant milks.