For about a year, our inbox has been heavily populated with Cannabis-themed invites, from rolling parties to overnight farm adventures, private film screenings, and high dinner parties. At the door, we've received every type of swag, be it weed cutters, bath salts, or baseball hats—all pushing various marijuana companies primed for big business.
In all the frenzy and excitement leading up to the legalization of cannabis sales this Wednesday, one story was a bit (intentionally?) forgotten: what about the hundreds of thousands of Canadians who have a criminal record for an act that will no longer be considered a crime?
That is why DOJA, Cannabis growers based in British Columbia's Okanagan, began PARDON: a collection of apparel that spreads awareness of this inequity, with 100% of proceeds going to Cannabis Amnesty.
PARDON is also a reminder that there are half a million Canadians with non-violent minor criminal records with regards to cannabis offences. HALF A MILLION. Unfair and unequal enforcement of laws has meant that marginalized communities have been disproportionately affected. These convictions prevent people from renting homes, volunteering and finding meaningful employment.
You can support this cause by shopping the PARDON line of products (here and at Queen West's 18 Waits) and by signing the petition that shares your belief that no Canadian should be held back by a criminal record for an act that will soon no longer be a crime.
We caught up with the creatives behind this initiative, Maria Jose Arias (Art Director, Juliet), Rachel Harding (Writer, Juliet) and Natalie Wallace (Brand Director, Hiku) to find out more.
SDTC: Can you share with us how you originally came up with the idea? What kinds of questions were being bounced around the boardroom?
Maria Jose Arias (Art Director, Juliet): DOJA is a brand that operates with respect and sensitivity. We believe that a vital part of being a good company within the cannabis industry is respecting the origins of the industry and, in particular, considering the half a million Canadians with non-violent minor criminal records.
To create PARDON, especially in the lead up to legalization, was a chance to demonstrate our values and that we have a cause and calling in the world that is bigger than profit. The original ask that came to us was to find a meaningful way to get DOJA involved in the story of Canadian cannabis legalization while staying true to their socially conscious point of view. To have a brand that is so excited to "zig" when the rest of the industry is "zagging" is what allowed us to totally abandon what would be expected of a cannabis brand right now.
Rachel Harding (Writer, Juliet): The big questions that led us to PARDON began as simple ones. "What, or who, is missing from the story of legalization in Canada?" Once we addressed this, more questions came quickly. "Will the unfair prosecution of minorities under cannabis laws be addressed in Canada's legalization model? How can DOJA as a brand acknowledge that this is wrong? How can we try to make it right?" This kind of thinking led us to working with Cannabis Amnesty and creating PARDON.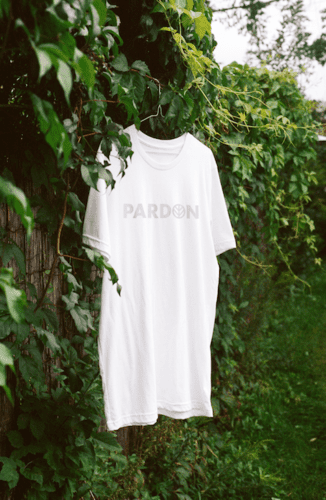 Why was this an important message for you to share?
Natalie Wallace (Brand Director, Hiku): Over 500,000 Canadians have criminal convictions for non-violent, minor cannabis offences. With legalization in sight, we at DOJA believe it's our duty to not only look forward, but to acknowledge those who have helped to make it possible.
It's easy right now to get caught up in the excitement of legalization, but to move forward with legalization without righting past wrongs is irresponsible. DOJA, as a cannabis producer, can't turn a blind eye to this issue. Cannabis brands should be the first to take a stand and move the conversation along.
What kinds of conversations do you hope will emerge from this project?
Natalie Wallace: We hope that this project challenges people to look at the cannabis landscape as a whole and to talk about who legalization is benefitting and who it leaves behind. We hope these conversations compel more people to sign the petition at Pardon.life to lobby the Canadian government for a mass pardon so that we can actually create change.
Why did DOJA and Juliet decide to partner with Cannabis Amnesty?
Natalie Wallace: We recognized a shared value and pursuit with the organization. They are a great non-profit whose sole purpose is to lobby to ensure a mass pardon to those convicted with minor non-violent cannabis possession. Their work aligns with what both DOJA and Juliet believe in, so it just made sense to jump onto the same team; to do otherwise would be a disservice to them, ourselves and the goals of this initiative.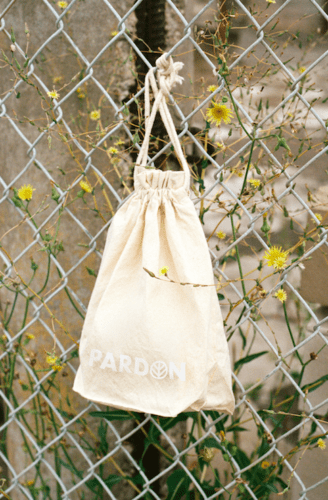 What discovery did you make during the process of this campaign, or creating the collection, that really shifted your thinking?
Maria Jose Arias: For many of us who worked on this project, the campaign changed our perception of who a person with a cannabis conviction is. These are respected members of your communities and families, who are living with the lingering effects of how a conviction, even a minor non-violent charge, can affect their entire life.
Retroactive pardoning is not just a philosophical thought experiment; it will have a massive impact on hundreds of thousands of Canadian lives.
How will the PARDON collection be distributed to Canadians?
Maria Jose Arias: The PARDON products can be purchased through the website and in the DOJA Cafe in Kelowna, BC. We have also recently received inquiries from independent boutiques who have come into contact with the initiative and felt inspired to join the cause. We also had a PARDON truck in Vancouver and Kelowna selling merchandise and inspiring people to sign the petition.
Anything else you want to share regarding feelings towards October 17? It's definitely a moment in Canadian history that is being met with a lot of different views and feelings.
Rachel Harding: What's important to remember is that the PARDON initiative goes beyond any personal feelings about cannabis use. This is about justice. If you believe that Canadians shouldn't continue to be punished for a minor conviction once it is legal, you believe that no matter what the circumstances are.