You've probably seen the bright pink billboards around the city advertising this summer's buzziest new musical. &Juliet is worth the hype — and you should absolutely head out to see it before it leaves Toronto for Broadway.
The premise of the musical is simple — what if, in the classic tale of Romeo & Juliet, Juliet didn't kill herself, and decides to give herself a fresh start? As we watch this story unfold, the parallel plot follows Shakespeare himself and his wife Anne, who, lacking agency in her own marriage, pushes for the play to be rewritten and star an independent Juliet.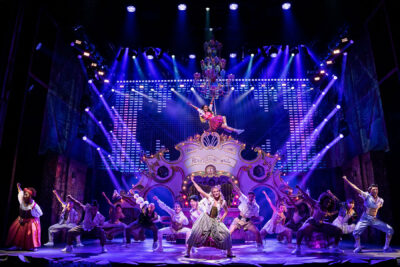 After the death of Romeo, Juliet, played by Lorna Courtney, embarks on a series of adventures in Paris with her two best friends and her Nurse. This Juliet isn't meek or mild. Courtney's dynamic and confident presence on stage truly gives new life to the character we all thought we knew, along with outstanding vocals and range.
Betsy Wolfe, who played the starring role in Waitress on Broadway, steals the show as Anne. She is as much a heroine as Juliet, constantly fighting for control over her own destiny while keeping Shakespeare's ego in check with her witty one-liners. Another crowd favourite was Melanie La Barrie as Juliet's Nurse, doing an incredible job of balancing a nurturing role with many comedic moments — including a rapidfire monologue.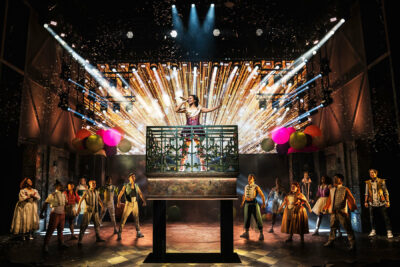 While strongly rooted in female empowerment, the musical also follows another heartfelt story with Juliet's non-binary best friend May. Instead of being stuck on the sidelines as Juliet's cheerleader, May also gets their chance at love while in Paris. Their touching rendition of Britney Spears' "I'm Not a Girl, Not Yet a Woman" will probably activate your tear ducts.
The songs featured in &Juliet are track after track of instantly recognizable favourites, all written by pop music powerhouse Max Martin. Songs from The Backstreet Boys, Katy Perry and Britney Spears play particularly pivotal roles in the characters' journeys through love and self-discovery. These covers are everything but bland. The music is cleverly employed, and like in any good jukebox musical, often feels like it was created just for this story — but you still get a little fix of nostalgia for some iconic 90s, 2000s and 2010s bops.
&Juliet is a feel-good, empowering and accessible musical that will appeal to the masses, with touches of magic that make it feel truly special. The production value is also impressive — you can expect fireworks, moody smoke, and confetti cannons. With a spectacular ending that had everyone up on their feet (clapping and dancing), it's almost a guarantee that you'll leave in a better mood, and perhaps pondering the question: Why wasn't it Juliet & Romeo?
&Juliet is playing at the Princess of Wales Theatre until August 14.