As a child, I often passed the Avenue Road Arts School in a car, driving back and forth from my mom's house to my dad's house. The old manor, with statues on the lawn, always intrigued me. Looking out the window, I'd wonder what it was like inside and what happened in that space.
The first time I entered the building was when I was in my last year of high school; I can't recall exactly why I ended up walking through the entrance, but I think I was picking up my younger sister from a birthday. Point being: It was as magical inside as I had predicted.
I still have a vivid memory of walking upstairs, to the third-floor attic space, on the creaky hardwood stairs, and wandering into a room that was completely covered in art, with a papier-mâché tree that kids could walk through and a colourful book area that was more inviting and cozy than any nook I'd ever seen. "That's what sold me on the house," says founder Lola Rasminksy, who explains to me that when she purchased the building from The Royal Conservatory of Music in 1993, a caretaker had lived in the third-floor space. "There was a little place that the caretaker kept his dog. It's a magical little space. I call it the secret room, and I tell kids that adults aren't allowed in there."
It is indeed an enchanting space, one that left a lasting impression on me. In that instant, back in 1997, I made a silent promise to myself that if and when I had a child, I would send them here for an art class. My son is four and a half, and this fall will be his third season in the school. Some of the art he's brought home is now framed and hanging on our walls.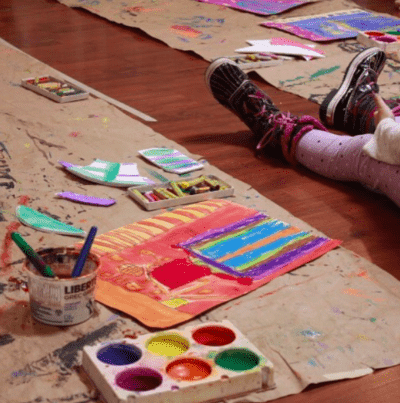 This year marks the twenty-fifth anniversary of the Avenue Road Arts School in its current home, but the history actually goes back four decades. What now serves almost five thousand students per year began in Lola's basement in 1979. "I had been a music teacher and found that I didn't make the world's best employee," she smirks. "I wanted something to call my own." In the Forest Hill neighbourhood, Lola began inviting students into her home; what began as a handful of children quickly gained popularity. "By the time I moved the school, I think we had about a hundred children coming through our home each week, and I was starting to have adults in the evening. It was time for a bigger place!"
If you love Toronto history and enjoy discovering old homes, the Avenue Road Arts School is a treat to explore. If you ever get a chance to do so, you will notice the stained-glass windows, turn of the century hand-carved mouldings, and tiled-over fireplaces in several rooms. The house was built in 1910, owned by Doctor Cawthra (presumably who Cawthra Avenue is named after), and it was later turned into a boarding house. "People have memories of an Italian tenor who lived and taught music lessons here," says Lola, explaining that it was later purchased by The Royal Conservatory of Music, from whom she purchased the building."They put all their branches up for sale, so it was properly zoned for a school, which was important, because my house wasn't!"
During our chat, which took place in the second-floor kitchenette, I loved listening to Lola's passionate pitch as to why the arts are important for children: "I think it's the one place where they can discover their uniqueness, because they're always making choices that no one else is making. When the kids come out of their classes, all the projects are a little bit different, because it's not formulaic. They've made the choices and it's those choices that make them feel like, 'This is who I am! And I'm proud of who I am!' I've always felt that fostering the imagination is probably the most important thing you can do with a kid. They can be what they want, and that's very empowering."
Lola also shares about the life skills learned through the arts. "They have to stay focused and be persistent. Art projects aren't instant projects; they take time and that's a good message: you have to keep working on something." As a parent of a child in preschool arts, I find that these important life lessons filter down to the very young. Even at age three, work is not brought home after every class; projects are cumulative and take weeks to complete. It's most impressive.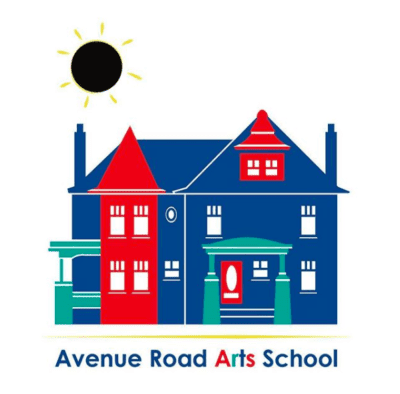 Since 1993, the school has grown significantly, always experimenting with new classes, including new additions this year: Fashion Design for Kids and Digital Photography. When I ask Lola what are the most significant changes that have taken place, she refers to the era pre-internet: "We used to print five brochures a year for kids and four brochures for adults." Just thinking about it and all the mailing seems to exhaust her. "Now it's all online."
What hasn't changed is the school's commitment to delivering high-quality arts programming in a warm and congenial environment. "It's really important to me, the atmosphere that the staff create. It's important that everyone be friendly and supportive and recognize that when people come to do art, they are often intimidated." (A few classes have been designed with this specifically in mind: Drawing for The Terrified, Painting for The Terrified.)
Adult students come to Avenue Road Arts School for a variety of reasons. Most are there because they aren't being creatively fulfilled in their place of work, and a class at Avenue Road Arts School fills that need, that desire to experiment and be artistic. Many also come when they are in a transitional chapter in life (when their children have left the nest, or they're at the onset of retirement). Others use art as a way to get through difficult times, be it a divorce or death—a loss of some kind.
Wanting to extend access to as many as possible, the Avenue Road Arts School established a charitable arm in 1995 called Arts for Children (now VIBE Arts), which reaches eight thousand kids, but Lola also maintains a scholarship fund. "We're now working with fifteen other schools, providing scholarship support for kids who want to go to dance schools, music schools, film schools, and here."
One of the other programs that the scholarship fund includes is outreach to schools in highly dense Toronto neighbourhoods that service many new families who have recently immigrated. "Last year we went to Rose Avenue School. I think they have over a hundred languages spoken there. Those kids do after-school programming with our teachers at their school, which is wonderful." It is this accomplishment, the scale of the give-back, that Lola is most proud of.
While the school has been a steady hub of activity in the community for a quarter of a century, there were definitely chapters when the future wasn't certain. "When they closed half-day kindergarten, we lost 150 students—just like that." And of course, those years when the St. Clair streetcar tracks were being ripped up also deterred enrolment. "We've held on. It's not the end of an era; it's really the beginning."
Avenue Road Arts School winter registration is now open. Try something!