Montréal-born, Toronto-based Aline Homzy is an award-winning classical and jazz violinist and composer. She's performed at the Daigu International Jazz Festival in South Korea, the TD Toronto Jazz Festival and the Edinburgh Festival Fringe. She has studied with the likes of Francine Pépin, Jean MacRae, Andrew Dawes, Mark Fewer, Drew Jurecka, Ted Quinlin and Jon Maharaj. Now, she plays her own original compositions, jazz, classical and pop music around the world.
Most recently, she has started up a weekly series—with an intentional focus on female instrumentalists—at Sapori Wine Bar (1588 Dundas St W). It's happening every Sunday from 5 to 8 p.m.
We chatted with her about her career, what she loves about the violin, and why you should definitely hit up her wine bar series this weekend.
SDTC: How did you come to decide on violin as your instrument of choice?
AH: I grew up in Montréal and was raised in a musical family. We did not have much money, but my parents invested what they had in our education and musical development. I had the choice to play flute or violin. I chose the violin because my older sister played it and at that age, all I wanted to do was be like her!
Who were your musical influences growing up?
My parents were both musicians. My mom played the double bass and electric bass, and my dad was a tuba virtuoso-turned-jazz-prof. We listened to so much music growing up. My parents tried to shelter our musical taste by pumping solely jazz and classical records in our surrounding, but I soon discovered other music. I do think that having been exposed to such music from an early age helped me focus on what I personally love in music. I started listening to punk-rock as well as techno, but I'd still go see the Montréal Symphony Orchestra, with my friend whose dad played cello in it, almost weekly.
I have always been inspired by how harmony can change the context of a melody. I am still trying to figure out how is it that music can be such an emotional manipulator: from one moment to the next, you're taken on a journey through excitement, sadness and suspense (and beyond). It is magic.
I was encouraged to go see concerts and be a part of the musical community in Montréal. I was taught to support musicians by being present and paying for their music. I saw a lot of original music performed and I witnessed ideas being developed and musicianship growing. All of these ingredients have inspired me to write my own music and develop possibilities on the violin as an improviser and composer.
What qualities do you love about the violin?
The violin has so many facets to it. I often think of Arnold Boecklin's painting "Self-Portrait with Death Playing the Fiddle," which is what inspired Mahler's Scherzo in his fourth symphony. The violin is an ideal vessel for the communication of an array of emotional states. From dark to light, there is a rich historical tapestry associated with it.
I played on an instrument that was from the 1500s. It survived multiple wars, the plague and lots of travel. Because of its light weight and small size, the violin is prevalent in many cultures around the world. It is associated with myriad genres of music. I love this about the violin. I think many people, especially in the western world, really miss out because they scarcely associate the violin outside of western classical music and they are often surprised by what you can do with the instrument! I love being able to share a different perspective.
What is your favourite piece of music to play?
I love a piece of music that presents a clear assertion but that makes you think about the best way to represent its sentiment. I love when melodies are perfectly fitted harmonically or are musical in ways I could have never imagined. It makes playing the music fluid and immediately emotionally captivating. On the flip side, there's a lot of music that lacks this. I find it very difficult to perform music that has been written for the sake of sounding this way or that way. It feels inauthentic, and I have a very hard time performing it with intention.
What do you love most about jazz? What do you think people misunderstand about this genre?
A lot of people forget that jazz is a boundless process of music-making. It encompasses so much and is at the base of so many other styles of music. Many people that I have encountered either express great enthusiasm for the genre or immediately dismiss it. I often hear, "Oh, I don't like jazz." I'm like, "What do you mean? Jazz is huge!" I think perhaps the issue is that people often associate a feeling of discomfort with the genre– because at the root of it, it is protest music. People don't like being shaken necessarily or experiencing new and different emotions or being taken out of their comfort zone. I can understand that. I often find myself having those thoughts with certain things, but eventually, I think people come to think of those moments as the most memorable. Because when you experience it, it's not something you forget.
There is also a lot of pushback from classical musicians and composers. It is so strong that even at the government level (grants funding) there is a huge bias against it. It is seen as an inferior genre of music, if you talk to certain people. I find this so disheartening. I love that jazz has a lot of forward-motion. It is continually evolving. Most players are also composers, and I think that makes it a unique form of music-making.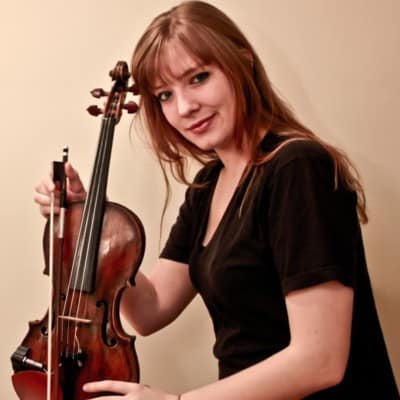 Why did you want to focus on female band leaders with your new series at Sapori Wine Bar?
All of my teachers past my classical training have been men. Most of my colleagues are men. Ask any femme-identifying musician in the jazz scene and she will say the same. When I started booking artists for this series, I wasn't thinking too hard about it. I wanted the music and the experience to be excellent.
Allison Au, who plays the alto saxophone and has a Juno award under her belt for her original music, presented the second iteration of the series. The next artist is Rebecca Hennessy, a trumpet player who also writes her own music. The week after we will host Virginia Frigault-MacDonald, a brilliant young clarinetist. We are also going to be featuring bassist Lauren Falls later on in the month of June. I am also playing again in June! It's incredible that there will be female musicians at every single Sunday wine and jazz series from the inaugural one until the end of June (at least, that's what has been booked for now).
So far, we've had a really great turnout from the musical community but I really want this to extend to people who might want to be engaged with the arts but don't know where to start. We wanted to make this as accessible as possible for anyone interested.