Ready for a feel-good holiday video that will give you all the seasonal warm + fuzzies? Earlier this month, Tim Hortons trucks popped up across the country. While Canadians stood in line for their morning cup of coffee, Tim Horton teams asked them to share a holiday wish. On November 16th, 150 wishes were fulfilled. From vet bills to showering a mom-to-be with baby gifts, this video will warm your heart.
Canadians who weren't able to participate on November 16 are still able to participate until December 14 by submitting good deed requests via social media. Use #WarmWishes and @TimHortons on Twitter or Instagram, and share a wish for a loved one. (Deed can be up to $5000. Hoping a family member can join you for Christmas, but flight cost is too expensive? Worth a shot!)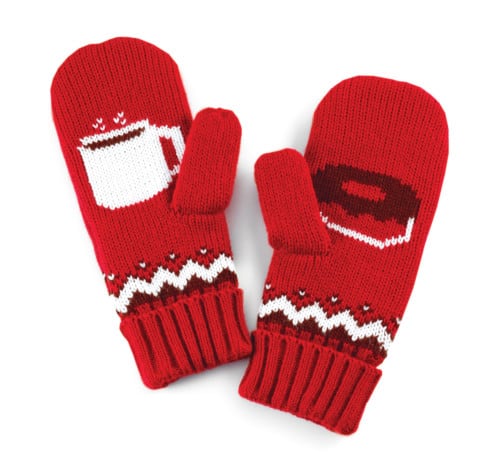 Got a Timmie fan on your list? (Who doesn't? This is Canada!) Stuff their stocking with #WarmWishes merch! There are a variety of gifts, including mugs ($7.99), keychains ($2.99), festive candy cane hot chocolate ($5.99), tree ornaments ($5.99), toques ($14.99), these beloved mittens shown above ($14.99) and more! Items will be available while quantities last in participating Tim Hortons restaurants all across Canada.
Grab a cocoa! Make a wish! Spread the joy! 'Tis the season, friends.