If you're willing to venture beyond giving out gift cards this year, consider making your own gifts. You can make them as simple or as complex as you want. Homemade gifts are thoughtful AND won't break your budget: it's a win-win.
To get you started, we asked YouTube DIY mavens, The Sorry Girls, for their top 10 DIY holiday gift ideas.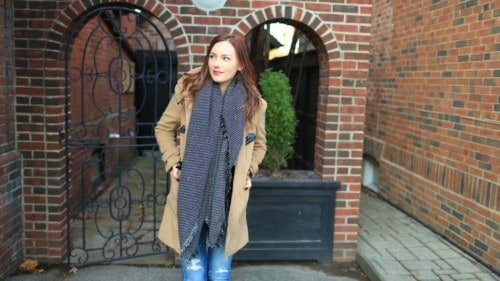 Blanket Scarf: Keep your loved ones warm this holiday season by easily making them a blanket scarf. Choose a thick fabric knit of your choice and pull out some of the threads around the edges to create a nice frayed edge.
Dino Planters: This is the best gift for anyone into quirky décor. Grab some hollow dinosaur toys from the thrift store, cut a hole in the top, and fill with some soil and your favourite cacti or succulents.
Wrap Choker: This DIY is perfect for any fashion loving person on your shopping list. Grab some suede cord or leather rope and add on some silver aglets (shoe string ends) to complete it.
Mini Pumpkin Pie Cookies
These are the perfect bake-able gift for anyone because who doesn't love delicious snacks? These cookies are a quick upgrade to the already super easy Anything Goes Cookie dough by Becel. Make gifting these ever more memorable with mini pumpkin pie boxes.
Cookie Advent Calendar: Use this recipe to make an entire batch of cookies and package them up individually with added numbers and décor items. They joy of cookies can be enjoyed all December long!
Cookie Snow Globes: Create a mini winter wonderland for your cookies to be gifted in with a glass jar and sugar as a snowy base.
Mermaid Blanket: Stay trendy and warm this winter season with a mermaid tail inspired blanket. All you need is a large amount of green fleece and some stuffing for the fins.
Cinema Sign: While this DIY gift takes a little more hands on work, the results are so worth it! The best part is that it is fully customizable even after it's been gifted.
Phone Dock: A dead battery is something I'm sure everyone on your shopping list has experienced. Help them out with a trendy solution. This phone dock is easily made with a little bit of concrete and a charging cord.
Geometric Terrarium: This homemade present will have your loved ones thinking you spent your whole shopping budget on them. Secretly, this DIY is super affordable if you have some extra time and looks great!
Check out more great ideas on the Sorry Girls YouTube Channel.