If you're ever thinking of going to Bali for New Year's, heed my advice and don't go. Or go, but know that you've chosen the absolute worst time of year to visit this so-called paradise because it's the height of rainy season and you're more likely to get caught in a monsoon than catch a tan. So how is it that I ended up on said island in Indonesia? Mostly panic.
While South East Asia doesn't celebrate the holidays to quite the same extent that we do in North America (like riding a rickshaw and handing out free beers on the street in Malaysia on Christmas Eve, but that's another story), random Googling ("Christmas in South East Asia?") inspired fear that everything everywhere would be booked up regardless, and since I had no plans in place, I wanted to lock that shit down. So when I spied a Facebook status from that British-Kiwi dude I met in an Irish pub in Spain being all "It's official—New Years in Bali!" I cheekily messaged him and asked if I could tag along with him and his mates (eh, the road makes you grow cajones). Obviously, he said yes.
For the most part it was a great, if ridiculous, week. We went into full-on party mode, which was fun, but I'd been in full-on party mode for a while at that point, and I was starting to reach a breaking point. I was tired of moving around, tired of feeling I had to go out every night, tired of shared spaces and bartering and sweating profusely and of being ripped off and unable to communicate…the list goes on. To sum it up, I was burning out. After a week of the trashier, touristy side of Bali, I decided to leave the guys behind and head further inland to Ubud, the cultural centre of Bali made famous by Elizabeth Gilbert in Eat, Pray, Love (groan!). But somehow I just couldn't get into it. I found myself walking around town feeling disproportionately angry at everything and rather than exploring everything the town had to offer, my days went more along the lines of Eat, Internet, HATE while seriously considering changing my ticket home to like, yesterday.
It was not a good scene.
Luckily, I made one of the best decisions of my entire trip and decided to listen to the hype I kept hearing about the Gilis—a set of three islands about an hour boat ride off the coast of Bali. I booked a boat over to Gili Air and as soon as I hopped off the boat and into those waters, I knew I'd made the right choice. Gili Air is an island devoid of any motor vehicles so the only way to get around other than walking is by bicycle or donkey-drawn cart. Peace out, noise pollution! There also happened to be a yoga centre on the island, so I started regularly attending. I'd never done yoga before, though I'd always wanted to try and this place felt like the perfect place to give it a whirl—far away from anyone I knew, totally welcoming and laid-back. Each class took place in this thatched-roof, open air hut that would attract the occasional cat or chicken to wander through during class, adding an extra element of nature and uh, challenge when said cat would park itself behind you just in time for you to jump into downward dog (irony?). I felt myself getting my sanity back and, y'know, actually becoming a human again.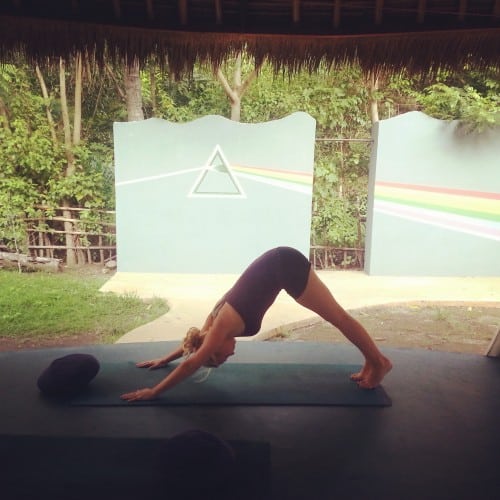 So in summary, Bali was a bust, the Gilis were great, and more than your standard yoga basics I learned that giving in doesn't always mean giving up—when you've been running hard for months on end, it's not surprising you'll need a breather. A tropical island doesn't hurt either.