Kathleen Phillips has earned nominations for The Tim Sims Encouragement Award, a Canadian Comedy Award, and the title of "Best Character Comedian in Toronto," from Now Magazine two years in a row. She has appeared in a number of comedy series for television, including Cock'd Gunns, This Hour Has 22 Minutes, Dan for Mayor and Hotbox. Phillips stars in the new sketch comedy series Sunnyside premiering this Thursday at 8pm ET/PT on City.
What spaces in Toronto do you find inspiring?
When I need to get the blood flowing in my brain, I go for a run. I like the places where I can run along uninterrupted by lights or traffic and kind of just be on my own. Some of my faves are the West Toronto Rail Path, Cedarvale Park and the David Balfour Park Trail. But also the Toronto skyline is inspiring. The CN tower is like a lovable mutt who follows me wherever I go.
What aisle do you spend the most time in at the grocery store?
I spend too much time in all of the grocery store all of time. Walking into a Loblaws is like walking into an existential fog like, "what am I doing here again?" But I mean, I DO really like looking at cheese and cookies.
Which virtue do you try to cultivate within yourself?
I try to try not to dwell on negative stuff. It's hard because I'm an idiot… No wait, I'm not.
The receipts in your wallet would indicate what?
I keep the receipt for everything because taxes are brutal and terrifying and can actually KILL you.
If you could reinvent your career and be something totally different, what would that be?
A plumber or a carpenter or an electrician. Something practical and lucrative.
When you dream about travel, what place in the world comes to mind?
I'd like to go to Portugal sometime.
What makes you happy?
My husband, my cats, my friends, great jokes. When I say a bunch of really brilliant and hilarious things and everyone laughs and cheers and I'm a hero and they all carry me around on their shoulders, chanting my first and last name.
What makes you cringe?
The part in a movie where the conflict happens. I have to leave the room at those parts. The news makes me cringe because it's only the conflict parts.
What quality do you loathe most in others?
Know-all-it, loud mouth jerks are pretty loathsome. But honestly, I don't know too many people like that besides the Ford brothers and Kim Jong Un and the ISIS guys and Donny Trump and a couple Facebook people.
What, in your opinion, is overrated?
New clothes. Don't get me wrong I like clothes and shopping for clothes, but I prefer to shop thrift because sometimes a brand new sweater is just the most depressing thing. Also brunch is overrated unless someone makes it for you at home.
How do you feel about life at this moment?
It's pretty darn good. I'm making a living writing and performing and wearing wigs. It's a ridiculous dream come true. To top it off I'm married to the wonderful hilarious comedian, Chris Locke. My life is full of laughs. I'm happy and I'm knocking on every piece of wood I can get my hands on.
What quality do you value most in a lover?
Handsomeness.
What is your favourite thing to do on a Saturday?
Clean the house and then walk around the house with a glass of wine just smiling at the general tidiness. I enter each neat room and say, "There's a nice girl."
What is your comfort food?
Bran Flakes make me way more comfortable. Ha! (Did you know I was your embarrassing uncle?!)
What word or phrase should we all use more?
"Who cares."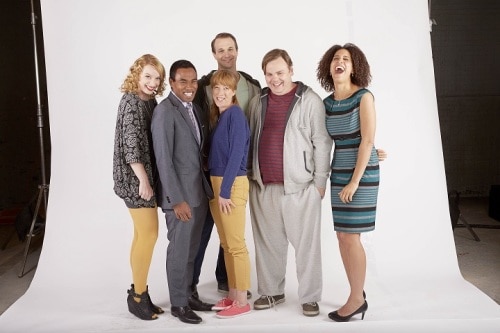 15 minutes gets up-close-and-personal with compelling personalities and people to watch in Toronto.