Anne-Marie Woods' latest play She Said/He Said is a complex look at relationships. It's about the conversations that Black men and women are having, but not necessarily with each other. A fusion of personal experiences and fiction, Woods conveys the vulnerability felt in romantic relationships and the importance of communication in this funny, tender and prudent look at love in fast-paced, multi-cultural Toronto. Woods stars as SHE and Dora Mavor Moore Award winner Matthew G. Brown is HE.
We caught up with Woods this week.
SDTC: What should we be paying more attention to?
AW: The simple things in life and doing things that don't involve social media or the internet, like making a phone call instead of texting or meeting someone for lunch or dinner. I'm old-school – I still do this old fashioned thing and use cash to buy purchases. And we should pay attention to our elders – they have a lot of wisdom.
What was the last Netflix series you binged on?
Ah, that's easy! I don't have Netflix but my friend in Nova Scotia did when I was there in June and it was all about Luther… watched all the seasons in three days in between my shows.
One new thing you learned this year?
That I'm stronger than I thought I was. I normally run when I have to face adversity, but this year I had no choice but to face it head on.
What memory brings a smile to your face?
When I went to see my play in Montreal and the director was dancing and snapping his fingers and singing one of my songs in rehearsal.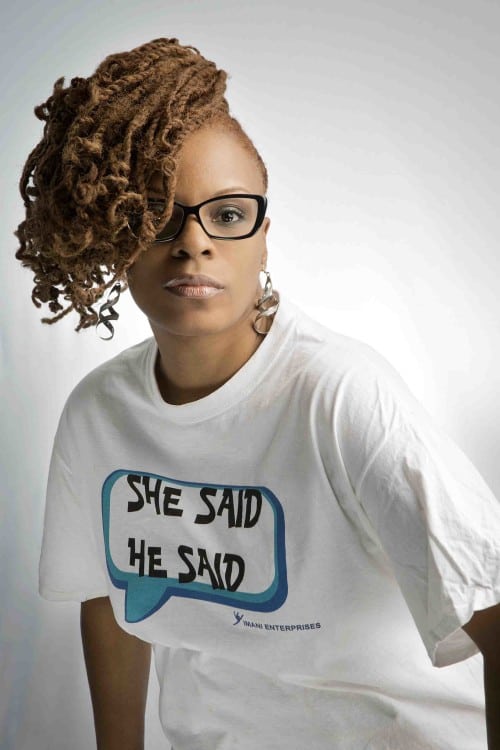 How do you recharge your batteries?
I get on a plane and take off. To me there is nothing better than leaving town and going to a new place to just chillax with no e-mail, no work and no deadlines.
Describe the funniest thing you've experienced in recent memory.
In July I took a trip for some rest and relaxation. A young guy at CVS Pharmacy in Miami seriously tried to pick me up and said, "Ay Mami, you are on vacation, no? Well, that is when you are supposed to let loose and try new things." To which I said, "You could be my grandchild." "Ay Mami, but age is just a number." To which I replied, "You're a youth and I work with youth." "Oh but Mami, you look good and look at me I look respectable, no? Well, that is how I look at home but when I go away, ohh ooh Mami…" I still picture him and can laugh to myself.
Best advice you've been given?
Try something that makes you uncomfortable at least once a week.
What is the best part of your current age?
Not looking my current age.
How do you treat yourself in autumn?
Take myself out to dinner if I can afford it and attend a Meet Up Group Event.
What's on your night table?
A driver's handbook (I swear I'll use it one year before it expires). A Bible. A container with buttons, a phone, and a small flashlight.
Weirdest thing in your purse right now?
I honestly don't have anything weird in there – um, is gold lipstick weird?
What trends are you loving right now?
Sneakers that look like candy.
Who was your celebrity crush when you were a kid?
I was in love with the Hardy Boys and Michael Jackson.
What should people check out in Toronto this month?
That's a no-brainer: the Toronto premiere of my new play on Black love in Toronto called SHE SAID/HE SAID. They should really come out and support Artspreneurship, and A Female Playwright because I am producing and directing it on my own with no team…but I had to do it anyway!
SHE SAID/HE SAID runs at Native Earth Aki Studio (250-585 Dundas Street E. @ Daniels Spectrum) from September 14 to 18. Get your tix here.