Ohara Hale is the hot-ass front-woman of Nancy Pants: a band from Montreal that we've fallen fast and hard for. And we're not the only ones! The Globe and Mail declared "Happy" as "one of the three songs you need to hear" and Esquire featured Nancy Pants for their May 2015 cover teaser with Charlize Theron.
This Thursday, they'll take the stage at The Silver Dollar Room as part of POP Montreal's POP Off tour. We caught up with Hale to find out what makes her smile, what makes her cringe, what she's currently listening to and why a mango brings her immense pleasure. (We got her to give us some hot tips for Montreal happenings, too. In case you're planning a summer road trip to La Belle Province.)
What meal brings you immense pleasure?
Hard question. I think I spent like 15 minutes on this question because I went through about a million things that I love to eat. But on the scale of pleasure immensity, I would say: a mango. You get a perfect mango and you are like, what is happening? How is this fruit the best thing ever? Why does it taste like heaven?! You basically make out with a mango that tastes like the best thing ever. It ranks pretty high when it comes to pleasure-ful eating.
Which virtue do you try to cultivate within yourself?
Integrity. Integrity has a lot of other virtues under its umbrella, and they're all things you have to keep working on and I like that. I like doing that work because it's really good life work.
The receipts in your wallet would indicate what?
That I spend all my money on mangos, #5HB pencils, and guitar picks. (I lose them alllllllllllllllllllllll the time. I don't even know where they go and they just disappear right in front of my eyes!)
Do you have a favourite music venue?
I love the Ukrainian Federation in Montreal. I think it is because I went there once and there was an old landscape backdrop on the stage and red velvet curtains and balcony seating and this old smell and it just looked perfect to me: classic and innocent. It kind of looks like a scene out of any Wes Anderson film. All the shows I have seen there were those lovely kind of shows. Plus you get to sit in wooden fold-up seats like you are in the auditorium of a really old school, like all the schools I went to growing up. And being able to leave class and go sit in the auditorium was pretty great. I don't know why I love that – I just do.
What makes you happy?
When everyone is happy! 🙂
What makes you cringe?

When someone bites their fork. Ugh ugh! And also a lot of other things that are happening in the world today that aren't happy things and I'm reminded of it.
What project are you currently excited about?
Well right now we are recording another record and it's realllly funnnn. I'm also wrapping up a children's book (I'm a published children's book author/artist) as well as a few comic books that I'm quite excited about. I also made my first batch of kimchi and I am so excited to try it when it's done fermenting. If it's a success then I'm going to probably make and eat kimchi every day for the rest of my life. Not in the way I would eat a mango – but in a way that I would high five someone really hard.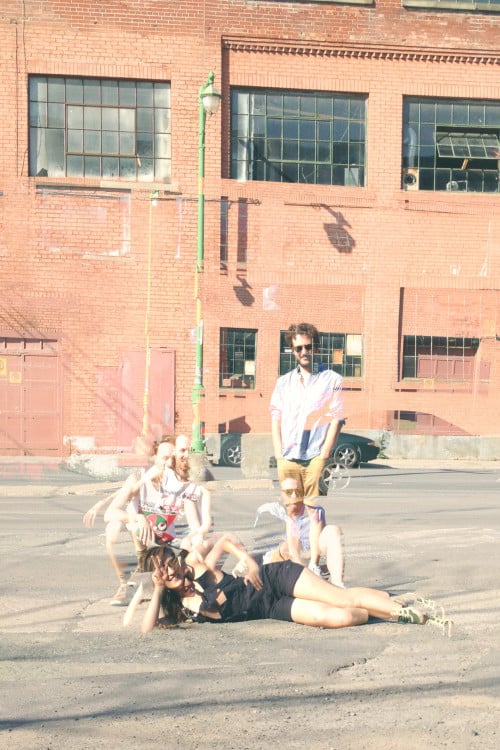 What quality do you loathe most in others?
I don't really loathe things in others but I when I see people acting mindlessly and selfishly it makes me worried. That kind of behaviour damages other people and the world and is pretty much the reason why a lot of suffering exists.
What, in your opinion, is overrated?
The ego?
What is the one thing you wish you could change about yourself?
I wish I had an extra version of myself so that when I want to keep on working I could just switch places with myself and not have to sleep and let the other version sleep and then switch back. Don't get me wrong, I LOVE to sleep and sometimes I can sleep forever, but I also have so many things I want to do and learn and sometimes I just feel sad when the day ends and I have to go to bed. (Haha. Does that count as an answer?) I also wish that I didn't procrastinate so much too, but I also have a lot of fun procrastinating so…
What frustrates you the most?
Humans destroying the world and each other. It's insanely frustrating. But at least I can work on a small scale and try to do my part to make positive changes in my life and the world around me. That's the best we can do sometimes and it feels small but it really makes a big difference and it instigates change.
What was the first album that really hooked you?
"I Hear a Symphony" by The Supremes. My parents had the record and I listened to it over and over when I was little. I loved it and the title song. I still do. That kind of music is just oooooh sooooooo dreamy. I wish that we still did slow dancing to music like this. I would probably go out to the slow dancing club and just slow dance all night long for the rest of my life or until I got sleepy.
What were you obsessed with in high school?
Whatever boy I had a crush on in the moment. Isn't that what all teens do? Obsess over crushes? I still do that…but I also feel like I'm in the teenage years of my life so it makes sense, haha.
What have you been listening to on repeat lately?
All of Brian Eno's ambient stuff (!!!) and Debussy and for a time I played Nicholas Krgovich's album "On Sunset" on repeat a million times (most notably "Along the PCH on Oscar Night," but I think it's because the album is about LA and I lived there for about four years till I came to Montreal, so it's slightly nostalgic).
When and where do you feel your most creative?
Honestly I don't really know. I know at night I have a better time focusing and then I get to workin' and that just juices up my brain and things just come out. But also sometimes I don't do anything creative for a while and suddenly, BAM – stuff just comes out when it feels like it. I think I have to just feel really comfortable and safe and then the brain opens up. But also being creative is my job (as an illustrator and artist ) so it sometimes has to happen on demand, especially within tight time constraints. And that's kinda fun. Brain juicing!
If we're heading to Montreal for a weekend this summer, what are your top recommendations to hit up?
I love the mountain. Go to the top! Go walk on the paths. I love Musee Des Beaux Arts (it's free!) and the Redpath museum on the McGill campus (it's a natural history museum and, again, very Wes Anderson-like). I like the Jean-Talon market: lots of mango samples there! I think if you were going to visit, you should just get on a Bixi and ride around. Montreal is so beautiful in the summer and there are so many things to do here and a billion shows and festivals. Come visit!