Filmmaker Tamara Mariam Dawit grew up in Toronto. In her thirties, she decided to spend a summer in Addis Ababa, to deepen her understanding of her family's history and country of origin.
While in Ethiopia, she discovered that she had an Aunt Sally who disappeared in 1974, shortly after falling in love with a revolutionary. The story of Sally is a family secret that was buried for several decades, and this shocking discovery is what inspired Tamara's powerful documentary Finding Sally which shares a chilling story that had audiences enthralled at Hot Docs this past April.
In Finding Sally Tamara traces the footsteps of her dead Aunt, determined to find some answers, and through her search she discovers much about Ethiopia, her family, and herself in the process.
On Feb 23rd, Tamara will headline 'Ethiopia Then and Now', a conversation and live event inspired by her journey to retrace personal and political memory and generational loss and trauma. The discussion will also extend beyond the film as a panel of Ethiopian women will focus on the ways in which art and literature through a female lens can help unpack history and inform our understanding of present day Ethiopia.
In advance of the event, we caught up with Tamara to get to know her better, as both a documentarian and curious Torontonian.
Please share something from your recent search history and explain in four words why you were searching X.
COVID Infections Ethiopia, for a documentary shoot.
List three things on your bedside table.
Stack of books, Kleenex and an assortment of creams (foot, face, lips etc.).
What have you recently read and can't stop thinking about?
In Search of the Color Purple, Salamishah Tillet
What childhood toy do you still own?
I still have my favourite stuffed animal—a llama which I was given as an infant.
Do you recall the first song you slow danced to?
It was a Whitney Houston song at my grade 7 dance. I don't remember the title.
What posters hung on the wall of your teenage bedroom?
Bob Marley and Sailor Moon.
What does breakfast normally look like?
Coffee.
What inanimate object has brought you comfort during the pandemic?
My bathtub for at home DIY spa time. This has been a real-life saver to carve out a relaxing space.
Tell us about a subject that you want to explore more deeply.
The Axumite empire in what is now Ethiopia.
What skill would you love to have?
I would love to be invisible.
Please share a place you think about often and in one sentence explain why.
I think often of sitting with a glass of wine at a rental house on a Greek island. This had been my planned 40th birthday trip in 2020 and I will take the trip post pandemic.
What does comfort food look like to you?
Anything home-made, especially Ethiopian food.
Which song could you listen to 20 times in a row?
Yumeji's Theme from In the Mood For Love, by Shigeru Umebayashi
A film you saw in your childhood or youth that left a deep impact?
Malcom X by Spike Lee
What show or film have you watched lately that you can't stop thinking about?
The mini-series The Long Song.
Please tell us about a hidden talent.
Strategic planning… maybe not so hidden, but a talent.
What's a cherished item in your closet right now that you feel good wearing?

Neon yellow extra-long hoodie.
What has calmed you in the past 9 months?
Long walks.
Who inspires you on social media?
What have you been dreaming about doing once the pandemic is behind us?
Drinking a draft beer in a small neighbourhood bar.
What nonprofit would you like to give a shoutout to?
The Racial Equity Media Collective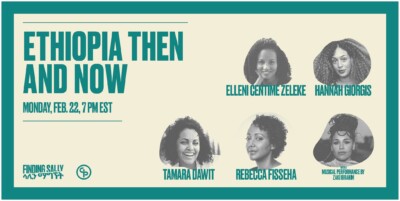 FINDING SALLY is now available to stream on CBC GEM. Watch it in advance of Ethiopia Then and Now, happening on Feb 22nd (7PM).
At the special livestream event Tamara Dawit will be joined by author Rebecca Fisseha (Daughters of Silence), Columbia University's Elleni Centime Zeleke, The Atlantic's Hannah Giorgis, and there will also be a musical performance by Zaki Ibrahim. Get more info on the Facebook event page.