Sparkly, fun and effortless, the H&M Holiday Collection makes us smile and want to run to the nearest H&M store, like, RIGHT NOW.
Between lightweight tees with sparkly bows and flirty party dresses, lace jumpsuits and what may be our very favourite piece in the collection – an "Elfie Selfie" sweater with a body of an elf, fully sequined, positioned just below the neckline – we couldn't settle on just one party outfit. So, we picked three!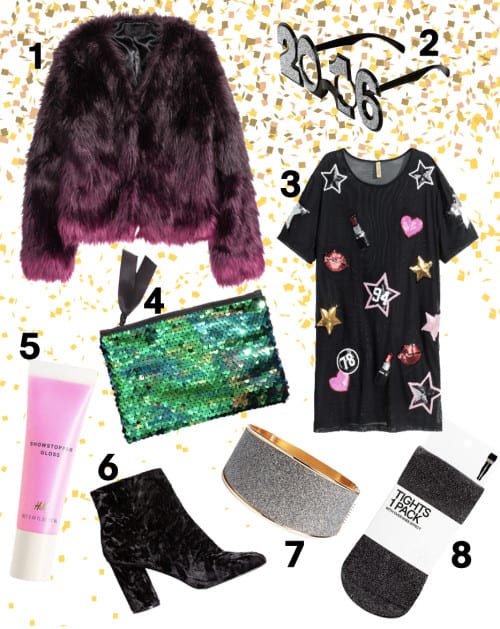 Factory Girl
We couldn't be more in LOVE with this look! Playful and sparkly, the sequined printed shift dress and black tights are a stylish nod to the late 60s. While the faux fur jacket, suede booties and pale pink lip are giving us a major Edie Sedgwick moment.
Short Faux Fur Jacket, $79.99
Glittery Glasses, $6.99
Mesh Dress with Sequins, $39.99
Sequined Purse, $17.99
Lip Gloss, Dolled Up, $7.99
Crushed Velvet Ankle Boots, $59.99
Glittery Cuff, $12.99
Glittery Over-knee Tights, $12.99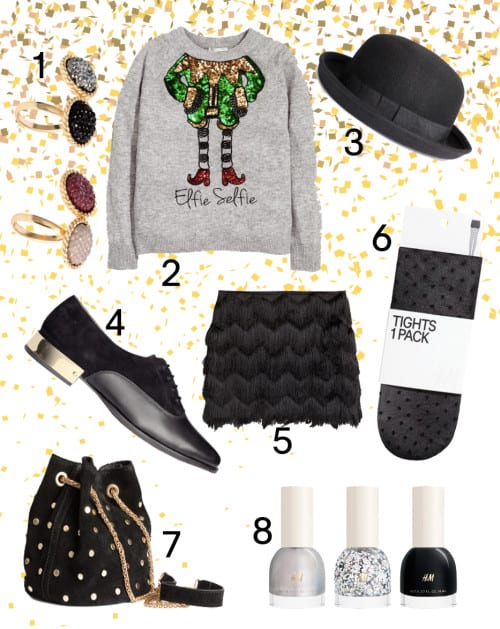 Chic & Cheerful
A little eclectic and a LOT of fun, these pieces are super easy to wear, and will take you from the office to a holiday party in a jiffy. We're loving the vintage vibes of the studded bucket bag and fringe skirt paired with the cheeky graphic sweater. Unexpected, yet totally stylish.
2-Pack Rings, $9.99
Sequined Jumper, $29.99
Wool Hat, $17.99
Shoes in Suede and Leather, $79.99
Fringed Skirt, $49.99
Spotted Tights, $12.99
Suede Bucket Bag, 49.99
Nail Polish Set, $19.99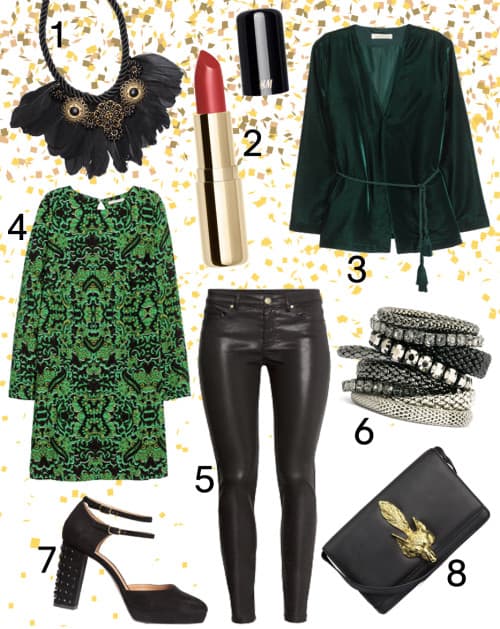 Viva La Velvet
Our outfit inspiration began with with the gorge green velvet jacket, but we couldn't help falling for the printed dresses, which became the undeniable focus of the outfit. To bring in a bit of an edge, we decided to pair with SUPER fitted, waxy black pants and mixed metals in the jewelry and accessories.
Necklace with Feathers, $39.99
Matt Lipstick, Red Alert, $12.99
Velvet Jacket, $69.99
Patterned Dress, $29.99
Super Stretch Trousers, $24.99
9-Pack Bracelets, $24.99
Platform Sandals with Studs, $59.99
Shoulder Bag, $34.99
Aaaand, don't forget about our Holiday Wish List contest where one lucky reader will score a bounty of prizes including a $100 H&M gift card! Have you entered?