Mondays are terrible and desserts are great. This is the truth and we all know it. Here's a delicious hot pink velvet cupcake recipe to bake away the Monday blues tonight after work:
You'll Need:
For Cupcakes-
· 2 1/2 cups all-purpose flour
· 1 1/2 cups sugar
· 1 teaspoon baking soda
· 1 teaspoon salt
· 1 teaspoon cocoa powder
· 1 cup vegetable oil
· 1/2 cup shortening
· 1 cup buttermilk, room temperature
· 2 large eggs, room temperature
· 2 tablespoons red food colouring
· 1 teaspoon white vinegar
· 1 teaspoon vanilla extract
For Icing-
· 1/2 pound cream cheese, softened
· 1 stick butter, softened
· 1/2 teaspoon vanilla extract
· 2 cups confectioners' sugar
· 2 tablespoons crushed cinnamon hearts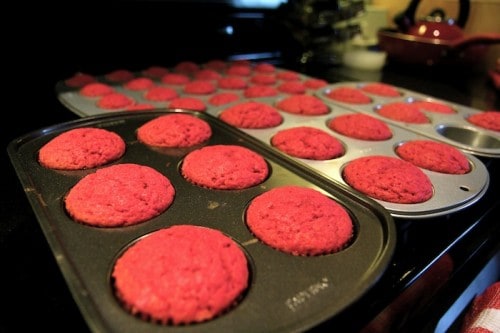 Steps:
For Cupcakes-
Preheat the oven to 350 degrees F and line muffins pans with cupcake papers (we made 18 large and 24 small)
In a medium mixing bowl, sift together the flour, sugar, baking soda, salt and cocoa powder
In a large mixing bowl gently beat together the oil, buttermilk, eggs, food colouring, vinegar and vanilla with an electric mixer
Add the dry ingredients to the wet and mix until smooth and thoroughly combined
Divide the batter evenly to the cupcake holders and place in the oven for about 20 – 22 minutes for large cupcakes and about 10-12 minutes for the smaller ones – to be sure, use a toothpick to test the doneness (if it comes out clean eureka!)
Remove from the oven and cool completely before frosting
For Icing-
In a large mixing bowl, beat the cream cheese, butter and vanilla together until smooth
Add the sugar on low speed until thoroughly mixed, then increase the speed to high until light and fluffy
In a plastic freezer bag, crush the cinnamon hearts then add them to the mixture
Stir well and ice cupcakes as desired
Lick the bowl because wow!
Limberlina are Kimberley and Laura—they teach people with creative ambitions to make their own mark in and outside of their homes through simple, imaginative and inexpensive DIY projects. Follow them on Facebook, Twitter, Pinterest and Instagram  and check out their DIY Kits here!