Jordan Miller, Kylie Miller, Leandra Earl and Eliza Enman-McDaniel come together in a magical and explosive way as The Beaches. Their latest album Blame My Ex is bringing us all the empowerment and unvarnished honesty we need, with just the right amount of edge.
Since their infectious breakup anthem Blame Brett went viral earlier this year, the Toronto-based rock band has reached a wider audience of listeners worldwide, and their momentum has continued with the release of Blame My Ex in September.
Ranging from head-banging bops to sexy ballads, the material on their sophomore album is more vulnerable than we've seen from the band before, delving into heartbreak and pain, but also finding strength in redemption and self-discovery. Now, they're on the Canadian leg of their world tour and are set to play two hometown shows at Massey Hall on November 1 and 2.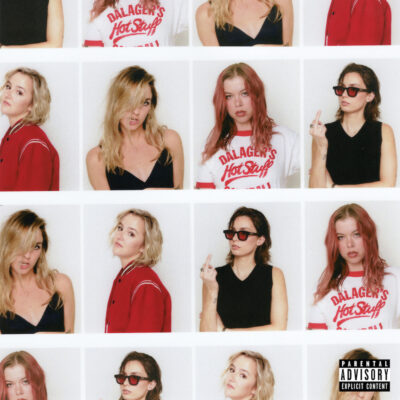 This album might be about blaming their exes, but the band is also looking forward to embracing new connections while on tour. The Beaches are partnering with Tinder to launch Matchmaker, a new feature on the dating app that allows friends and family to recommend profiles they think would make a great match for the user—a perfect fit for this tight group of four.
We got a chance to sit down with The Beaches for a fun and slightly chaotic chat about Blame My Ex, touring, matchmaking, their dating app horror stories and much more. Read on to see what their exes thought of their album rollout, their ultimate red and green flags, and which member is currently in their DILF era.
Congrats on the release of Blame My Ex! How has your tour been going?
Leandra: We started on the east coast of the States and it was really cool to see what the crowds look like, especially since going viral on TikTok. Last year there would be like 50 people at a show, and now places are selling out at like 650. So it was really, really cool to see that for us Canadian girls! And now we're starting our bigger Canadian tour.
What has it been like to see Blame Brett go viral and have such an incredible reception?
Kylie: It was one of those things that we were hoping would happen and when it finally did it was just like such a full circle like, amazing moment. And for it to get not just attention in Canada, but other places around the world feels really, really exciting for us. We're so stoked about the reception that it's gotten.
Jordan: The viral moment was really cool and gratifying because you're being honest about how you're feeling and you're also moving other people and relating to other people.
Kylie: I think it's just such a relatable song. A lot of people have a Brett. Or maybe you are the Brett.
View this post on Instagram

I loved that you all wore t-shirts with your exes' names on them to promote the album! Whose idea was that?
Jordan: Leandra!
Leandra: My ex loved it. I think Kylie's ex, not so much.
Kylie: He said he liked it but he also liked that he was part of the moment. And that made me like it less.
Going into this era of writing about your exes, how did you feel about it? Were you totally confident? A bit hesitant?
Jordan: Writing the record felt like a therapy session because every day was a new experience. And so some days I would come to the studio after a really hot date and I wanted to write a song about a sexy chick I met, and other times, it's about experiencing social anxiety after a breakup.
I was definitely nervous because I think this is the first time we've ever been so earnest with our songs. Especially talking about the painful moments. But I think that's what's really appealing about these songs and what people are gravitating to, the honesty about the universal experience of heartbreak.
Vulnerability is a big part of the songs on Blame My Ex. What does being vulnerable in performing or in writing mean to you?
Jordan: I was really nervous, honestly, to put this out. I was kind of worried about retraumatizing myself again and again, especially during interviews and singing the songs every night. But now that it's out and people are so into the songs it no longer feels like our isolated heartbreak experiences. It feels nice, being vulnerable and sharing it with everyone, because it feels like it's everybody's experience. It's nice not to feel so alone and isolated, especially when you're going through a bad breakup.
I know you're helping to launch the new Matchmaker feature on Tinder. How would you rate yourselves as matchmakers for each other?
Jordan: I'm bad at matchmaking. Honestly, I'm always the devil's advocate. So if the girls are feeling in a naughty mood, I'm definitely the person that will steer them in that direction.
Kylie: If she thinks it's a good idea, maybe proceed with caution. Jordan is a good person to help you find someone for a good time, not a long time.
Jordan: Eliza has been in a relationship for about eight years, so she's really good at looking for green flags.
Eliza: I have seen all of you date different people for 10 or more years. So I know what works and what doesn't for everyone, and I think they know the same about me. We just know each other so well, so we're kind of the perfect candidates for Matchmaker, if I do say so myself.
Leandra: I found Kylie's last boyfriend…but I don't know if that was so great. So maybe I'm not as good as I think.
Kylie: No you're good! We all know each other so well. So this function is really fun because we get to swipe on each other's behalf. Being on the tour bus and away from home, obviously, dating is a challenge. So having that be online is super helpful in times when you can't really meet people at a bar or a coffee shop or in a super organic way.
Do you have any disaster dating app stories?
Kylie: I've been catfished before on a dating app.
Leandra: That's the guy where I tracked you and I thought he was drowning you in the lake.
Kylie: Yeah, my phone has a thing where if I'm near a body of water, it says that I'm in the water, but I'm not. And it was like the longest and weirdest date I've ever been on. He looked nothing like the profile. But that's okay. You win some you lose some.
What are some of your red flags and green flags?
Jordan: A green flag for me is a good sense of humour. Physically, I also like a long neck regardless of gender. Take that as you will. Red flags, anyone who seems too serious and too boring isn't really my cup of tea. I like a quirky person.
Kylie: A green flag for me, I would say someone who's a good listener and pays attention to you and remembers details. A red flag? I would say dirty fingernails. I can't.
Leandra: A red flag is someone who is rude to restaurant staff. I went on a date this summer where the girl was SO rude to a bartender and I was like, ugh, this is so gross.
Eliza: That's a really good red flag. I have to agree with that. That's very telling of a person.
What is some advice you would pass on to women getting started in music?
Eliza: I think it's important to do it with other women. Do it with your friends. Do it with people you feel comfortable with. No matter how much you feel beaten down by what can feel like a male-dominated industry just remember that there are so many of us out there doing this because we love it. We try to support each other and other women in the industry as much as possible.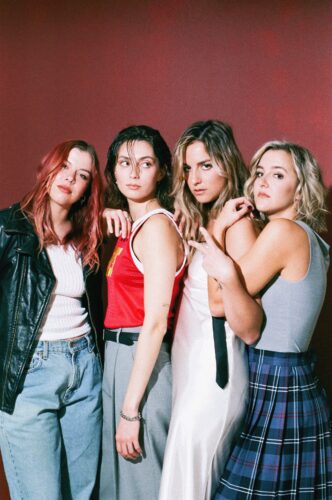 QUICKFIRE ROUND:
Which song is the most fun to play live?
Jordan: Shower Beer for me.
Leandra: Edge of the Earth.
Eliza: I agree, Edge of the Earth. Really fun.
Kylie: On this tour, definitely Blame Brett.
What is your ultimate breakup song?

Jordan: Silver Springs by Fleetwood Mac.
Leandra: G Flip, The Worst Person Alive.
Kylie: I Know The End by Phoebe Bridgers. It's about a breakup and touring.
Eliza: I agree with Kylie.
Best piece of dating advice?
Jordan: I always like to look at the menu before I go on a date so I'm fully prepared.
Leandra: I think if something feels weird, go with your gut.
Eliza: Lean on your friends and the people closest to you.
Kylie: Know your worth and know what you deserve. That's what Eliza told me.
What's a spot in Toronto you'd recommend for singles to meet people?
Jordan: I love Mama's Liquor & Lounge because it's sort of divey but also feels a little chic.
Leandra: Three Dollar Bill is a new queer bar that my friend opened in Parkdale, and the gays are flocking.
Kylie: Honestly, if you're on the hunt for a DILF, I'd go to St. Lawrence Market.
Leandra: Kylie is in her DILF era right now.
Kylie: You know, because they're up early buying groceries and they have their shit together. Like a really cute market situation.
Eliza: Honestly, I was just thinking that. Like a cute little supermarket or something. A little meet-cute situation.
Leandra: The Metro on College.
Eliza: Everyone loves a good Metro, you know?
One word to describe Blame My Ex?
Jordan: Rediscovery.
Leandra: Empowering.
Kylie: Powerful and heartbreaking.