After years of keeping our distance, there are now endless events, outings and fun family adventures happening in Toronto for summer 2022. We all know the classics: The Toronto Zoo, Wonderland, Centre Island, an iconic visit to the EX in August. As lovely as these things are, they all have one thing in common: The cost rivals the Toronto real estate market.
For those of us with kids, we're looking for all the classic Canadian/Toronto summer vibes, minus the crippling debt. Check out these free summer adventures for families and you'll discover that free warm-weather fun is around every corner in the city.
Kick off your summer with free long weekend celebrations at Ontario Place
Park admission at Ontario Place is free for Canada Day weekend, and while there are several events and attractions that require tickets, there are plenty others that are free—the most exciting option for kids being the Imagination Playground. Children of all ages can enjoy building with uniquely shaped foam blocks to create their own play space.
…Or spend Canada day cycling with your kiddos in support of clean drinking water for Indigenous communities
On Canada Day, give your kids a chance to understand the injustices happening in our country. Cher Government, a letter campaign giving power to children's voices asking the government to give access to clean water to all First Nations children, is hosting a Canada Day bike ride. Put on your orange shirts and join activist Marie-Josée Lefebvre of Cher Government on July 1st at 3 p.m. at the north end (Caribou Avenue) of the West Toronto Railpath with your bikes, bells, letters and orange tees. The bike convoy will peddle and ring bells all the way to Sorauren Park for letter-reading and singing.
Watch a movie under the stars in Downsview Park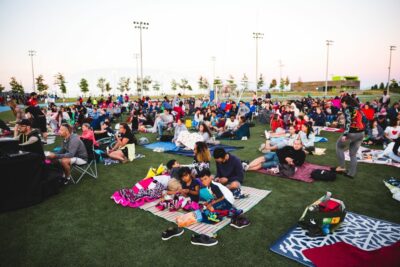 Outdoor movies at Downsview Park are back this summer (take that, pandemic!) Though it's free, you have to register a week in advance of each screening (so poll your family and pick your faves). Options include an adaptation of the popular The Bad Guys book series (July 22), Marvel comic superhero film Shang-Chi and the Legend of the Ten Rings (July 28) and everyone's favourite family film of the year, Encanto (August 9th). Grab your blankets and popcorn (and obvs your fave movie-watching candy) and capture that summer night feeling.
Visit your TPL branch for books—and endless free entertainment
There is nothing quite like a fresh book haul (and we fully endorse this) but the library offers so much more than that—craft days, puppet shows and children's programming (the summer reading club is a fun chance for kids to win prizes). As for lending? It's not only books you can borrow. Grab some musical instruments for a family jam session, and put a Museum and Arts Pass on hold for free access to the ROM, Science Centre and the Zoo (among other places). Make sure to call around to a few of your closest branches to check availability.
Free nights at the AGO
As summer nights see kids' schedules shift to staying up late, Wednesday nights at the AGO become the perfect way for budget-friendly families to spend the evening. On Monday mornings at 10 a.m., the free passes are released for the Wednesday of the same week. So add it to your calendar and don't forget to book your passes.
Eat dinner the budget-friendly way (aka at home) and head to the AGO early to burn off some energy at the awesome Grange Park playground before heading inside. Note: The hands-on centre is currently closed, but they are hoping to have it open again soon. Call to check in and make your request known! The only program specifically for kids right now is the roving art cart, which is only available on weekends. It's still worth a browse and a change of scenery to enjoy the architecture and art on Wednesday nights.
Visit the coolest parks, splash pads and wading pools in the city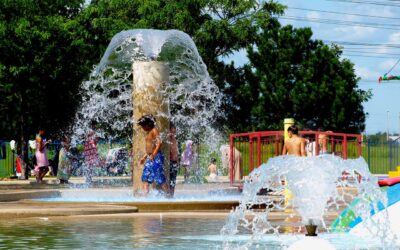 For a day of messy sensory play, the Dufferin Grove Park sandpit is tops (there are always scoops and buckets around, but feel free to bring your own for extra staying power). The castle playground at High Park is a make-believe haven. The sprawling Withrow Park promises hours of fun thanks to several playground options and a wading pool. The pirate ship playground at Cherry Beach is a delight for little sailors. Corktown Common is not only inspired by nature, it's also surrounded by it, so it's worth exploring for the wildlife alone. It's also home to a Grotto-inspired splash pad for cooling off on hot days.
Explore the city's greenspaces
For a busy city, Toronto still has plenty of greenspace that's worth exploring. Take a hike in Bluffer's Park, the Don Valley Trail or at Evergreen Brickworks. Visit Toronto Botanical Garden to admire the flowers, stream and forest.
Have a picnic on the island
This is technically not free, because the price of admission is one ferry ride (about $25 for a family of four). If you have a kayak, you can get there for free, but you'll be in the water with ferries and motor boats, so you (and your kids) will need to be good with a paddle. Luckily, the pricey Centreville Amusement Park is not the only fun thing on offer here. The beaches, splash pad/park and Franklin-themed children's garden are well worth a visit—and are all totally free.
Visit the animals and have a picnic at Riverdale Farm
This special 7.5 acre property at Riverdale Farm is always open, and always free. If you're looking for a guaranteed kid-friendly, positive experience and some connection to nature and animals, this is the place to have it.
Go for a bike ride on the beaches boardwalk
For a taste of vacation life, there's nothing quite like being near the water. The Beaches boardwalk (a trail that stretches about five miles out and back) is a fun and safe place for kids to ride their bikes without worrying about traffic and offers plenty of beautiful spots to stop and explore or rest for a picnic.
Since bikes technically aren't free (unless you already have 'em) Bike Share Toronto sometimes offers Free Ride Wednesdays (for riders 16+) and kids' bikes can be found on local buy-and-sell sites for as little as $5 to $10. If you have an old bike that needs a tune up, you can do so for free at Evergreen Brickworks' DIY Bike Repair tent on Sundays, where a team of volunteers helps you do your own fixes and repairs.
Enjoy everything High Park has to offer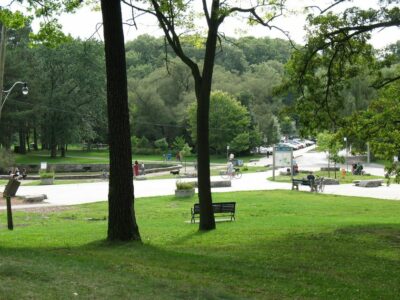 The sprawling High Park is home to everyone's favourite castle playground and plenty of greenspace, but the free High Park Zoo is the big highlight. The reindeer are always a hit with visitors, though my own kids prefer the novelty of the world's largest rodent, the capybara.
Explore in the Children's Garden at Evergreen Brickworks
For messy, open-ended nature play, there's no better spot than the Children's Garden at Evergreen Brickworks. Start your Saturday with a visit to the farmers' market for some fresh groceries (sadly, not free) and enjoy some time immersed in nature (between the hours of 10 a.m. and 3 p.m.) on selected dates in the summer (July 2, 9, 16, 23 and 30). This is a free, drop-in program (though there is a suggested donation of $5—a great opportunity for your kids to spend their lemonade stand or allowance cash).
Children's programming at the park
ParksPlayTO is a free drop-in program offering camp-like activities—think active games, arts and crafts, gardening, storytime and music. The program is available at 40 park locations around the city (the full list is available here, but some popular locations are Withrow Park, Dufferin Grove and Trinity Bellwoods). ParksPlayTO programs run Monday to Friday from July 4 to August 19, 2022 and take place between 10 a.m. to 12 p.m. or 1 p.m. to 3 p.m.) Note: This program requires caregiver participation.
Explore, eat and create at the city's farmers' markets
Yes, it's technically free to browse at a farmers' market and hang out in that space. But we all know that if we're going, we're probably leaving with (at minimum) berries, a fresh loaf of bread and some sort of treat for the kiddos. But let's file those purchases under "grocery budget" and also enjoy what is free at the market: The ambiance, community connection and, of course, the samples.
Each market in the city also has something free and fun for families that's worth checking out. Evergreen Brickworks has the aforementioned children's garden. Withrow Park farmers' market not only has free storytimes with Pape Library on select Saturdays, but The Make Station is usually there too. This incredible creation studio for kiddos features a new free craft at the market each week (July 2 will be adorable clay pandas) and they also have their clay kits for sale to make at home. Sorauren Park Farmers' Market is a bustling hub that is guaranteed to brighten up your Monday evening. Kiddos can even make money at Leslieville Farmers' Market in Greenwood Park, thanks to their Kidpreneur Program. Kids can apply for an opportunity to gain experience being a vendor and sell their own goods.
Celebrate at one of Toronto's many family-friendly summer street festivals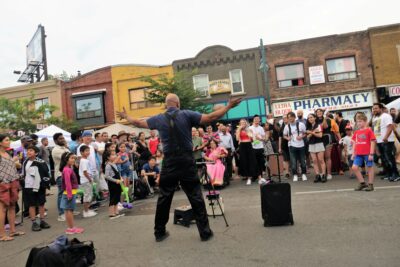 Toronto's art, food and cultural festivals and celebrations are back this year, and with a quick Google search, you'll be able to find your faves. One notable free option: Family Fest at Guild Park and Gardens will feature performances, workshops and activities—from circus performers to puppet theatre and musical acts.
Make your own fun
Let the kids host a lemonade stand and donate the proceeds to a cause of their choice, grab some sidewalk chalk and bubbles and hang out on the sidewalk with a folding chair. Invite friends to meet at the closest available greenspace.
Despite the amazing things the city has to offer, the best things really are free: spending time with your (and your kids') favourite people who call this city home.
For even more ideas, check out our roundup of Toronto summer happenings!