One of my favourite things about Pride month (and to be honest, year-round) is reading and talking about amazing LGBTQ2SIA+ literature. While it's important to honour and celebrate queer and trans history, stories, and people year round, we curated a list of LGBTQ2SIA+ stories we can't get enough of, in case you need some reading recommendations for Pride month.
From teenage ghosts pining for a love that doesn't know they exist; to powerful memoirs about becoming true to who you are; to a high-stakes heist carried out by a group of asexual teens; to an anthology of monstrous fiction and poetry — these books explore queer identities and relationships in a variety of amazing, intimate, and unforgettable ways, with a story for every reader, and every identity.
So read on, and I hope you have a gay old time!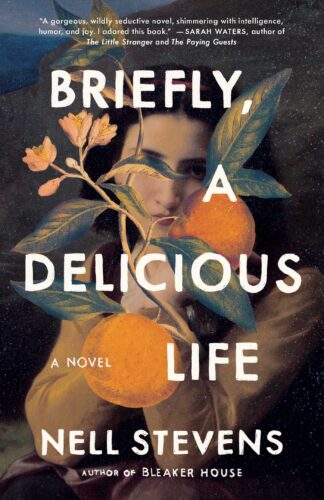 Briefly, A Delicious Life – Nell Stevens
Nell Stevens' Briefly, A Delicious Life is a strange and lovely love story about a teenage ghost who falls in love with the writer George Sand. In 1473, fourteen-year-old Blanca dies in a hilltop monastery in Mallorca. Nearly 400 years later, when George Sand, her two children, and her lover arrive in the village, Blanca's ghost is still there, hanging around the monastery, spying on the monks and the townspeople, and keeping track of her descendants. The moment she sees George, Blanca is enchanted, taking readers on a journey of deeply felt and unrequited longing, a story about a teenage ghost pining for a woman who can't see her, and doesn't know she exists. Charming and original, this is a delightful observation of desire, love, and life after death.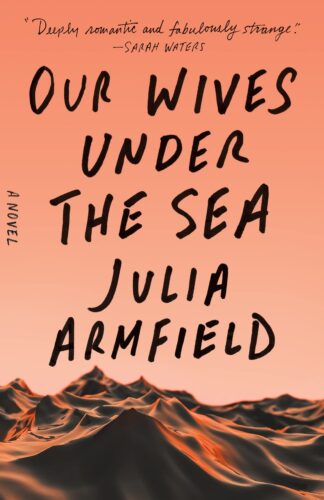 Our Wives Under the Sea – Julia Armfield
Julia Armfield's Our Wives Under the Sea is a moody and unsettling queer horror story about love, loss, grief, and life in the deep sea. When her wife Leah returns from a deep-sea mission that ended in catastrophe, Miri is thrilled to get her back. However, it soon becomes clear that Leah is not the same. Whatever happened in that vessel, whatever they were supposed to be studying before they were stranded on the ocean floor, Leah has brought part of it back with her, onto land, and into their home. Though Leah is still here, Miri can feel she's losing the woman she loves… I first saw people raving about this book on TikTok, and have been impatiently waiting in my library holds queue to get my hands on it!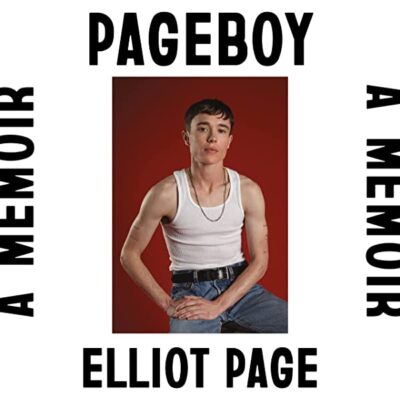 Pageboy – Elliot Page
One of my most anticipated releases of this year is Elliot Page's memoir, Pageboy. The Academy-Award nominated actor, and one of the most famous trans advocates of our time will share never-before-heard details and intimate interrogations on gender, love, mental health, relationships, and Hollywood. This book takes us on Page's own journey of discovering himself and coming of age as a queer person, and as a trans person, getting closer and closer to his desires, his dreams, and himself, even as public pressures and expectations suffocated him, forcing him to play the part of the glossy young starlet. At its core, this is a beautiful story of what it means to extricate ourselves from the expectations of others, and what it means to become who we truly are.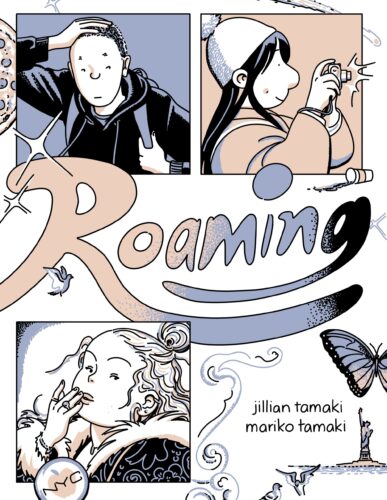 Roaming – Jillian Tamaki, Mariko Tamaki
Jillian Tamaki and Mariko Tamaki are back with a new young adult graphic novel, Roaming. Set during spring break 2009, it follows Zoe and Dani, high school best friends who are now freshmen in college, meeting in New York City, where they've wanted to visit forever. Tagging along is Dani's classmate Fiona, a mercurial art student who's got an opinion on EVERYTHING. Together, the three of them try to make the most of their visit, cramming in as much of the city as possible, falling into tourist traps, eating lots of pizza (folded in half), exploring art, and sidestepping creeps. This is a story about friendship – the beauty and the growing pains, first crushes, and figuring out who you are, and who you want to be.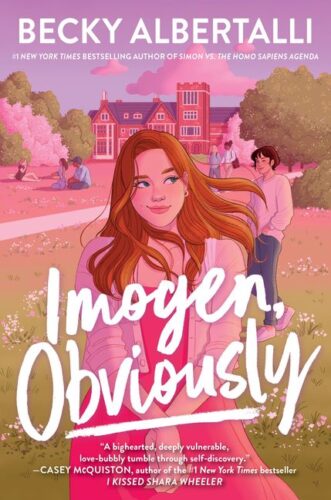 Imogen, Obviously – Becky Albertalli
Becky Albertalli's Imogen, Obviously is her latest young adult novel, following Imogen (obviously), a hopelessly heterosexual teen, who's got the World's Greatest Ally ™title locked in. She's never missed a Pride Alliance meeting, and knows more about queer media discourse than her very queer little sister. She even has two queer best friends – Gretchen, a fellow high school senior who helps Imogen keep her biases in check, and Lili, newly out and thriving, with a cool squad of queer college friends. Imogen's thrilled for Lili, any ally would be, and now that she's finally visiting Lili on campus, she's ready to do whatever Lili needs to support her… even if that means bending the truth a little. Lili, it turns out, told all her college friends that Imogen and Lili used to date, and none of them know that Imogen is actually a raging hetero, not even Lili's new best friend Tessa. Imogen is game to support Lili's new truth, but as she spends more and more time with chaotic, freckle-faced Tessa, she starts to wonder if she's as straight as she always thought she was. This is a heartfelt story about self-discovery and romance, by the bestselling author of Simon vs. the Homosapiens Agenda.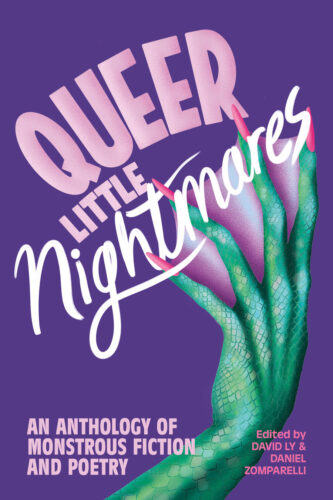 Queer Little Nightmares – Edited by David Ly, and Daniel Zomparelli
Edited by David Ly, and Daniel Zomparelli, Queer Little Nightmares is a strange and riveting anthology of poetry and fiction that subverts the horror gaze in order to celebrate ideas and identities that are traditionally feared in monster literature. In this collection, creatures of myth and folklore seek belonging and intimate connection, in stories ranging from sinister and scary, to downright gross. From a Minotaur camouflage in a crowd of cosplayers, to a lagoon creature aching for the swimmers above him, to a Hindu revenant waiting to reunite with her lover, a tender-hearted Kaiju, the queer creators of this collection ask what it means to be, and to love a monster. This book includes contributions from authors like Eddy Boudel Tan, Amber Dawn, and Kai Cheng Thom.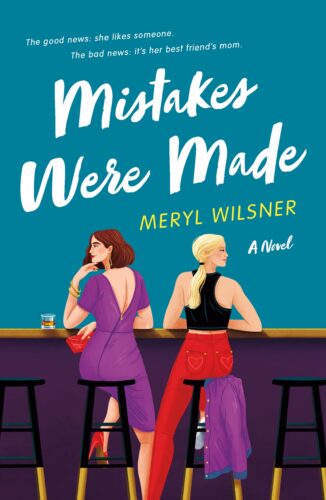 Mistakes Were Made – Meryl Wilsner
Meryl Wilsner's Mistakes Were Made is a sexy and smart rom-com about a college senior who accidentally hooks up with her best friend's mom. When Cassie Klein goes to an off-campus bar to escape her school's family weekend, she isn't looking for a hookup, but buying a stranger a drink turns into what should be an uncomplicated and amazing one-night stand. But the next morning comes, and her friend drags her along to meet her mom Erin… the hot older woman Cassie just slept with. Unfortunately, they get along during the day just as well as they did the night before, and what should have been a one-time fling quickly proves impossible to ignore, and soon Cassie and Erin are sneaking around, and worst of all, they realize that what they have is real. Is being honest about their love worth the potential cost?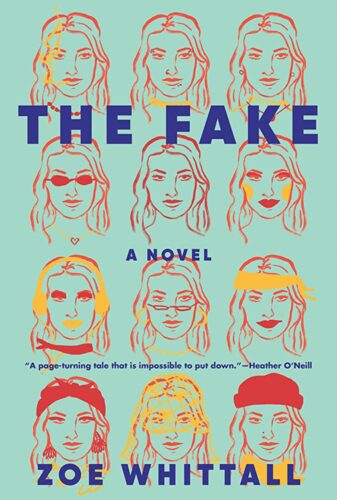 The Fake – Zoe Whittall
Zoe Whittall's The Fake is a brooding and vulnerable character study that follows two people who date the same con artist. After the death of her wife, Shelby feels more alone than ever until she meets Cammie, a charismatic and bold woman, unafraid of what anyone thinks, and whose own history of trauma draws Shelby close. When Cammie is fired from her job, she admits she's in treatment for kidney cancer, and Shelby devotes all her time to helping Cammie thrive. But things from Cammie's past aren't adding up, and Shelby's intuition tells her that she may not be who she says she is. Gibson is almost forty, fresh from a divorce and deeply depressed. Soon he meets and falls in love with Cammie, and he's now dating and connecting with a stunning woman and having the best sex of his life. But his friends are wary of his new girlfriend, and eventually even he has to admit that her dramatic life might be a bit over the top. As Shelby and Gibson both discover that Cammie is a pathological liar, they have to determine what it is they want from her, as well as how honest they can be about their own selves. This is an intimate, enraging, and heartbreaking story for fans of slow-paced and thoughtful character-driven books.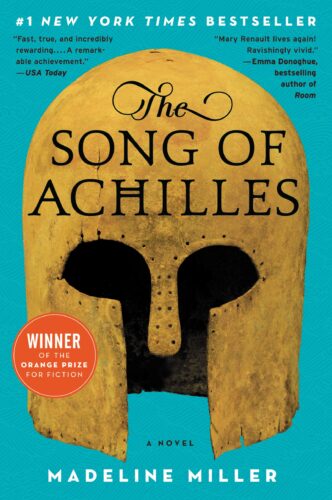 The Song of Achilles – Madeline Miller
Madeline Miller's The Song of Achilles is a #BookTok favourite for a reason. This beautiful story reimagines the myth of Achilles: The "best of all the Greeks", and son of the cruel sea goddess Thetis, and the legendary king Peleus. Achilles is strong and swift and beautiful to all who meet him, including Patroclus, an awkward young prince who's been exiled from his homeland after a shocking and violent act. Brought together by chance, they forge an inseparable bond, despite risking the wrath of the gods. Tender and heartfelt, in the midst of an Ancient Grecian epic, this is a story of love and sacrifice, of destiny, and glory, and a book you won't soon forget.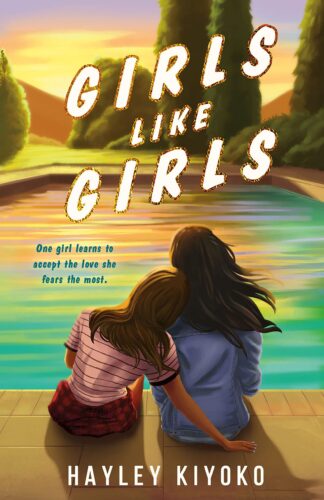 Girls Like Girls – Hayley Kiyoko
Singer and actor Hayley Kiyoko's debut young adult novel, Girls Like Girls is inspired by her popular song of the same name. It follows Coley, a teenager who's forced to move to rural Oregon after just losing her mother. Alone, fragile, and terrified that she's not worthy of love, she's in no position to risk her heart, but when she meets Sonya, the attraction is immediate. But Sonya's never been with a girl before, and Coley is terrified of opening her heart, when it seems everyone she's ever loved has left her. They both must decide if they are ready to accept the love they fear and deserve the most. This is a joyful and vibrant story about embracing your truth, and realizing we are ALL worthy of being loved back.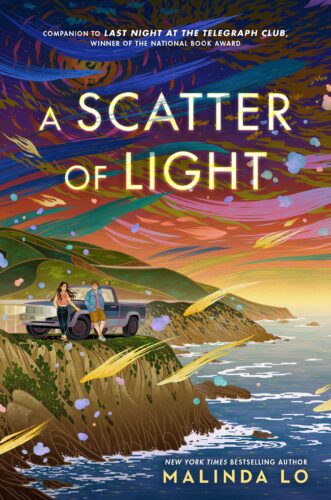 A Scatter of Light – Malinda Lo
Malinda Lo's A Scatter of Light is a masterful queer coming-of-age story, set in the Bay Area, against the backdrop of the first major Supreme Court decisions legalizing gay marriage. It follows Aria Tang West, who was looking forward to a summer on Martha's Vineyard with her best friends, but after a graduation party goes wrong, her parents exile her to California to stay with her grandmother, artist Joan West. Aria expects boredom, but instead finds Steph, her grandmother's gardener, who soon has Aria second-guessing who she is and what she wants to be. The summer she lost gives way to a new, unforgettable, and life-changing summer for Aria, her family, and the working-class community Steph introduces her to. Malinda Lo is a master of bittersweet and heartfelt queer stories, and I can't wait to read this!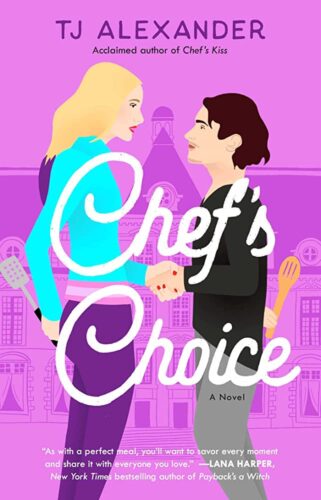 Chef's Choice — TJ Alexander
This delicious queer rom-com is the follow-up to TJ Alexander's debut romance novel, Chef's Kiss. When Luna O'Shea is unceremoniously fired from her frustrating office job, she tries to count her blessings: she's a proud trans woman who has plenty of friends, a wonderful roommate, and a good life in New York City. But blessings don't pay the bills. Enter Jean-Pierre, a laissez-faire trans man and the heir to a huge culinary empire—which he'll only inherit if he can jump through all the hoops his celebrity chef grandfather has placed in his path. First hoop: he needs a girlfriend, a role that Luna is happy to play…for the right price. Second hoop: they both need to learn how to cook a series of elaborate, world-renowned family recipes to prove that Jean-Pierre is a worthy heir. Admittedly, Luna doesn't even know how to crack an egg, but she's not going to let that—or any pesky feelings for Jean-Pierre—stop her. This heartwarming and funny story about a fake dating arrangement that evolves into true love is the perfect read to kick off summer in the city.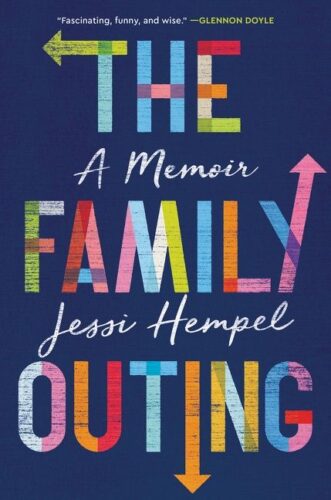 The Family Outing – Jessi Hempel
Jessi Hempel's The Family Outing is a remarkable memoir about a family's transformation when almost all of them embrace their queer identities. Jessi was raised in a seemingly picture-perfect middle-class family, but as we all know, what's behind the scenes is rarely as perfect. Her father was always gone, traveling for work, while her stay-at-home mother became increasingly lonely and erratic, leaving Jessi and her two siblings to grow up struggling to make sense of their world, their families, their changing bodies, and their emotions. All the while, each of them was, in their own way, hiding their true self from the world. By the time Jessi reaches adulthood, everyone in her family had come out: Jessi as gay, her sister as bisexual, her father as gay, her brother as transgender, and her mother as a survivor of a traumatic experience with an alleged serial killer. But coming out is just the beginning, as it sets off a chain of events, personal revelations, and reckonings causing each of them to question their place in the world in new and liberating ways.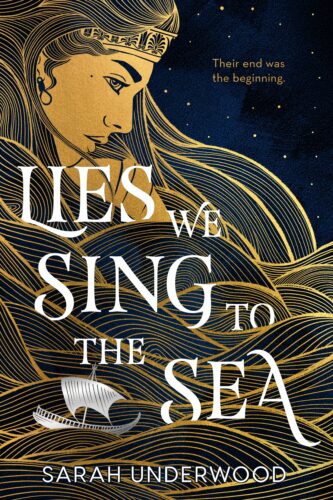 Lies We Sing to the Sea – Sarah Underwood
Sarah Underwood's Lies We Sing to the Sea is an epic sapphic story of lies, love, and tragedy, perfect for fans of myth and magic. Every spring, Ithaca condemns twelve maids to the noose. This is the price demanded by the vengeful Poseidon, for the lives of the twelve maids of Queen Penelope, who were hanged and cast into the depths centuries ago. But when Leto meets this same fate, death is not what she thought it would be. Instead, she finds herself waking up on a mysterious island, where she meets a girl with green eyes, and the power to command the sea… a girl named Melantho, who says that one more death can stop a thousand. The prince of Ithaca must die, or the tides of fate will drown them all.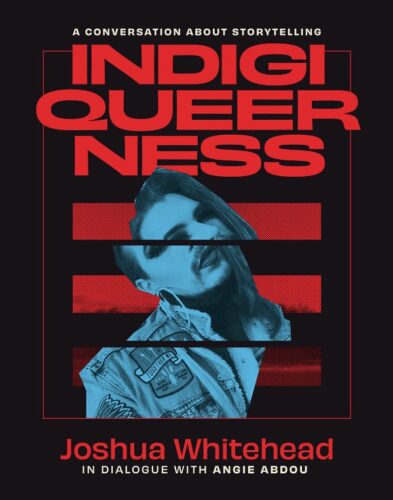 Indigiqueerness – Joshua Whitehead
Joshua Whitehead's Indigiqueerness is a tender reflection of the Indigenous author's life, work, and queer identity. Part dialogue, part memoir, and part collage, the book evolved from a conversation between Whitehead and Angie Abdou. It starts with memories of Whitehead's childhood poetry and prose, and takes us through his life, as he contemplates the role of theory, Indigenous language, queerness, and fantastical worlds in his artistic pursuits. This is a genre-bending and experimental read that you'll zip through, and wish you could read all over again for the first time.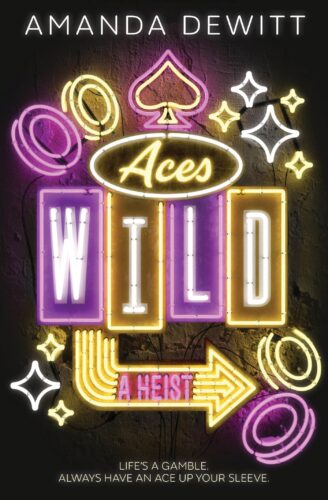 Aces Wild – Amanda DeWitt
Amanda DeWitt's Aces Wild is a fun and fast-paced contemporary young adult novel about an all-asexual friend group who attempts a high-stakes heist. We follow Jack Shannon, who runs a secret blackjack ring in his private school's basement. This may seem strange, but what else is the son of a Vegas casino mogul supposed to do… play football? However, everything starts to fall apart when his mom is arrested for their family's ties to organized crime. His sister thinks it's finally their chance to go straight, but Jack knows that something isn't right here. He's sure his mom was sold out, and he knows who did it: rival casino owner, and his mom's jilted lover, Peter Carlevaro. So, he does what any teenager would do. He hatches a plan to find out what Carlevaro is holding over his mom's friends, and recruits his closest friends: The online asexual support group he met through fandom forums (and has never met IRL). Now, all they have to do is infiltrate a high-stakes gambling club, unravel family secrets, and free his mom…all while navigating what it means to be in love while also being asexual… all in a day's work, right?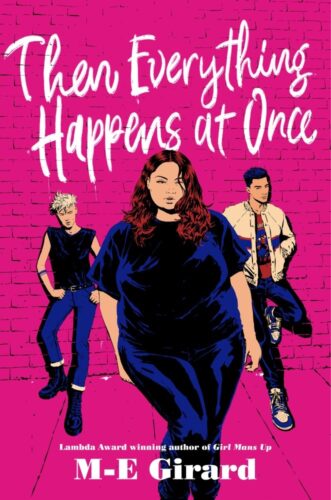 Then Everything Happens at Once – M-E Girard
M-E Girard's Then Everything Happens at Once is a sex-positive coming-of-age young adult story about a teen named Baylee, who's torn between her heart and her hormones, as she navigates her feelings for her best friend Freddie (who she's had a crush on for years), and her new friend Alex. She's never been kissed, and she wants to do WAY more than that, but she doesn't look like the type of girl Freddie dates, and the judgmental voice in her head tells her he'll never see her as more than a friend. Then, she meets sweet and funny Alex online, and Alex likes her just as she is… But when Freddie makes a move on Baylee, and a virus shuts the world down, Baylee will find herself torn as everything happens at once, and she navigates the messiness of love, desire, and friendship.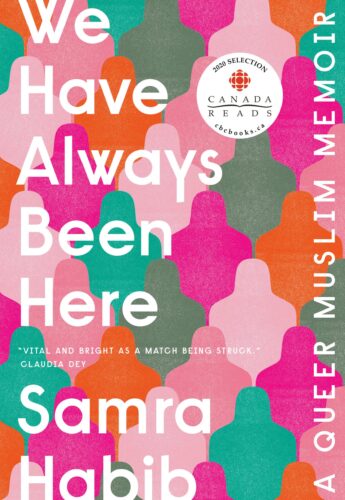 We Have Always Been Here – Samra Habib
Samra Habib's We Have Always Been Here is a vulnerable and breathtaking memoir about finding yourself, even when the world keeps trying to tell you that you don't (and you shouldn't) exist. Samra Habib has spent most of their life searching for the safety to be themself. As an Ahmadi Muslim growing up in Pakistan, they faced regular threats from Islamic extremists who believed the small sect to be blasphemous. From their parents, they internalized the lesson that revealing their identity could put them in grave danger. When their family came to Canada as refugees, Samra encountered a whole new host of challenges: Bullies, racism, the threat of poverty, and an arranged marriage. Soon they were backed into a corner, unable to grow and nurture their creative feminist spirit, as they were policed by the men in their life, and taught pious obedience by the women in their life. Their body was a problem to be solved. In this book, they take us along on an exploratory journey of art, faith, and queer sexuality, as they uncover a truth that was within them all along. Poignant, powerful, and breathtaking, this is a book you'll find yourself thinking about long after you finish reading.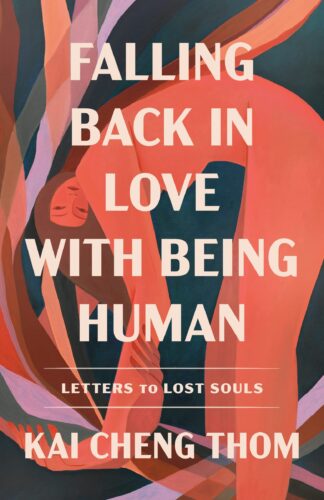 Falling Back in Love with Being Human: Letters to Lost Souls – Kai Cheng Thom
Coming out in early August, Kai Cheng Thom's Falling Back in Love with Being Human is a stunning and lyrical collection of love letters that take the reader on a path towards compassion, forgiveness, and self-acceptance. Thom grew up a Chinese Canadian transgender girl in a hostile world. She's an activist, a counselor, a conflict mediator, a writer, and a spiritual healer, and because of all of these parts of her, she's always pursued the same deeply personal mission: to embrace the revolutionary belief that every human being, no matter how hateful or horrible, is intrinsically sacred. However, during the last few years, this mission has been harder to hold onto, as Thom found herself in a crisis of faith, overwhelmed by the violence and hatred with which people treat each other. So, rather than succumbing to despair, cynicism, and anger, she took another leap of faith… She wrote. She wrote letters that were part prayer, part poem, part magic spell, part manifesto, part plea. She wrote to the outcasts she calls her kin. She wrote to the flawed (but nonetheless loveable) men who harm their own. She wrote to the racists and the transphobes who are seemingly beyond saving. What came out of this was a blueprint for falling back in love with being human. Stunning, intimate, and resoundingly hopeful, this is a testament to love and forgiveness and the power of perspective, empathy, creativity, and justice.
–
Ameema Saeed (@ameemabackwards) is a storyteller, a Capricorn, an avid bookworm, and a curator of very specific playlists, customized book recommendations, and cool earrings. She's a bookseller, and the Books Editor for She Does the City, where she writes and curates bookish content, and book recommendations. She enjoys bad puns, good food, dancing, and talking about feelings. She writes about books, big feelings, unruly bodies, and her lived experiences, and hopes to write your next favourite book one day. When she's not reading books, she likes to talk about books (especially diverse books, and books by diverse authors) on her bookstagram:@ReadWithMeemz