I've said it before, I miss the theatre. I miss performing, rehearsing, and memorizing with my cohort. I miss socializing in the lobby before being ushered to my seat. I miss the joy, the tears, the thought-provoking words. I miss the car rides and subway seats coming back home from the theatre. Discussing what we learned, what we liked, what inspired us. I miss connecting with my dad at the Tarragon and picnicking with my Grandma at Stratford. I miss the feeling of a free 25 and under ticket at Soulpepper with my pals, and my artistic community at York U. Theatre is more than just shows and stories, it's a place for us all to gather. A place where community thrives. That's why seeing everyone come together to support Toronto theatre at the SummerWorks festival this year means so much.
The programme line-up is incredibly cool, with many amazing collaborations between SummerWorks Lab Residencies and the Stratford Festival Lab. Outside the March's TD Forward March Program is collaborating with different Toronto storefronts for their show The Pop-Up Experience, if you like a wandering theatre experience, but there will also be theatre performances scattered all over the city this August.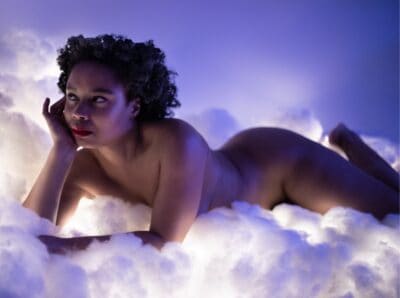 Softness is a Blessing, by Ravyn Wngz and Dainty SmithThe festival will also include debut performance pieces such as nowhen, a two-part, auditory and nature-based experience set in High Park created recent MFA York grad Alison Wong, Softness is a Blessing, by Ravyn Wngz and Dainty Smith who aim to create space for Black women to be feminine & fragile in a world that demands strength from them, Switching Queen(s), a street performance piece that explores the history of activism in Parkdale, burn, burned by Black Lives Matter leaders Syrus Marcus Ware and Rodney Diverlus, considering the moment when the revolution is over, and so much more! Beautiful, reflective, honest … these shows will allow you to view the world from another perspective.
Summerworks ensures that stories are accessible to all patrons of the arts, and it's free! So whether you're new to the wonderful world of theatre, a long-time fan, or somewhere in between, make sure to attend Summerworks this year and support your artistic Torontonian community. Running all of August—and FREE! Do this! I'll see you there.