Coming from a bi-cultural family of South American and English descent, there are very few traditions that both halves of me honour. One of them is opera. My two grandfathers have close to nothing in common except me, an aversion to technology, and a love for opera.
Every time I entered the car with my Abuelo, or my Grandpa, the sounds of opera would always be floating in the car. Despite my cries of boredom, the songs would continue, until I learned to love them. As I watched my grandfathers sing and sway softly to a language they didn't understand, I dreamed of the day they would take me to my very first opera, so I could share in this glory with them.
Like all performing arts, the opportunity to experience opera has become close to impossible during the pandemic. Fortunately, Tapestry Opera has you covered! This summer, their live opera will return with pop-up stages and socially distanced concerts. Your opera in a box will arrive at your curbside with sound equipment, ready to give you a unique and exciting experience. You can even sponsor a performance for care facilities, retirement homes, and neighbourhood associations. A lovely gift for a group that would enjoy it thoroughly.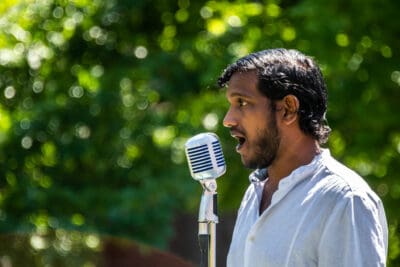 "We were overwhelmed with the magic Box Concerts brought to Toronto communities last year" explains Tapestry's Artistic Director Michael Hidetoshi Mori. "We delivered 74 concerts around the city, with over 50 performed free to hospitals and care homes. This year we're delighted to be relaunching the program with the goal of reaching twice as many people, bringing the collective experiences of beauty and joy to Torontonians suffering from over a year of isolation."
Live music allows all of us to reconnect and feel as though we belong again. This show, performed by Asitha Tennekoon will feature opera, musical theatre, and newly commissioned songs. A magical way to spend a sunny weekend outdoors with your family, friends and neighbours—all the while immersing yourself in great music, great storytelling and good vibes.
Music is universal and this is a wonderful and safe way to bring your community back together. Who knows? Maybe this will inspire my Abuelo and Grandpa to get started on their inevitable opera bromance.
Bookings are open from June 16th – September 12th, every weekend at 3 and 7pm. Book your box opera here.