For the Designing Minds fundraiser, in support of children's mental health programs at Holland Bloorview Kids Rehabilitation Hospital and New Start Foundation, actor Elena Juatco (JANN) was paired with designer Jaclyn Whyte of Whyte Couture, and the duo have created a series of stunning masks that you can now bid on.
We've been sharing a few of these gorgeous collaborations because we are genuinely impressed by the creativity, but we also know how dire the situation is right now, when it comes to families requiring support for their kids.
Elena likewise understands the need, which is why she was quick to lend her support to the initiative. We connected with the incredibly talented Vancouverite to see how she's been supporting her mental health during the pandemic, and why this cause is close to her heart.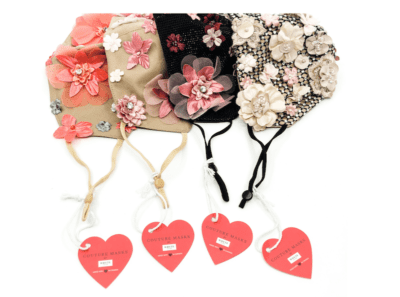 Why was being part of this initiative important to you?
In addition to the mental health toll that COVID-19 has taken on all of us, this pandemic has also cancelled the in-person initiatives and fundraising events that many charitable organizations depend on. When I heard that Holland Bloorview Kids Hospital and New Start Foundation, two organizations that support child and youth mental health initiatives, needed help with an online auction event, it just seemed like the perfect fit. I had heard incredible things about the work that these organizations have done, and I was grateful for the opportunity to help.
How has this past year made you rethink mental health?
I've been more in tune and aware of my anxiety this past year and have worked a lot on recognizing the difference between reacting vs. responding. Daily meditation and yoga, something I've always wanted to do, was something I prioritized at the beginning of the pandemic and something I continue to maintain as best I can. As little as 15 minutes of yoga at the beginning of my day can make all the difference. My favourite yoga app: Down Dog Yoga.
What issue, in your opinion, still needs more attention, when it comes to mental health?
New Start Foundation highlights the importance of updating our system of care so that youth can access treatment sooner. I have always believed in investing in youth for the greatest change. Youth have the greatest impact in our families, communities, and in the broader health care system, and right now, youth need to wait an average 2.5 years for appropriate treatment (see newstartfoundation.ca).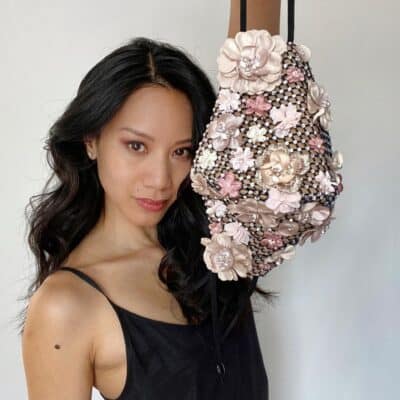 We love the fancy masks you created! Can you share the inspiration behind it?
I had the pleasure of working with Jaclyn Whyte of Whyte Couture. I wanted an event mask that people could wear with that dress or outfit they've been saving for the next public event they can finally go to. I personally have a great tuxedo jacket I'm dying to wear. Something strong and sexy that makes brown eyes sparkle! Jaclyn also added some appliqué flowers that I think add that beautiful feminine touch.
The Designing Minds silent auction runs until May 2nd. Browse the silent auction here.