The Designing Minds silent auction has been running just a few days, and they've already raised over 35K for children's mental health programs at Holland Bloorview and Newstart Foundation, but their goal is to pull in 75K by May 2nd. Influencer Sasha Exeter is one of several local personalities who jumped on board to help, and worked closely with fashion designer Christopher Paunil and jewellery designer Omi Woods to create a gorgeous one-of-a-kind mask that you can bid on.
In January 2020, Children's Mental Health Ontario (CMHO) reported that over 28,000 youth were waiting for mental health services and specialized resources, with some waiting up to 2.5 years. Due to stay-at-home orders, we've only seen these statistics increase," says Kalandra Roach, Event Director, Kalandra Roach Events and Acting Executive Director, New Start Foundation. "I created Designing Minds because traditional fundraising events aren't able to take place right now, but programs supporting child and youth mental health are essential and need funding to continue to operate."
We love seeing Torontonians come together, and Designing Minds has done a fabulous job at organizing a fun and creative event that can be enjoyed safely at home. Browsing the collection of masks in the silent auction practically feels like a trip to a museum or gallery.
We've long admired Sasha for her honest sharing, which inevitably inspires important discussion. Right now, the topic of children's mental health is an urgent one.
Why was being part of this initiative important to you?
I am so thrilled to be a part of this initiative. Mental health and wellness is extremely important to me and also happen to be part of the main pillars of my personal brand. As a mother to a three-year-old toddler, I am very aware of the importance of mental health in our youth and would do anything possible to help bring awareness and drive support for both Holland Bloorview and Newstart Foundation.
How has this past year made you rethink mental health? And what support have you found really helpful (for your child or yourself?
The pandemic has definitely forced me to dig a little deeper into mental health and find ways to keep myself mentally afloat during this difficult time. As each month passed, I felt myself discovering new emotions, fears, and anxiety. I have only ever done therapy sporadically, but as we approached 2021, I knew I needed to invest in myself and speak to someone regularly. Truthfully, it was one of the best decisions I've made for myself in a very long time.
I have spent more time in the last year journaling, meditating, doing breath work, and finding creative outlets, than I have in my entire life. Doing these things at home in front of my daughter Maxwell has made it easy to start implementing these things with her as well. I encourage Maxwell to share her feelings and we have a lot of dialogue about feelings and what's going on in the world. We also picked up painting during the lockdown and it's been an amazing way to find calmness during all the chaos.
What issue, in your opinion, still needs more attention, when it comes to mental health?
I would love to get to a place where the discussion of mental health is no longer considered taboo. We have come a long way, but still have so far to go; especially amongst youth and racialized communities. As a child of immigrant parents and with a father from a traditional Caribbean background, I was never really encouraged to speak about my feelings or seek assistance from a therapist. I was always told whatever I am feeling or going through couldn't compare to what my ancestors had to deal with, which forced me to bury my true feelings and emotions.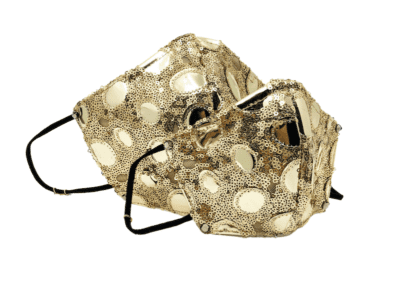 What creative choices were important to you, in designing your mask?
For this initiative, I got a chance to collaborate with long-time friend and BIPOC designer Christopher Paunil. He was the first designer to dress me for a big event 8 years ago and ever since then, he has been my go-to for special occasions.
Never in a million years did we think we would be wearing PPE for this long and since it's something that seems to be here to stay, we gotta have a little fun with it, am I right? I look at masks now like any other fashion accessory and love to make a statement with the ones I wear. You would never catch me in a basic mask, so I wanted our collab to have just the right amount of extra, made from fabric reminiscent of the beautiful fabrics that Chris would use for his designs. We also worked with Black jewelry designer behind Omi Woods. We all were aligned in wanting the masks to be sustainable, using upcycled elements. The fabric we used actually came from Chris' workshop and we incorporated some scrap metal from the jewelry production to use as a beautiful accent where the straps connect to the fabric.