With 2.5 million sellers on Etsy, to be recognized as
one of the top 100 designers
is a major deal. Ashley Alexis McFarlane, owner of
Omi Woods
made it to the top ten jewelry sellers list, along with fellow Torontonian Ali Harrison of
Light & Paper
, who was selected as a finalist in the Paper & Party sellers category.
All finalists were selected by Drew Barrymore and
Etsy
Trend Expert
Dayna Isom Johnson
, who judged pieces based on quality, creativity, utility and "wow" factor. McFarlane's
gold infinity necklace
shined in all areas.
The name Omi Woods pays tribute to McFarlane's Jamaican lineage: Omi means water in the West African Yoruba language, a peoples referred to as the Nago in the Caribbean. The island's name derives from the indigenous Awarak word Xaymaca, which translates to The Land of Wood and Water. McFarlane's work isn't just pretty—every piece has a story, and a connection to her ancestry.
What was it that initially inspired you to begin designing jewelry?
I began designing jewelry when my grandma passed away and handed pieces down to me and my aunts. I was designing apparel before, and jewelry stood out to me because it's timeless and it lasts.
What part of the creative process do you enjoy most?
I like finishing pieces by hand. I have others finishing my pieces now, but I still get to work with some gold pieces and samples.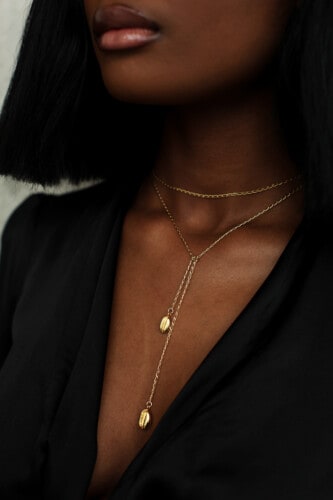 What pieces do you anticipate will be hot sellers for the holidays?
The Cowrie Infinity Necklace is really hot right now. It's the design that Omi Woods is nominated for. Our Double Up Coin Stacks are also quite popular. I think people like to be able to make the stack their own, and the Double Up Coin Stacks allow that.
What does being a finalist in the Etsy Design Award mean to you?
I've been on Etsy since day one. It's allowed me to grow the brand and become a better business person. I don't really think it's sunk in that I'm among a few jewelry designers selected. You can be in your own little silo as a seller in your shop, so it's nice to know that your work is being acknowledged and your designs are getting the attention of others.
What has been helping you to stay motivated, or feel good, during COVID?
Self care. I stock up on body butters, oils, scrubs, and natural scents for the home. I tried to make my home as much as a live in spa experience as possible.