Though National Mental Health week doesn't start until May 6, the past week has been full of mental health awareness. From Bell's Let's Talk Campaign, to articles in my newsfeed, to the opening of Necessary Angel's 4.48 Psychosis, last week's events challenged me to think about my own understandings of mental health issues.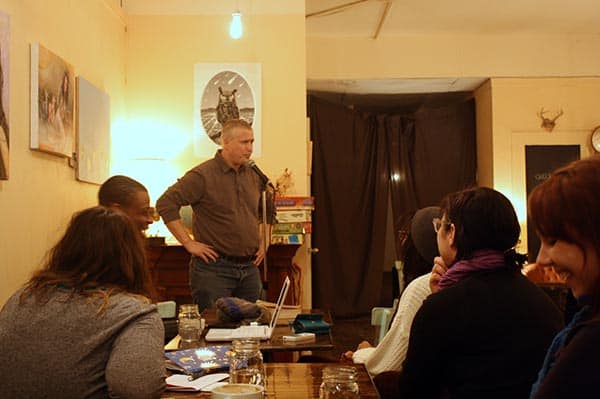 On Tuesday of last week, SDTC was invited to attend "Ah Hell, Let's Talk," a comedy show in support of mental health produced by Erin Rodgers (Awkward!) & Brie Watson (Fresh Meat 2012) at the Rustic Owl on Bloor. The show's purpose was to help break the stigma and the silence surrounding mental health issues through honesty and laughter. The night's performers included Allison Dore (Ward and Al), Todd Graham (No Kidding), Katherine Ferns (Toronto's Funniest Comedian Finalist at JFL42), Natalie Norman (Pop-Comedy Podcast), Jordan Sowunmi ("Comedy/Basement/Dance Party"), Kirsten Rasmussen (Best of Montreal Fringe, 2011) and Sarah White (Humber Comedy Program). The comedians were very honest about a broad range of personal topics including the effects of ADD, suicidal thoughts, and hating/loving their therapists.
There was a lot of talk about medication: Natalie Norman explained that she started taking anti-depressants in college and only read the "Do not mix with alcohol" warnings years later: "BUT the only reason I was taking the meds was so I could go out drinking…I just wanted to be normal!" Katherine Ferns told us how her medication helped her quit smoking, but altered her sex drive: "I'm fucking like I used to smoke: outside bars, with strangers…mostly Australians." And host Brie Watson explained that the drug she is taking to relieve anxiety causes weight gain because of its lethargy-inducing side effects (a complete Catch-22): "They've got the best business plan!"
Almost every performer referred to themselves as "crazy" at some point during their set. I found this fascinating, as I've personally been trying to avoid using that word lately; it's use is so ubiquitous (everything is "cray" these days) that much of its meaning has been lost, but its primary use is pejorative and it propagates the stigma of mental illness. I hear people (myself included) say things like, "I saw this super crazy guy on the streetcar last night," or, "I go so crazy a week before my period!" It's a catch-all, a throwaway descriptor that often masks some very real issues. On the surface it is not nearly as inflammatory or offensive as the word "retarded," but its careless use makes it just as worrisome.
So what does it mean for these comedians, most of whom have personal experience with mental illness, to use the word? Are they accepting and "owning" their conditions by reclaiming it? Does using it comedically dismiss its seriousness, or does it ameliorate the word? Does comedy help make taboo topics approachable, or do we have to address them seriously first? Are audience members laughing because they can understand "crazy," or because they can't? I struggled with these questions as I watched the show. Afterwards, while talking to Kirsten Rasmussen (who has a show at Comedy Bar this Wednesday, BTW), she mused that maybe the survivors of anxiety, depression, and psychosis are able to use the word because it'stheirs; they have a personal definition of "crazy." But this brings up a whole other slew of questions: Should the word's use be reserved for those who truly know what it means to be "crazy"?What qualifies as crazy or insane? Is there a gradient of mental illness?
So many questions! And I don't have all the answers, but I'm gaining information from people who are sharing their knowledge of mental health. At "Ah Hell, Let's Talk," I was able to witness comedians discussing mental illness in a lighthearted, realistic way. And while I was laughing and puzzling away all night, the show's purpose was fulfilled: I thought about mental health, I talked about it with my friends, and now I'm sharing my thoughts with others. And that was exactly the point—end the silence, break the stigma.