QUEENS is a brilliant new comedy/whodunnit mystery web series set in and around Church & Wellesley, or the heart of the The Village, starring 8 of Toronto's most beloved drag queens—including the bawdy and lovable Allysin Chaynes.
Each 6×10 minute episode follows the misadventures of a particular drag performer whose preparation for the "Miss Church Street" pageant is interrupted in a strange and unfortunate way. All of these mishaps lead the queens to realize the truth- they have all been sabotaged! But who among them is the saboteur? Or, rather, saboteuse?
Sassy, smart, and over-the-top QUEENS is the fun entertainment we need right now, and it's arriving this Friday (June 19) on CBC Gem, as part of Pride's Feature Fridays screenings of Queer and Trans movies, documentaries, and more.
Allysin Chaynes stars as Naomi, a spiritual vibe-loving queen who gets locked in a makeup store during a gas leak (the episode is as hilarious and high drama as it sounds).
What was it that made you say YES to doing this show?
It's an interesting question because as this show is written by a good friend, Justin Gray, who is also a drag performer, Fisher Price, that many of us work with frequently and have known for years, there was no offers or favouritism!
We all auditioned for these roles! We submitted self tapes and then many drag performers were called in for live call-back auditions.
I have talked with Justin a lot about it over the last 3 years that he's been developing this incredible project , so when I saw the casting notice the impulse was immediate and irresistible. I wanted to be a part of this project from the get go especially as Justin developed it further and into what it is now. So, I would say what made me say yes was the brilliant casting team saying yes! I cried when I got the offer. It felt like a really big deal, and still does every time I'm thinking about this show. It feels so big.
What was it like when you first discovered drag? How old were you and can you briefly describe the first time you dressed up?
My first discovery of drag was probably the movie Mrs. Doubtfire, which I watched in the theatre as a really young kid. I still really, really love that movie and Robin Williams made a huge and lasting impression on me as a human being, still does honestly. But I remember that movie so vividly and being so singularly focussed, even as I was really young, on the transformation scenes. Watching Harvey Fierstein repeatedly put Robin in different outfits and wigs and makeup, and then having him create all these characters in these new looks seemingly instantly, it was like my mind was exploding. IT's SO drag. I'll be right back, I'm going to watch that scene specifically on YouTube right now. Okay I'm back. Robin Williams asking when the door opens, "Can you make me a woman?" and Harvey Fierstein, playing his on screen brother, immediately responds by opening his arms and growling, "Oh Daniel! I'm so Happy!!" is maybe the first impression of queer acceptance and love and support in a family dynamic I ever saw as a kid. Deep stuff. Also him as Barbra Streisand. Oh my god.
My family had a huge costume box and loved playing dress up. My birthday is on Halloween so that was a big holiday in my house growing upon —celebrated with equal enthusiasm and decoration as Christmas. I can't pinpoint the first time I dressed up but it was early and recurred frequently ad infinitum until now. For Halloween at 12 I was a woman in a green dress with a long black wig. The signs were all there.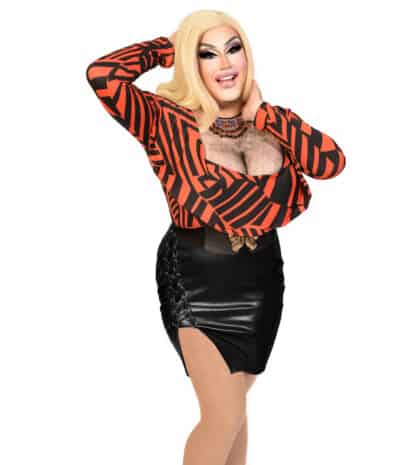 What do you love most about the Toronto Drag Queen community?
The sheer variety of styles of drag and broad spectrums of different types of performer and performance. I think in Toronto the scene appreciates effort almost more than talent or ability. We love seeing people do something 100% and with conviction. I think the success to the Toronto drag community is that it encourages people to find what the thing they do is and do it well. Fill the niche that only you can fill. To know that there are regularly lineups in Toronto featuring pageant winners, hairy rockstars, Drag kings, clubbed gender performers and performance artists is something that makes me really proud about this scene.
Do you have a ritual when you dress up? How does that transition feel for you now? A favourite outfit?
My ritual involves saying something backwards in latin, I see a lot of fire and then darkness. Suddenly 3 hours later I awake in drag. In all honesty my process ritual is usually smoking a bowl and zoning out and being quiet for some of the only time in my life. I really like the getting ready process for just giving me 2-3 hours of what feels like meditation. It helps process out the thoughts of the day and to get my head in the right space to be performing and hosting and interacting with a lot of people.
The transition is still as exciting as it ever was, honestly. I still get so stoked seeing just how different and gorgeous or strange or interesting I can make myself look each time.
My favourite outfit is usually the last one I made. I recently made this dress thats black sheer fabric with silver leopard print and It's directly inspired by the look Kylie Minogue is wearing in the "Can't Get you Outta my Head" video.
How are you feeling about The Village right now? Do you think it can recover from the pandemic?
I'm feeling hopeful about the village right now. Hopeful that the landlords on that stir understand the cultural and historical significance of Toronto's queer village and the surrounding area. I feel hopeful that we're moving towards being better in the village once back. I feel hopeful that after lockdown, and in the current era of much needed socio-political revolution we're in the village is a safer and more represented place for the BIPOC community. I have faith in the queer, I absolutely think we can not only recover but come out of this the type of queer community we were always meant to be.
What has helped you pull through quarantine life over the past few months?
Honestly, not to be sappy, but having a partner I love, and a home I adore has made it a lot easier. I love Drag because it's the single greatest creative outlet for me I've ever found. I've been lucky enough to been doing an amazing live stream every week on Twitch (Twitch.tv/speakeasytattoo) with Lizzie Renaud, the owner of Speakeasy Tattoo shop here in Toronto, who is a really great friend and a tech genius. My cohost Champagne and I started it with Lizzie week one and it's been the highlight of this period doing that show. Having way less work, I've really thrown myself into a lot of things I'd wanted time for. I've baked bread, I've learned my synth way better, I've mastered the intro to Crazy on You on the guitar, and I've spent way less time sewing than I should.
How will you celebrate pride this year?
I think Pride, while a super fun party many years, and always a big earning season for Drag Performers, has been due for a bit of a reset in recent years.
I think the shift to more important issues, the historical roots of protest in pride celebrations, focussing on the foundation of our community that is built on the work of so many BIPOC and specifically trans women of colour, this is exciting to see during pride season, and needs to be at the forefront every year, no matter what. I'll be celebrating pride this year by using my voice to amplify the voices that need to be heard right now, and being fiercely proud of the queer community for standing with the revolutionaries who are working so hard across the world right now, specifically with the Black Lives Matter movement.
What are three things you can't live without?
hmmmmmmmm Laughter, Cannabis and Eyeliner.
QUEENS will premiere on CBC Gem Friday, June 19.