We've been lucky to preview this sensational series and can assure you that Inventing Anna is your next great binge.
Created by Shonda Rhimes (Grey's Anatomy, Scandal), Inventing Anna is based on the real-life story of Anna Delvey, who fooled New Yorkers into thinking she was an ultra rich trust-fund kid, a persona she upheld well on Instagram, only to blaze a trail of debt.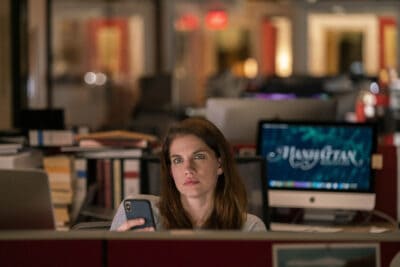 In Inventing Anna, a journalist with a lot to prove investigates the case of Anna Delvey, the Instagram-legendary German heiress who stole the hearts of New York's social scene – and stole their money as well. But is Anna New York's biggest con woman, or is she simply the new portrait of the American dream? Anna and the reporter form a dark, funny, love-hate bond as Anna awaits trial and our reporter fights the clock to answer the biggest question in NYC: who is Anna Delvey? The series is inspired by the New York Magazine article "How an Aspiring 'It' Girl Tricked New York's Party People — and its Banks" by Jessica Pressler, who also serves as a producer.
Both Julia Garner (Ozark, The Americans), who plays Anna, and Anna Chlumsky (Halt and Catch Fire, Veep), who plays Vivian, the reporter, are brilliant. Watching the scandalous story come together is thrilling, and a fascinating comment on the rise and role of influencers in society, and the capabilities that social media has to distort the truth.