Anna Hardwick's love affair with Prince Edward County has spanned decades. "I grew up near Ottawa and during the summers, my family would visit Prince Edward County. Since I've lived in Toronto, we've continued to meet up here. I have many wonderful memories from staying at Angeline's," says the actor, whose affection for the island has grown steadily over time. Hardwick has even invested in the land, purchasing a historic home in Picton with a friend and renovating it into a stunning boutique vacation rental property, which she affectionately calls "The Ferg."
The Ferg has become a cherished destination for tourists hoping to get a taste of the prize-winning wine country on which it is situated, or beach downtime at Sandbanks Provincial Park. But my meeting with Hardwick on this sticky, sun-drenched July afternoon is not about her second life as a hotelier, but as her primary raison d'etre: classical theatre.
From August 3rd until August 27th, she will be starring in the roles of both Hippolyta and Titania in Festival Players' highly anticipated (and freshly modernized) production of Hippolyta's Wedding: A Midsummer Night's Dream.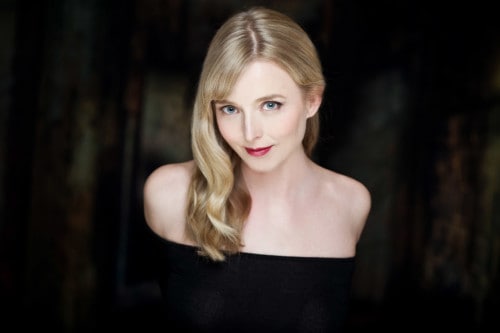 While much of her acting career has been spent on film & television, including popular series The Kennedys: After Camelot (directed by Katie Holmes), Good Witch, Lost Girl and the upcoming Raising Expectations, Anna relishes getting back to her roots. "I think every actor should do a stage play once a year," she says with such conviction that I, not even an actor, feel a sudden compulsion to join a local troupe. "My training in London (LAMDA) was anchored in Shakespeare, and while many would question why the work of a white man from the 1600s is still relevant, what he wrote remains eerily relatable."
On a picnic bench facing the lake, we discuss how Titania is a feminist character and we wonder how women are still dealing with similar issues the characters in Midsummer Night's Dream faced over four hundred years ago. (Laugh or you'll cry, right?)
Our conversation dances from Shakespeare to the fertile soil of Prince Edward County to the growing arts community in this region. Those in the Canadian theatre world will already know the buzzed-about announcement recently made by Festival Players, that Graham Abbey, Director and Founder of The Groundling Theatre Company, is joining the company as Artistic Director. The news cannot help but trigger murmurings that perhaps PEC will soon become a theatre destination like Stratford or Niagara.
With Drake Devonshire already bringing a taste of the city to The County, and world-class wineries hosting the Royal Family, the region is ripe for continued growth. "To be here this summer, to get to do this here [she motions at our surroundings] with this group, is perfection," says Hardwick, and I believe her.
As we chat under the tree, I spot three others from the corner of my eye. One is Alex Furber, Broadway World Award-winner for his role in Mirvish's production of War Horse, who is sort of walking in circles, rehearsing his lines (in Midsummer he plays Lysander; in Mary's Wedding he plays Charlie). The other two individuals are covered in dirt, shovelling peat moss off the back of a pick-up truck. They're laying down the ground on which a stage will soon be born.
There's a breeze in the air and I look around to imagine city folk wandering in from Wellington's Main Street, a skip and a jump away, or sauntering over from the patio at Drake Devonshire to take their seat before a twilight performance. It's a truly magical setting to take in one of the world's greatest plays.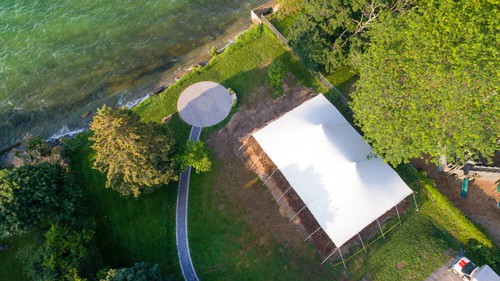 While this age-old comedy will perhaps spark a political debate that draws comparisons to today's new headlines (much like the recent adaptation of Margaret Atwood's The Handmaid's Tale), it's inevitable that experiencing this Shakespeare classic in an outdoor theatre on the shores of Lake Ontario will do things to your mind and body. "I feel very lucky to be here, to do this with such an amazing cast. The energy upon the first reading was palpable."
Staring across at Hardwick – who is so deeply passionate about both this work and this land – and then gazing at the green field that will soon house a Festival Players tent, I feel it too.
Hippolyta's Wedding: A Midsummer Night's Dream opens August 3rd and runs until August 27th at the Festival Players Village Tent, 234 Main Street, Wellington, Prince Edward County. Tickets are now on sale.