Bang the drum, stomp your feet, and clap your hands! Shedoesthecity is super duper excited to be the first to announce the totally awesome lineup at Field Trip Day Camp: a fully immersive intergenerational space that will have the entire family playing and dancing all weekend long! Join us Saturday, June 3 and Sunday, June 4 at the historic Fort York & Garrison Common for Toronto's beloved downtown community music and arts festival.
With so many of the OG Broken Social Scene fans and Arts & Crafts loyalists now with many minis, Field Trip has gained a reputation for being one of the few summer arts festivals enjoyed by twenty-somethings and toddlers alike. This year, festival organizers are taking munchkin programming to the next level.
Behold the seriously hot lineup…drumroll please…The Monkey Bunch, The Fuddles, Space Chums, Shy Kids, Kingdom of Birds, Unity Charity Hip-Hop Arts, Bubbleology, Spin, Flightless Floyd, Loopi The Clown & DJ Purrpelle, Hand-Sewn Heads, Jaq Jaq Bird Mural Wall, Toddler Play Park, and MORE!!!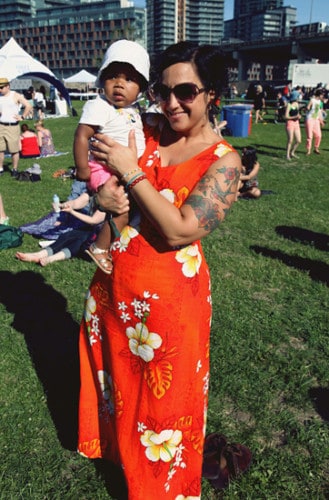 Start the kids off at Day Camp, and then when they're feeling it, explore the rest of the green fields at Fort York to enjoy food, art, and good tunes at every turn.
With this year's Field Trip lineup including Broken Social Scene, Phoenix, A Tribe Called Red, the highly anticipated return of Feist, AND SO MUCH MORE, there is a song and rhythm for every music lover. Check out all the stages, blow bubbles, run, jump, dance, and sing! MUSIC IS FOR EVERYONE! See the full schedule and grab your tickets here.
Children twelve years old and under are admitted for free with any adult ticket. Maximum of two children per adult ticket holder.