The municipal election is quickly approaching, so we want to bring you up to speed with who is running, what their aims are, and why you should vote for them.
April Engelberg works as a litigation lawyer for an investment regulator and was an entrepreneur prior to law school. She was born and raised in Toronto and lives and works in Spadina—Fort York. She is throwing her hat in the ring, and we wanted to find out why.
SDTC: What made you decide to get into politics?
AE: I live, work and spend most of my time in Spadina—Fort York. Our ward is growing extremely quickly—four times faster than any other ward in Toronto. I am extremely passionate about advocating for our ward to make sure that city infrastructure keeps up with development.
What has been the greatest discovery you've made since you kicked off your campaign?
Before launching the platform, I spent a few weeks standing on streets and in parks around the ward asking residents for feedback on city issues. I was thrilled to see how much passion Spadina—Fort York residents have for the city. Not a single person blew me off, and most spent a lot of time providing their input.
What would you say are the top three issues close to your heart?
After speaking with countless residents, and based on my own experience in the ward, the top issues relate to transit. We are growing extremely quickly and need adequate transit plans in place. I am the only candidate with a transit plan, which includes the following:
Creating a stop on the Union Pearson Express train at Liberty Village (where the new GO Station has been approved at King and Liberty).
Extending the Downtown Subway Relief Line west of University (a new line is currently planned underneath Queen East ending at Osgoode Station).
Improving the King Street Pilot by adding more of the new streetcars on King, making the street safer for bikes, and adding pick-up and drop-off zones.
How long have you been a resident of Spadina—Fort York, and what do you love most about it? What do you want to protect? Improve?
I was born and raised in Toronto. I moved to Spadina—Fort York in 2014. I love that it has everything I need: I can walk, bike or streetcar to work. I work in the ward. I can spend weekends walking along Queen West and Trinity Bellwoods. I love the restaurants, cafes and bars, as well as the incredible workout studios in the ward. I can go weeks without leaving the ward!
I want to ensure that city infrastructure keeps up with development. In addition to the transit plan, I am also advocating to build the Rail Deck Park (a park covering the rail tracks all the way from Bathurst to Blue Jays Way) and to improve existing parks. We need safer bike lanes around the ward with clear and permanent barriers. Improving our waste collection so that we have public green bins and proper labelling on all bins is also top of mind, as well as building affordable housing and investing in shelters.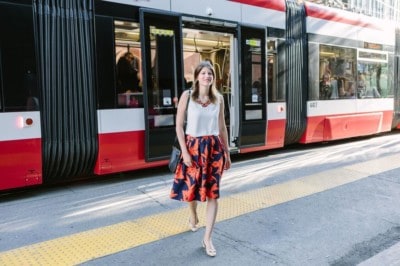 I'm sure running for city council is a slog. What keeps you motivated each and every day?
I am motivated by my incredible friends who have been volunteering with me in morning rush hour, late evenings in the rain, and full weekends since July. The voters also keep me going; I love it when strangers come up to me (or bike by me) to say they've read the platform/watched the campaign video and I have their support!
I also get geared up for every canvass by listening to "Take a Chance on Me" by ABBA! I'm not joking.