Hours after she was announced as a 2023 TIFF Rising Star, Kudakwashe Rutendo spent the afternoon exploring Graffiti Alley with SheDoesTheCity, eager to chat about the journey that led her to this day.
Rutendo is featured in D.W. Waterson's highly-anticipated cheer drama Backspot, acting alongside huge stars, including Devery Jacobs and Evan Rachel Wood.
"With every role as an actor you're discovering different parts of the craft and different parts of how you create," Rutendo tells us. "Backspot was the perfect place for me to find my footing."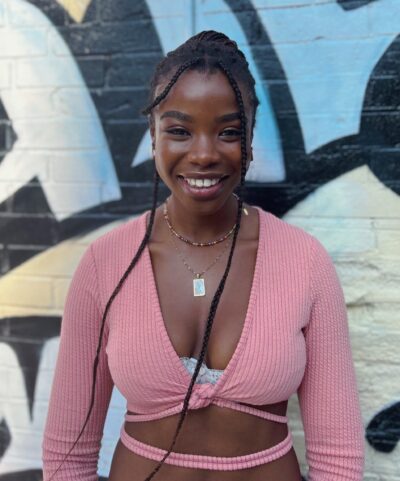 In Backspot, Rutendo plays Amanda, one of three new additions to The Thunderhawks, an elite cheerleading squad. As they face intense routines and rigorous practices, Amanda finds she copes with the pressure differently than her girlfriend Riley (Jacobs).
Growing up, Rutendo was on a cheer team for several years, so she knows firsthand how many misconceptions about the sport still exist. "Cheer is one of the very few sports that to this day, people still consider an accessory to another sport and not as important in its own right," Rutendo explains. "Backspot highlights the true grit and how hard cheerleading is…it's a comprehensive view of what cheer is, for better or for worse."
Rutendo admires the fact that Backspot doesn't shy away from the darker or controversial aspects of cheerleading. Her character Amanda is quick to pick up on these problematic parts of the sport, and to set boundaries for herself. "She's so pragmatic. She's so mature for her age," Rutendo says. "She has such a strong sense of self. She knows her responsibilities, she knows how far she's willing to go for things and what isn't worth it."
After one of her initial auditions, Rutendo was convinced she didn't get the part. "When Dev and I were doing the audition, I remember this moment where we're supposed to hug. I guess she and I both had the same idea of going the same way. So we bonked heads."
But after this initial collision, Rutendo and Devery worked together beautifully. Whether they're belting out a hit from Legally Blonde: The Musical, working together on an intense cheer routine, or wearing strands of licorice as moustaches, their relationship is the heart of Backspot.
Rutendo says that Waterson and Jacobs were clear from the beginning that they didn't want the story to be "queer as conflict". Instead, it's a window into a goofy, joyful queer relationship, where their sexuality isn't a source of tension in the story. "There's a lot of conflict but it's never about their queerness," Rutendo says. "Dev's Indigenous, I'm Black. Never are their races conflicts in this either. They're never made to feel other because of that."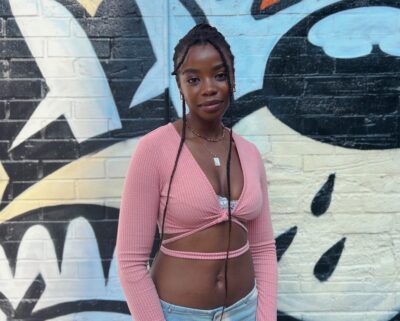 While Backspot is expected to be her breakout role, acting is just one of Rutendo's creative pursuits. Originally from Fort McMurray, Alberta, she's currently studying English at the University of Toronto. She's already written one book, with another coming soon.
When we ask Rutendo about her dream project to act in, she lights up immediately. "I love reading. So basically any book adaptation." Literature and poetry were key in helping her find her voice as an artist.
Back in Fort McMurray, she got her first taste of performance with live poetry readings and Shakespearean monologues. From there, she went on to act in theatrical productions of Factory Theatre's Vierge, and Lost Heroes of Oro at Theatre by the Bay. There was a safety and emotional distance that came with performing other's work, but she eventually discovered that writing her own poetry was a fulfilling outlet for her. "It's a very therapeutic process for me," Rutendo says. "It's a time where I'm forced to confront myself. I think especially in this industry, it's easy to get lost sometimes."
Writing is a safe space for her, a time to reflect, and a way of getting to know herself. She compares the introspective process to how she approaches her characters as an actor: deeply connecting to the words on the page, and striving to understand the person behind them.
Rutendo is undeniably grounded, and her authenticity comes through on screen as much as it does on our walk through Graffiti Alley. There was no better choice for SheDoesTheCity's first Artist of the Month, our new series dedicated to spotlighting women and non-binary artists who are making moves, breaking down barriers, and creating bold, impactful work.
Whether it's on a screen, a page, or another medium entirely, we can't wait to see what Rutendo does next. With Backspot propelling her into the spotlight, we foresee a bright artistic career ahead. Her warmth, the thoughtfulness with which she approaches her craft, and her abundance of creative energy are sure to take her far.
Backspot will have its world premiere at the Toronto International Film Festival on September 8.