IAM: Dance of the Molecules, a Covid story told in 4 acts through dance and light, allows viewers to examine and consider the virus from a drastically different perspective. Radha pulls us directly into the microscopic level of Covid-19, forcing us to face it head on.
"The intention of IAM: Dance of the Molecules is to bring us out of the realm of fearfulness into the realm of curiosity," says Radha, who has lectured on cell biology for artists, art students, and the public at OCADU, the University of Toronto, and the Textile Museum of Canada. "IAM symbolizes the interconnectedness of nature, and the fallacy that humans can live outside of it, or control it. The pandemic reminds us that we are but a thread in the interwoven fabric of nature, a small part of a much larger evolutionary narrative."
The project was shot in the summer; Radha and her creative team filmed the outdoors, wearing masks and working in groups of no more than five people. The result is mesmerizing, mysterious, haunting, and beautiful. We're so used to visualizing the pandemic as people covered in PPE, or "Six Feet Apart" signs—Radha's perspective honours the intelligence of the science, and one cannot help but marvel at its intricate design.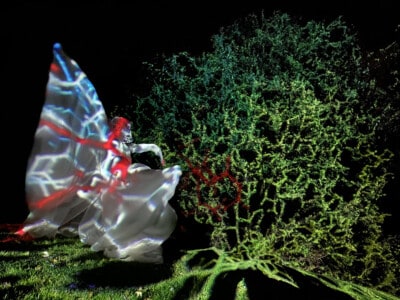 "I hope audiences will take away some perspective and curiosity about our material reality. The dance here happens between molecules, who are also governed by forces of attraction, as we are. When they fit together perfectly, a cascade of events is triggered. There is an astonishing beauty to be found in the molecular realm and in the Covid story told at this scale–a stark contrast to the fear and suffering found in the human realm, which is the subject of the next act of IAM: Of Body and Mind. "
The first part of the series is available to watch now, with the final act, Cosmos, expected by December 2022. When pandemic restrictions have eased, all four acts of IAM will be presented together as a 50-minute live outdoor performance.