Lizzie Pook is a visual writer. To set the scene of her novel, she plastered her office wall with sketches, photos, and magazine tear-outs of pearling luggers, sharks, whales, and the giant waves of an unruly sea. Lizzie wrote Moonlight And The Pearler's Daughter in 2020, during the early months of the pandemic. A seasoned travel writer, her career had vanished overnight. "I wrote most of this book at my desk in gray, rainy London. Writing about Australia was a really nice escape."
Australia is a place of deep meaning for Lizzie. After the death of her father, Lizzie and her twin sister were reeling with grief; unsure of how to piece life together again, they set out on an epic trip across Australia. "We drove from Sydney to Darwin. It was a real turning point after that fracture and grief that came with the death of our dad." At 3936 km, and covering a huge swath of the sparsely populated outback, it's not a journey most would take. But on those long and empty roads, Lizzie and her sister were given time and space to grieve. "I credit Australia with rebuilding me." It's also where the idea for Moonlight And The Pearlear's Daughter was born.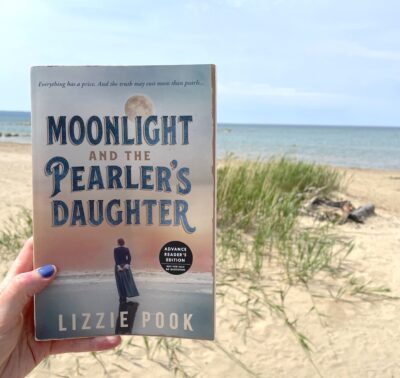 The dusty red landscape provided a moody backdrop, but it was a spontaneous visit to The Western Australian Maritime Museum where Lizzie found her story (although she didn't know it at the time). "Tucked away amongst the old ships and anchors was this little exhibition about a family of British settlers who had sailed across Western Australia to set up the very early pearl diving industry. That piqued my interest, I knew about panning for gold, and mining for diamonds, but I had never really thought about diving for pearls."
It's there where she was introduced to Eliza Broadhurst (1839-1899), a strong matriarch and early feminist who arrived to Western Australia from London as a child, and became an important figure in a man's world, during a particularly harsh period in time. Lizzie was struck by old photos, captivated by Eliza's story, and awed by her grit. At the time, Lizzie didn't know a novel was slowly starting to form, but from that moment on, Eliza lived quietly in the back of her mind.
A few years later, while visiting Broome, a tiny red dust town in Northwest Australia, the idea for a book started to take shape. "Broome is my inspiration for the setting of Bannin Bay, it is one of the most beautiful places you could ever see," says Lizzie, describing the crimson soil and bright turquoise sea. "It's like a postcard, but it has this really dark history of pearling, in which so many men died, people were exploited, and just these incredibly dangerous and often fatal things happening in this really beautiful place."
Having built her career in journalism—writing for The Guardian, The Telegraph, and other esteemed publications—Lizzie began to do what she always does: research. Loads of it. She delved into archives and spent days hidden away in the Broome Historical Society trolling through old newspaper clippings, devoured diaries from the pearlers, examined old photos, and scrabbled together timelines from bits of paper and torn notes. From pearling experts, to naturalists, to bus drivers that drove the route of those landscapes—Lizzie interviewed everyone who was willing to give her time. "I really wanted to get across that this wasn't just white history but it was Indigenous history as well. Aboriginal peoples were horrendously exploited through the pearling industry, and the general white settlement of that part of the world. I wanted to speak to people whose ancestors were in the pearling industry." It was important for Lizzie to shine a light on various accounts of the time, to give an accurate picture of the era.
As an award-winning journalist, the research came easy, but writing fiction forced Lizzie to flex different muscles. "As a journalist, everything that you write has happened, is the truth, and you are recounting details, and you are recounting things forensically. You have to take great care in ensuring that everything that you write is true. Whereas when you are writing a novel, you are faced with a blank page and essentially somebody is saying, 'Go on then, make it up'. When you've trained yourself in the discipline of truth, being let loose to write what you want was really jarring at first, and I found it really difficult! But then when I got into it, I realized how freeing it can be."
Within the first few paragraphs of Moonlight And The Pearler's Daughter, you can practically smell the rotting fish guts on the beach, breathe in the ocean breeze, and feel the thick mud pulling you down. Lizzie has a talent for immersing readers quickly, but she's also a gifted storyteller. "As a travel writer, you're given a finite amount of space and you have to make a reader feel something, and feel that they are transported to a place. You have to get across a sense of place in a very short amount of words," she says, and Lizzie's paragraphs are packed with descriptive writing that feeds the senses. But she explains that when writing a novel, you can't just rely on beautiful settings, "You have to have a plot, there needs to be action and conflict."
After her father's ship returns without him, 20-year-old Eliza Brightwell (inspired by the real-life Eliza Broadhurst), is determined to seek out the truth about his disappearance, and will stop at nothing until she finds it. "It was really nice to write a character that had such a clear intent. She has so much heart and so much courage and she's driven through this story by one particular thing which is the need to save her family and her father."
While Lizzie wrote about Eliza searching for her father, she also processed the death of her own father; the theme of grief is explored extensively in Moonlight And The Pearler's Daughter. "With Thomas [Eliza's brother] and Eliza what I wanted to do was to show two very different reactions to grief. Eliza is spurred into action by her grief, her grief acts as a propellant, a rocket fuel. She is sped through this story by that power. Thomas's reaction to grief is a completely fracturing thing… almost the complete opposite."
For most of the novel, Eliza's father is not physically present, but he's always there, in her memory, or on the pages of his diaries, where he recounts what he's seen on his sea adventures with fervor. While she wrote about Eliza's search for her father, Lizzie also thought a lot about her own dad. "I think that that is something I have certainly found with fiction — it can help explore things that you haven't properly processed, and maybe for me that was grief."
Moonlight And The Pearler's Daughter is out now — get your hands on a copy.