Last month, we launched a monthly book club with Simon & Schuster Canada and June's title is Moonlight And The Pearler's Daughter by London-based author Lizzie Pook.
Set in 19th century Australia, Moonlight And The Pearler's Daughter is a grisly historical fiction and wild adventure that reveals the horrors of the early pearling industry, from the vile exploitation of the local Aboriginal and Torres Strait Islander people, to the dangers met every day at sea. But this story is shared through the perspective of Eliza Brightwell, who arrived to Bannin Bay as a child—her father being one of the many British people lured to the remote coastlines by the promise of pearls, riches, and a better life.
Over the years, the harsh existence has toughened Eliza, and when she discovers that her father has gone missing, she is determined to find him, despite warnings that in doing so, she'd be risking her own life.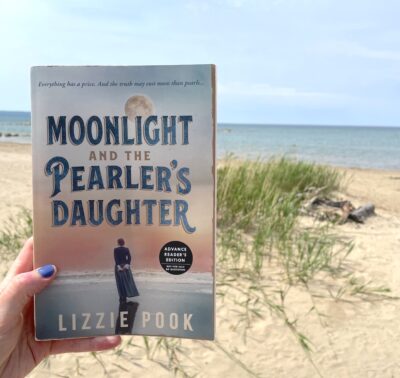 We established our #BooksMakeLifeBetter book club to encourage Shedoesthecity followers (and ourselves!) to read more—exploring all sorts of genres and writing styles by authors all over the world. It is our hope that each book also sparks interesting conversations. This book certainly had our heads going in all sorts of directions, as did Love Marriage, May's title—we loved how each book stimulated our minds in such vastly different ways.
Lizzie's brilliant debut novel is a thrilling feminist adventure, but it's also a meticulously researched book that presents a very accurate portrait of this brutal era. Grab a copy, or enter to win one, and join the conversation online with #BooksMakeLifeBetter.
Below are some prompts to help get you started.
Fans of historical fiction often choose this genre because they like to learn about a new subject. What were the most eye-opening or fascinating things you learned from reading Moonlight And The Pearler's Daughter?
Grief is something that both Eliza and her brother tackle, but in very different ways. How would you describe their grieving process? What ideas about grief did you find yourself reflecting on?
There are many parallels that can be drawn between oyster pearling in Australia and the 19th century fur trade or logging industry in Canada, especially when you examine the exploitation of Indigenous peoples. What has or hasn't been done to acknowledge the harm that colonialism has had on each of these regions? What reconciliation still needs to happen?
Eliza is a fearless feminist protagonist, who defies the gender norms of her era. On reading her story, were you reminded of similar protagonists? If you were a casting agent, who would you recommend to play her in a film?
We loved how Lizzie Pook described ocean life in such great detail. Did her writing make you think about nature differently? What struck you the most about this part of the book?
Lizzie Pook has been a travel writer for years, writing for The Guardian, The Telegraph, and other major publications, which is obvious when reading Moonlight And The Pearler's Daughter. Even though Bannin Bay is a fictional spot (inspired by real locations in Western Australia) we found ourselves thinking a lot about travelling to Australia. Have you been? Do you think you'll make it to that side of the world? Where would you visit, if you could travel to Australia?
In the coming days, we will be publishing our interview with Lizzie and can promise you that her journey to write this novel is as interesting as the book itself. We love talking to authors about the inspiration behind their books, and how they set out to write them–Lizzie's journey is certainly an enthralling one.
For more ways to connect over books, including events, sign up for our newsletter.