Becky Conroy got her professional start working with the editorial end of her family's owned-and-operated kids' mag, The Magazine. "Creating something to inspire, educate and entertain with a youthful team of like-minded pop culture people was one of the most incredible experiences on so many levels."
Although she found editorial life creative and fun, after a few years she found herself drawn to working with clients, production and distribution. "I loved the idea of helping clients interact with youth in a way that benefited everyone."
Now, as Director of Business Development for the Original Santa Claus Parade, Conroy works to help achieve annual revenue objectives and identify new revenue opps. She assists with marketing, PR and broadcast, liaises with sponsors, and handles commercial business duties—even stepping in to help with design from time to time.
We chatted with Conroy about how she got her start, what goes into planning a massive parade (which, incidentally is coming up Sunday, November 18th), and the best part about her job.
SDTC: What drew you to work at the Santa Claus Parade?
BC: I sat on the Board of Directors at the Santa Claus Parade from back in my mag days. I would often go in to see clients, selling print media. And I would sell floats for the Parade on the side while I was there. My father-in-law, Eric Conroy, did sponsorship for the Parade for quite a long time before I did, so it came as second nature. I had watched him do the same thing at a boardroom table for many years before I joined him.
At one point I had a small sales committee–all volunteers. It's quite difficult to sell using only volunteers. But we were not the only ones who sold. The entire Board of Directors are amazing people and try and include Santa in all of their conversations as well. In the past few years, MLSE has been a huge help to the Parade with sales, marketing and strategy–[they are] true partners and an incredible group of community builders.
The Board of Directors realized a few years ago that a volunteer network for sales and sponsorship may not be sustainable. It was at this point that I transitioned from a BOD role to a contract sales role. Sales doesn't feel like sales when you are passionate about something.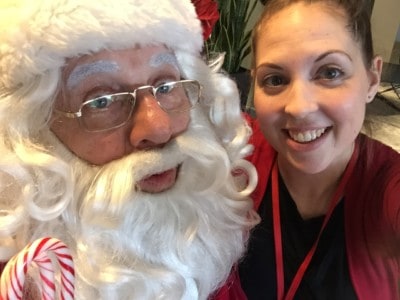 Can you walk us through a typical workday in your life, from getting up until going to bed?
Ha! What time of year is it? Most days start and end with my two little boys, age three and six. But between July and the third week in November [which the Parade's GM and I playfully call J.A.S.O.N.], scheduling ramps up and totally differs from day to day. From taking potential clients on visits to Santa's top-secret warehouse, to creating sales material or onsite signage, my role is literally like no other, and I absolutely love it that way. This year, the Parade hired a new Executive Director, Clay Charters, and I feel that his event and agency experience is truly a blessing to the Parade.
The Parade's magic isn't just because of Santa. Peter Beresford, the Parade's CEO, has done an outstanding job of rallying our BOD of business champions, who give their time and resources every day, because they believe, as I do, that this cherished tradition must continue, flourish and grow.
As the parade draws near, what are the challenges you face in putting it together?
I'm always focused on clients at this time. Each client has hundreds of employees involved in the Parade in some way, shape or form. Some are walking as celebrity clowns. Some are running in our Holly Jolly Fun Run. Others are in their own troop, trailing their float. Some have sampling programs happening at the ROM and Varsity Stadium. Some are just watching in client parade-viewing sections. One of our partners, Metro, is selling Rudolph Red Noses at their stores. There are so many moving parts to the Parade, figuratively and literally. Thousands of people on the street, volunteering.
Part of me stresses for the eleven artists and full-time staff who have been building floats and costumes all year long. Staggering amounts of hours and incredible talents help management ensure that the Parade comes together every year. They've got a seriously hard deadline to hit and are working day and night to meet that goal.
What is the most rewarding part about working with the Santa Claus Parade?
Eye twinkles. Kids smiling. People walk into the warehouse and their eyes widen. They instantly become their eight-year-old self. Bringing community together since 1905 for the largest outdoor entertainment event in Canada is incredible. The all-inclusive nature of Santa Claus is magic.
Hope. Happiness. Togetherness. Eye twinkles. Magic.
It's the stuff you can't put a price on in life that means the most. And the fact that our clients think this way, too?! Rewarding is an absolute understatement.
What is a little-known fact about the parade that would surprise people?
The Parade is not run by the city. It was "saved" in the 1980s by a group of business leaders after Eaton's cancelled it.