Here at Shedoesthecity, we believe #FedIsBest, because not every mom is capable of nursing, and making anyone feel uncomfortable about it is unproductive and can lead to feelings of shame. That said, we also believe it's important to open the dialogue about breastfeeding, beyond World Breastfeeding Week or Breastfeeding Awareness Month, because there is so much false information about nursing out there, and women are still made to feel uncomfortable feeding their children in public spaces! (Basically, as mothers, we've learned that you never seem to win; shame and guilt abound in all directions!)
We love Swedish clothing brand Boob because it is about providing sustainable fashion for all motherkind and has clothing available for all stages: pregnancy, nursing and beyond. We also like the name, because why not just put it out there: Boob!
We connected with Swedish entrepreneur and mother Mia Seipel to learn about the birth story of her company built for moms, and what she's learned along the way about growing a business and about motherhood.
SDTC: Tell us the birth story of Boob. Was there a particular moment that the idea came to you? Or was it a slow build?
MS: The idea of Boob was born on a cold and windy autumn day in 1999, when I watched my sister breastfeed her newborn son with the north wind sweeping around her bare waist. There and then, I realized that mothers, like all super heroes, deserve the right gear.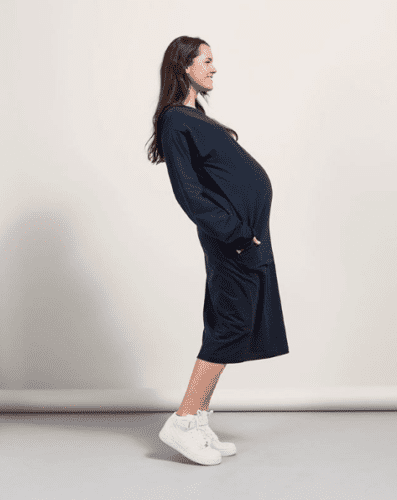 When you think back to when your children were babies, was there anything that you wished someone had told you about breastfeeding beforehand? Or, put another way, what's your best advice for new moms?
When I was breastfeeding my first daughter, I had engorgement after having exposed myself to draft. After that I was extremely cautious with keeping my bust safe and warm. It was also the moment that gave birth to our B.Warmers, a collection of tops and dresses with built-in fleece lining over the bust area. So my advice would be to use precaution as well as use comfortable and wireless bras that will keep your bust safe from cold and draft.
How did you go about creating your first designs?
The first designs were born from the idea of making moms look great while also giving them easy access to nursing. Then, as well as today, we strive to make styles that you would love to wear even if you are not pregnant or breastfeeding. Simply super gear for moms that make them look like a million bucks when most needed.
As an entrepreneur and a mother, what are your top three tips for finding balance (or at least striving to get it?
Time. It's a tricky thing to get the hours to last for everything you need and like to do; however, I truly believe that time together as a family is crucial, and what you do is secondary.
Ask for help. Our two daughters were born with only twenty-one months in between. Raising two babies and toddlers at the same time was very intense. Looking back, I wish I had been smarter and asked for more help. Small things like being able to take a shower without stress can make a big difference.
Organize your company so it fits life. If you are an entrepreneur with an organization, make sure to be clear in your information of how you plan to work during pregnancy and parental leave and/or with Baby at the office. Let co-workers step in and take responsibility. If you plan to bring your baby to work, consider the possibility of hiring extra help just for you and your baby.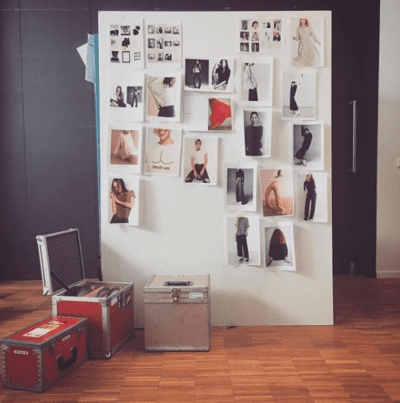 It's Breastfeeding Awareness Month. What's the one message you want to share?
Breastfeeding can be a walk in the park or a nightmare and everything in between. At Boob, we like to create gear that gives moms the best possible starting point to breastfeed with ease and comfort. My experience is that many women tend to put themselves a bit low on the priority list, so my message to moms is that they should see their own well-being and comfort as an investment.
If someone is pregnant right now, what are your shopping tips? Ways to navigate your site?
Go for long-lasting design and quality, and invest in clothes that are made with care for both people and our planet.
Our complete collection is made with double functionality for pregnancy and nursing. We work with high-quality, sustainable materials, and the collection is designed to stand the test of time as well as everyday usage. Simply put: clothes to love, wash and wear, over and over again.
Check out Boob's full A/W 2018 collection here.