Pride can mean a lot of different things to a lot of different people. It's a state of mind; A parade; A celebration of the incredible strides that have been made for LGBTQ2SIA+ communities. However, Pride can also serve as a reminder of all the work that's yet to be done.
When we talk about queer community (and queer communities), it's really important that we remember that there are intersections and marginalizations even within these communities. Black, Indigenous, and other LGBTQ2SIA+ people of colour are often further marginalized within queer communities – as are trans, non-binary, and gender-nonconforming people, and LGBTQ2SIA+ people with disabilities.
Queer communities are just as multifaceted & diverse as any community – and there is no single, universal "quintessential queer experience". Like any community, there are further breakdowns of power, privilege, & oppression — and there are still many battles to fight.
As Pride is commodified and sanitized by large corporations, or what many refer to as "rainbow-washing"; governments attempt to pacify [us] with performance, and by doing the least to protect some of the most marginalized. We seem to be moving further & further away from what Pride used to be.
It's helpful to remember that Pride came from resistance. The first Pride was a riot, and queer liberation is intrinsically tied to all liberation.
We should never forget the roots of pride – what it means, and how people had to claw, and fight, and throw bricks to carve out every inch of space that [we] can now take up with Pride parades and Pride flags.
The fight isn't over – by any means – but if there's one thing we know, it's that LGBTQ2SIA+ communities are full of resilience… But resilience can be exhausting.
There is a resistance and a strength in joy. In celebration, and laughter, and wonder. There's a beauty in queer love, and queer relationships (of any kind). There's a power in queer identity, in softness, and tenderness, and humour.
That's what I want to celebrate with this booklist: Queer joy, love, and community.
I've spoken about my feelings about book lists before – and I stand by what I said: Reading lists do not replace activism.
"Timely" book lists by and about marginalized people & communities come out, like clockwork, during our "designated" months. However, so often, these book lists feature the same kinds of stories – stories of pain, trauma, and violence — painful, vulnerable recollections of some of our hardest moments. While there is power & resilience in writing these kinds of stories, and these difficult, brutal, uncomfortable, and painful stories are incredibly important – it's also exhausting to constantly (& exclusively) be defined by them. Stories of joy, love, and laughter are just as important.
As someone who has worked in the book industry for a few years, I have seen over and over again how the trauma of marginalized people is commodified, exploited, and centered—often over our joys.
This has happened often enough to the point where it feels like the book industry is pigeonholing authors from marginalized communities, pushing them to write about trauma & hardship – often prioritizing these stories over stories that centre joy.
When book sales, reading lists and marketing efforts for authors from marginalized communities are timed around 'zeitgeist' moments for their communities — often due to pain & violence faced by those communities, or obligatory acknowledgments of designated "months" or "days" – we reinforce this cycle. We continue to link marginalized people – especially Black people, Indigenous people, people of colour, & LGBTQ2SIA+ people — to hurt and violence.
This hyper focus on pain and trauma reflected in awards & recognition as well – where subtly, somehow, at some point, we all collectively decided that a romantic comedy, or a high fantasy, or a weird, speculative story wasn't as "good" or "poignant" or "powerful" as something "serious" and "heavy" – laden with pain.. But this isn't true!
While trauma is important – to own, to process, to unpack, to heal from, and to share (if you need to)– we are so, so much more than our trauma(s). Our stories of joy, love, humour, light, tenderness, compassion, community are just as "valuable", "powerful", "important" and just as encompassing of us, our experiences, our identities, & our communities.
While the books I've recommended below aren't free from pain – they're not centered solely in it. This collection of books was curated with joy, love, compassion, and community in mind, and I hope it leads you to your next favourite read.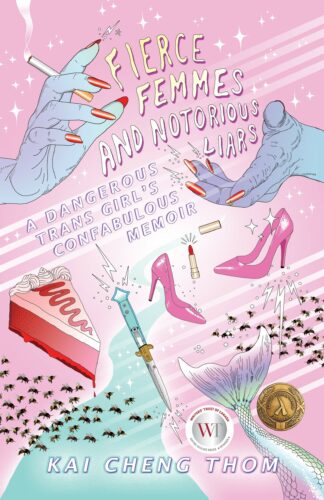 Fierce Femmes and Notorious Liars: A Dangerous Trans Girl's Confabulous Memoir – Kai Cheng Thom
This is one of my favourite books to recommend. Strange, speculative, weird, and vibrant, it's unlike anything I've ever read before. Thom created an incredible and fantastical world, full of magical trans goddesses, giant mermaids, and violent girl gangs.
This book is as innovative and vulnerable, as it is dark, and funny. It's a coming-of-age story about a young trans woman of colour who moves to the big city to find her place, and she finds a community of incredible trans femmes. While this book is unafraid to explore ugliness and pain – it's wholeheartedly a story about community, friendship, love, and family (the one you're born with, and the one you make). Breathtakingly beautiful, I read this in one sitting.
I had never read anything as weird and wonderful as this before, and I haven't been able to stop thinking about it in years. Definitely a must read.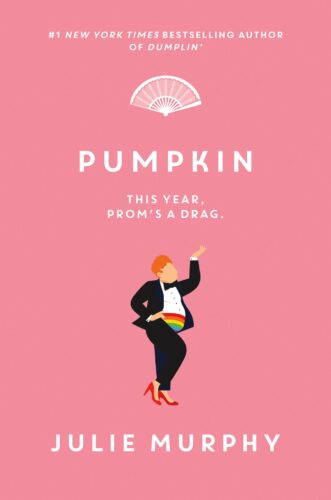 Pumpkin – Julie Murphy
A sweet, sassy, and delightful story about a young, fat, openly gay teen, living in a small town.
Waylon has a big personality, and even bigger dreams, and can't wait to get out of town with his twin sister, to attend college together, and finally live their truth. He's a man with a plan, but unfortunately, life seems intent on derailing it. After he gets dumped, and his sister breaks the news that she no longer has the same dreams as him – he throws caution to the wind and films an audition tape for his favourite TV drag show – Fiercest of them All. When the tape is leaked, and he is jokingly nominated for prom queen, and his sister's girlfriend is nominated for prom king, together, they decide that there's only one thing to do… Run for prom court, for real, and leave high school with a big, *sparkly* bang.
Set in the same world as Julie Murphy's Dumplin', and Puddin', and featuring cameos from some of our favourite characters, this book was a heartwarming and powerful story about being true to who you are. Full of romance, and drag, and all the messy, lovely beauty of being a teenager, you'll find yourself rooting for Waylon and his friends, as they dare to stand out, in a world that seems set on telling them they have to fit in. This book was a good time!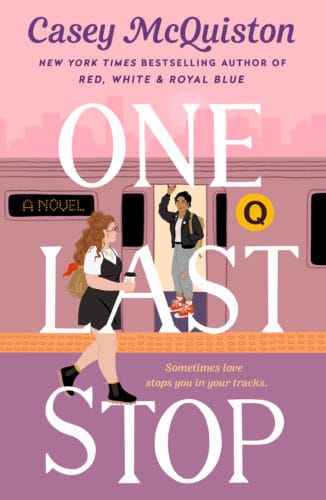 One Last Stop – Casey McQuiston
Pardon my French, but One Last Stop was a fucking delight!
It's a genre transcending rom-com about pancakes, and drag queens, and cassette tapes, and true crime. It's a story about love and friendship, and family – the one you're born with, and the one you make.

You should go into this book with an open mind. Not everything will make sense, or be realistic, and that's kind of the point. This book was zany, and quirky, and weird, & wonderful. At times I laughed out loud, and other times, I had a painful lump in my throat. Reading it was a straight up good time, and a reminder of how much fun reading can be!

The characters were really wonderful – the way they interacted with each other felt so honest and real, and lovely, and the fact that almost every character we meet is a member of the LGBTQ2SIA+ community?? Amazing! Refreshing! Relatable! Lovely.
McQuiston has written the perfect escapist story. It's a queer sapphic rom-com with messy characters, & magical time heists. It's a saccharine love letter to New York, and the Q subway line, and queer communities.
It's a "Makes you love love" story, you'll never forget.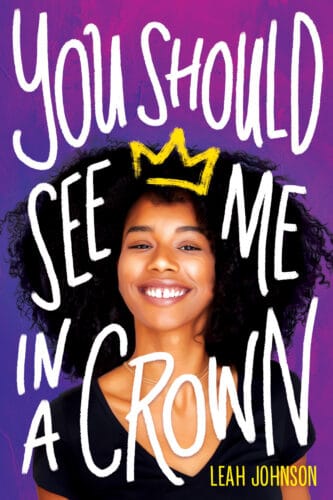 You Should See Me In A Crown – Leah Johnson
I don't say this lightly (or often), but this book was perfect.
You Should See Me In A Crown is a contemporary young adult novel about a young Black teen who has always felt out of place in her small, rich prom-obsessed town, and already has an "escape" plan, in the form of her dream college. However, when the financial aid she was counting on falls through, she decides to run for prom queen, to try to win the scholarship prize, not expecting to fall for one of her prom queen competitors.
This is a story about being true to yourself, and why it's okay to be different, and not just blend in. It's a story about friendship, and young love, and standing up for yourself. I laughed, I cried, and I loved it.
Johnson wrote a sweet, thoughtful, and smart story, with all the ingredients you need to make for a delightful rom-com. This story was lovely, unforgettable, and full of Black joy, queer joy, and Black Girl Magic. What a treat.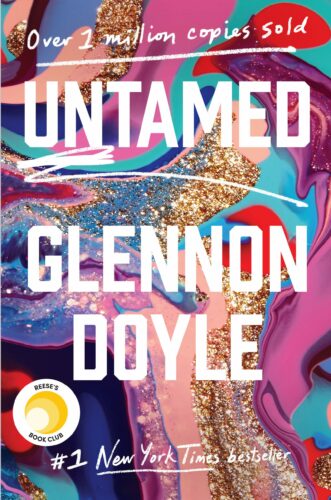 Untamed – Glennon Doyle
A soulful, bold and tender memoir, and wake up call about how Glennon Doyle learned that a responsible mother isn't one who slowly dies for her children, but instead, is one who shows them how to fully live. In Untamed, Doyle navigates divorce, and creating a new family – all while coming to terms with some "messy" truths about what it means to be: a woman, a mother, a partner, and alive.
Doyle is a talented writer – and it's very clear in the way she explores and asks hard questions about the culture she was born into – that puts us all in boxes. She shares anecdotes about her life that are so compelling, and so utterly human, that you can't help but lose yourself in her words.
Part self-help book, part memoir, and fully captivating. This memoir is a story of trusting yourself, and a 300+ page reminder that "It's okay not to be okay."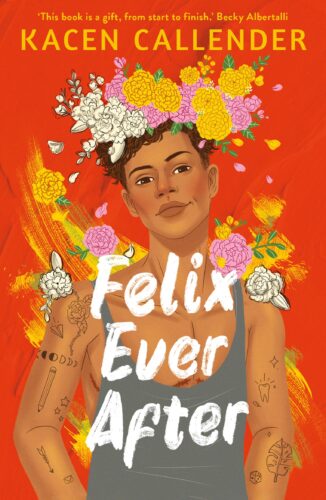 Felix Ever After – Kacen Callender
Felix Ever After is the story of a young, Black queer trans teen, who just wants to find love, but believes he is one marginalization too many to get his own happily ever after. A bit heavier and more painful than some of the other titles on this list, I couldn't not include this tender, heartfelt, and beautiful contemporary young adult novel.
The book was kind of messy and confusing – just like real life. This book was sweet, tender and hopeful, but also hard, painful, and sometimes heartbreaking. I loved seeing Felix grow up, and learn to love and accept himself in ways he didn't think he could. I loved to see the ways he questioned himself, and his confusion with his identity – it felt so real, and so relatable.
I have to admit it was a bit hard to be on this journey with Felix – there were so many times that I wished I could just look Felix in the eyes and tell him he was valid – more than just valid, he was beautiful, and worthy, and deserving of kindness, care, and love. It broke my heart to read the ways he struggled, but I could see how important and honest that was for us, as readers, to go through this journey with him.
As a teenager, I think I would have really needed this book. I am so grateful to Kacen Callendar for writing it, and I just want to get this book in the hands of any and every person who needs it. Who questions if they are one marginalization too many – (you're not) – and who question if they are deserving of love (You are).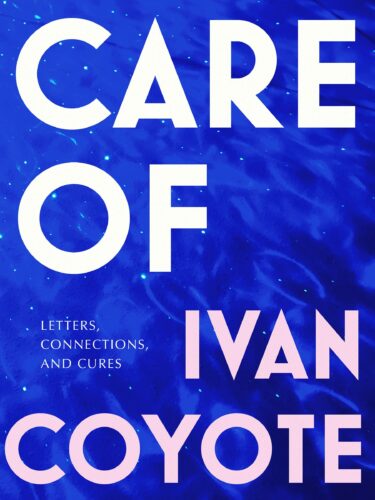 Care of – Ivan E. Coyote
Ivan Coyote is an incredible storyteller, and Care Of sounds like their most intimate and powerful book yet. I have it on hold at the library, and I look forward to losing myself in Coyote's words.
Care Of is a collection of communications received from Ivan's readers and audience members, along with Ivan's responses – put together with painstaking care, during the pandemic, and culminating in an intimate, beautiful, and vulnerable body of correspondence.
This collection is affirming and full of joy, as it tackles topics Coyote frequently explores in their writings – trans and non-binary identities, compassion, and empathy. It's a meditation on the power of listening to each other, and finding new ways to belong to each other.
Care Of is a love letter to human connection – coming at the perfect time – when our raw, anxious, and vulnerable hearts are seeking it most.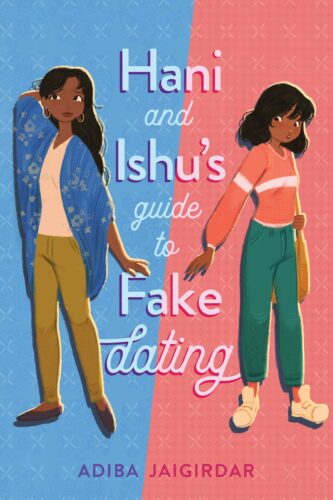 Hani and Ishu's Guide to Fake Dating – Adiba Jaigirdar
Hani & Ishu's Guide to Fake Dating was a delight.
This young adult book follows Humaira (Hani), one of the most popular girls at school, and Ishita (Ishu) – her academic, overachieving, opposite (and also the only other Bengali girl at school). When Hani comes out to her friends as bisexual, they invalidate her identity by saying she can't be bi if she's only dated guys. Panicked, and trying to validate her identity, she lies and says she's in a relationship with Ishu – who her friends hate. Ishu agrees to help if Hani helps her become more popular, so she stands a chance of being elected head girl. When they start to develop feelings for each other, things start to get complicated…
It was sweet, tender, emotionally poignant, and so, so much fun to read. Reading a sapphic rom com about two queer brown girls (one of whom is Muslim), was truly healing.
While geared towards teens, I think adults will get a lot out of it too – because its affirming messages of queer love, and validation of queer identities and queer experiences was so powerful.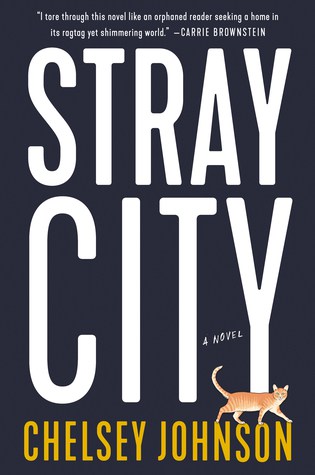 Stray City – Chelsey Johnson
I enjoyed Stray City for a lot of reasons, and one of those is definitely its depiction of queer identities and relationships and how they can be fluid, and sometimes messy, confusing, and complicated. Another is how it depicted queer community in such an authentic and meaningful way.

This book is split into two stories – one featuring Andrea, a young lesbian, in a super gay Portland community, who somehow finds herself pregnant – and to the shock of all of her gay friends, she decides to have (& keep) the baby. The second half of the book follows Lucia, who starts asking questions about the father she's never known, questions Andrea hoped never to have to deal with.

This book welcomes you (with open arms) into what it means to be in a queer community – showing you the ways you can create a new family with people who understand you. However, it also explores what it means to seek your truth, grow up, and discover who you are, even at the risk of upending everyone else's expectations.
Stray City is many things. It's a love letter to Portland, it's a page-turner, it's a heartfelt story about family – both blood and found – and a sweet, messy, beautiful ode to love – in its many, many forms.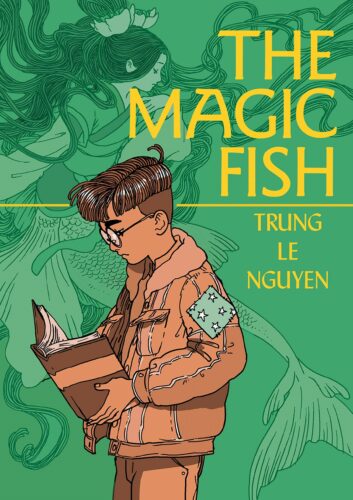 The Magic Fish – Trung Le Nguyen
I adored this beautiful, vulnerable, and tender young adult graphic novel so much!
Fairytales may have happy endings, but real life doesn't always.
The Magic Fish follows Tiến, a young, Vietnamese boy who loves reading his favourite stories with his parents, from books he borrows from the library. It's hard enough trying to communicate with your parents when you're a kid, but when your parents struggle with English, how do you find the words to express yourself, when you don't know how to say it – when you don't even know if there is a way to tell your parents you're gay in Vietnamese?
This beautifully illustrated story goes back and forth between Tiến's life story, and the stunning, fairytales he reads, to connect with his family. The fairytales were vivid, and fantastical, and you really feel yourself sinking deeper and deeper into them. Tiến's relationship with his friends was so sweet and validating, and full of joy and tenderness, and humanity – I read this book in one sitting, and most likely you will too – because you certainly won't want to put it down!
This is a story about family, and love, and being true to who you are – as well as a beautiful reflection on the ways stories can bring us together. I can't recommend it enough.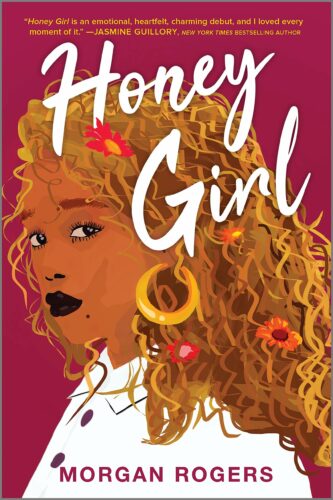 Honey Girl – Morgan Rogers
Honey Girl is the tender, heartfelt, lovely, and messy sapphic romance of my dreams!
Morgan Rogers' debut is a story about family (the one you're born with, and the one you choose); It's a book about control, and what it means to let go of it; It's a story about loneliness, and finding your place in the cosmos; it's a story about drunkenly getting married to your one night stand in Las Vegas, and what happens after you wake up the next day. It's a queer love story that gives you butterflies – so full of heart and vulnerability.
I adored the way Rogers shows us the magic of crushes, the yearning of love, and the tenderness and strength we can find in community and friendship.
I'm in love with Rogers' writing style. I don't know how to explain it but this book is DELICIOUS. Morgan Rogers' writing is sweet and succulent, like juicy ripe fruit. I keep finding myself saying what I'm reading out loud just to feel the words in my mouth. You will fall in love with this book the way I did!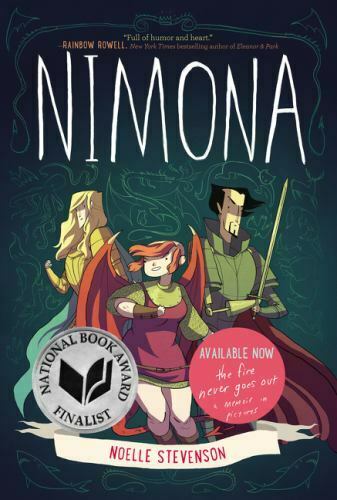 Nimona – Noelle Stevenson
I am president and CEO of the Nimona fan club.
This delightful young adult graphic novel never fails to fill me with joy. Sweet, weird, and so hilarious, when I worked in a bookstore, I loved recommending this book to teens, tweens, and adults alike.
Nimona is a young shape-shifter, out to prove herself. She's got a knack for villainy, and decides to become the sidekick of supervillain Lord Ballister Blackheart. Blackheart's got a vendetta against Sit Ambrosius Goldenloin, and is set to prove – that Goldenloin isn't the hero everyone thinks he is…
As the battle between hero and villain escalates, things start to get murky and dangerous…And Blackheart is forced to wonder – what cost is he willing to pay to fulfill his vendetta?
Stevenson's graphic novel debut was sweet, funny, charming, and full of heart. It balances its levity and humour with some real emotional poignancy and darkness. It's the kind of book you read in one sitting, and then immediately turn it back to the first page to start all over again. One of my favourites – Nimona brings be joy at every reading.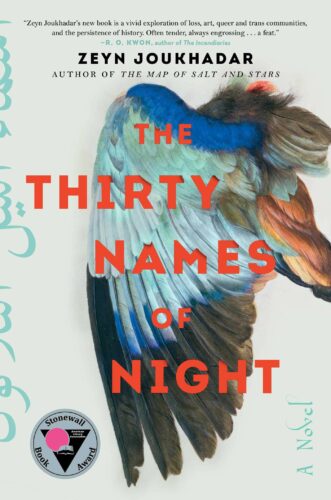 The Thirty Names of Night – Zeyn Joukhadar
As Joukhadar himself describes it, with The Thirty Names of Night, he wanted to write "a love story, in which love was not synonymous with sacrifice".
This is a powerful story about a closeted Syrian American trans boy, who sheds his birth name, and searches for a new one. He hasn't been able to paint since his mother's ghost started visiting him, and he spends his days taking care of his grandmother, avoiding his estranged sister, his neighbourhood masjid, and his best friend (and long-time crush). When he discovers the journal of a Syrian American artist named Laila Z, who dedicated her career to painting the birds of North America, he finds that Laila's past is tied to his mother's and grandmother's in unexpected ways. He discovers he was never as along as he thought he was – and claiming a new name: Nadir.
This is a gorgeous story about love, identity, and embracing who we are.
Ameema Saeed (@ameemabackwards) is a storyteller, a Capricorn, an avid bookworm, and a curator of themed playlists, tailored book recommendations, and cool earrings. She enjoys dancing, tattoos, sweatsuits, bad puns, good food and talking about feelings. She writes about books, unruly bodies, and her lived experiences, and hopes to write an essay collection one day. When she's not reading books, or buying books (her other favourite hobby), she likes to talk about books (especially diverse books, and books by diverse authors) on her bookstagram: @ReadWithMeemz