We're elated that July's book club title with Simon & Schuster Canada is Akwaeke Emezi's exquisite new novel You Made A Fool of Death with Your Beauty. The New York Times bestselling author gives us a seductive, juicy, evocative page-turner about the possibility of new life after a devastating loss—and the messy, daring and reckless choices that can take us to a thrilling new place.
Feyi Adekola wants to learn how to be alive again.
It's been five years since the accident that killed the love of her life and she's almost a new person now—an artist with her own studio and sharing a brownstone apartment with her ride-or-die best friend, Joy, who insists it's time for Feyi to ease back into the dating scene. Feyi isn't ready for anything serious, but a steamy encounter at a rooftop party cascades into a whirlwind summer she could have never imagined: a luxury trip to a tropical island, decadent meals in the glamorous home of a celebrity chef, and a major curator who wants to launch her art career.
She's even started dating the perfect guy, but their new relationship might be sabotaged before it has a chance by the overwhelming desire Feyi feels every time she locks eyes with the one person in the house who is most definitely off-limits—his father.
This new life she asked for just got a lot more complicated, and Feyi must begin her search for real answers. Who is she ready to become? Can she release her past and honour her grief while still embracing her future? And, of course, there's the biggest question of all—how far is she willing to go for a second chance at love? Akwaeke Emezi's vivid and passionate writing takes us deep into a world of possibility and healing, and the constant bravery of choosing love against all odds.
We love Emezi's sharp-witted dialogue, the graphic and absolutely arousing sex scenes, the tension and chemistry that unfolds on every page, the conversations about art and art appreciation, the lush scenery, and the feeling like we were right beside Feyi as she slowly emerged from a deep depression to find a path forward, urging her to step into the unknown.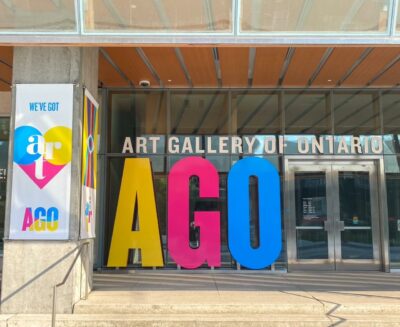 BOOK + ART GIVEAWAY
To kick off July's book club title we've partnered with the AGO for a stellar contest: Enter to win a copy of You Made a Fool of Death with Your Beauty plus an AGO Annual Pass. You have three ways to do this:
Head to Instagram and LIKE our post + tag a friend + follow @shedoesthecity, @SimonSchusterCA and @agoToronto.
Head to our Facebook page and LIKE our July Book Club post and tag a fellow book + art lover.
Tweet: "Dear @shedoesthecity, books + art = me. I'd love to win a copy of @azemezi's 'You Made a Fool of Death With Your Beauty' plus an @AGOToronto Annual Pass. #JulyBookClub"
Find You Made a Fool of Death with Your Beauty wherever you buy books. More info and direct link to purchase here. Get a copy (or win one), read along with us, and look out for our discussion guide. Find out more about our #BooksMakeLifeBetter book club with Simon & Schuster Canada here.