With nothing on the calendar, Canadians have to create their own fun at home, and Cineplex's National Popcorn Day (Jan 19) is a really great excuse to throw a memorable event in your living room.
You may be thinking, "But we watch movies every night, how is this different?". Well, that depends on how creative you get!
Since the onset of the pandemic, we have tested out a lot of different virtual events and activities, and we've discovered that the key to enjoyment has a lot to do with the anticipation and organization (and we mean fun prep, not work). Rather than just rolling over and logging in, create an event, and plan for it!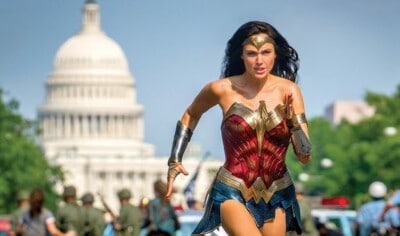 Fun ways to celebrate National Popcorn Day:
Pick a movie in advance. Hype it up. Cineplex has tons of films to rent, including new releases. Promising Young Woman, Roald Dahl's The Witches, News of the World, Nomadland, Wonder Woman: 1984, Mulan, Ammonite, are all available to watch, as well as a collection of beloved classics.

Order in popcorn from a Cineplex theatre! Since March 2020, over half a million bags of popcorn have been sold through delivery orders! It's a popular and fun treat to look forward to!

To connect with friends and family, choose the same movie to watch in different households, and then organize a ZOOM call following, to share thoughts on the film.

If you have little kids, have them create a pretend ticket booth at the 'movie theatre entrance'. If they're like our kids, they'll enjoy pretending to take your ticket, and help you find your seat. Let them run the concession stand too!

You could also order other snacks; all SkipTheDishes and UberEats delivery order from Cineplex theatres will receive a free small popcorn.

Make the viewing room extra cozy. Invite kids to bring sleeping bags and stuffies, turn down the lights, to create a special and memorable ambience. We guarantee that the smell of popcorn alone will enhance your at-home movie experience!
"For many, popcorn is a key element of the movie-going experience, dating back to the early days of cinema. As we have seen in recent months, movie lovers' appetite for popcorn has not wavered – delivery orders of Cineplex popcorn and other concession stand treats have tripled since March 2020, wth over half a million bags of popcorn delivered across the country," said Sarah Van Lange, Executive Director of Communications, Cineplex. "As we continue to adapt and evolve during this challenging time, we felt it was important to continue this light-hearted tradition and encourage fans to enjoy some popcorn with perhaps a new release."
Planning mini events at home to look forward to will help keep spirits up while we slog through this difficult time. And don't forget to share your photos with #NationalPopcornDay! It's a cute and easy way to connect with other Canadians. More info here.