You have four nights this November (23-26) to get in on the magic that will surely abound when the Toronto Symphony Orchestra (TSO) performs two of Tchaikovsky's most monumental works: Piano Concerto No.1. and Symphony No. 6 in B minor, as well as Birds of Paradise II by beloved contemporary Swedish composer Andrea Tarrodi.
The upcoming performances will invigorate your imagination, especially with world-renowned Ukrainian-Finnish conductor Dalia Stasevska at the helm, and Armenian-American master pianist Sergie Babayan, who is widely regarded as a musical genius.
The Symphony No. 6 in B minor, also known as the "Pathétique" Symphony, is Tchaikovsky's final completed symphony, written in 1893, and the great composer confessed that he had put "his whole soul" into it. For listeners, it's an enthralling experience that awakens us to a universe of emotion.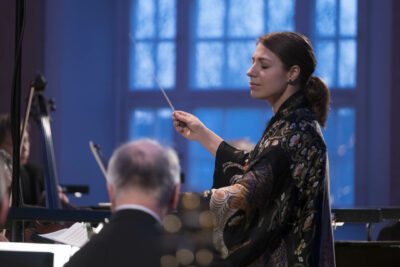 If you're a music lover, you likely hum Tchaikovsky's operas and symphonies regularly, perhaps without even realizing it (Dance of the Sugar Plums, Waltz of the Flowers)—his music lives on within the mind and body long after you hear it. We love that this concert pulls from the Romantic Period as well as some of the best modern-day orchestral music, the complementing styles push the instrumentalists in fascinating directions, showing off their range and talent.
Powerful, playful, enchanting, and eclectic are all words often associated with Tchaikovsky's work, and Tarrodi's work is likewise incredibly moving. With its dark days and cold rain, November can be a bleak month. Liven it up with a night at Roy Thomson Hall. The concert will be magnificent, and the music will continue to uplift long after the performance.
Reserve your tickets today. A night with the Toronto Symphony Orchestra will undoubtedly add beautiful energy to a somewhat challenging month.
CONTEST!
Enter to win two tickets to one of the four performances of Tchaikovsky's Piano Concerto + Pathetique this November. You have three ways to enter:
On Twitter, tweet: "Yes please, @Shedoesthecity, I'd love to brighten up November with a @TorontoSymphony concert. #TSO100"
On Instagram and Facebook: LIKE + TAG a music lover on Shedoesthecity's TSO contest post, and be sure to follow the Toronto Symphony Orchestra to stay abreast of all upcoming performances! Their centennial year is loaded with incredible concerts.