This spring, Toronto's Britt Barkwell (Trouvaille) has joined forces with eBay Canada to launch a curated collection of hand-picked items, keeping sustainability in focus. We're IN LOVE with this chic collection and Barkwell's holistic approach to style. "At Trouvaille, we believe that it isn't only about your fashion choices but also how you style your home, entertain, travel and eat," she says. "We aim to be a resource to help women live beautifully, simply in style."
As we move away from fast fashion and towards timeless, quality pieces, this collection is a great starting point to refresh your wardrobe. We chatted with Britt about the collection this week.
SDTC: How did you decide which trends you wanted to focus on?
BB: For spring, we identified belt bags, platform sandals, coin jewellery, polka dots, utility dressing and crafted bags as our key six trends. We felt that these were the most wearable and versatile trends that dominated spring runways. We also loved that they can be achieved with both high-end and affordable pieces.
What are your top three picks?
I am most excited about the belt bag trend. As a mom of a two-year-old, I think that having a hands-free but stylish accessory will be an amazing luxury. The utility dressing trend, which is everything from one-piece boiler suits, cargo-style pants and military jackets, is another favourite that we were excited to find tons of options on eBay. The best part about this trend is that it's wearable and in a neutral palette that can easily integrate into your wardrobe. I also can't wait for polka dots, as it's a simple way to add a playful twist to your look.
Have you noticed a shift away from disposable, fast fashion and towards more sustainable, timeless pieces?
There has definitely been a shift towards more sustainable fashion. At Trouvaille, our mission is to encourage women to buy less and choose well. We believe in simplifying your wardrobe and making fashion choices that are seasonless. We try to offer a wide variety of products with a focus on timeless, simple pieces that build the foundation of your wardrobe.
I think that people are starting to see the implications of fast fashion and want to do their part to reduce their carbon footprint. It's not just about the fabrics you choose and your choice to buy from brands that use sustainable methods; buying and selling through a consignment shop or an online marketplaces like eBay.ca is certainly another way to build a wardrobe more sustainably.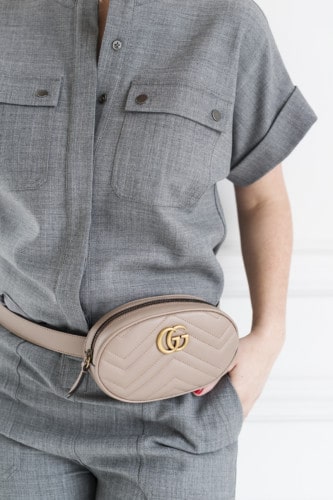 In what outfit do you feel the most you?
A pair of vintage denim and a crisp white blouse.
What was the most enjoyable part about this process of curating this selection?
We've always been huge fans of eBay.ca and considered it a great resource for finding unique fashion pieces at different price points. Our mission is to help women navigate the endless possibilities of online shopping, and eBay.ca makes our job so much easier. We enjoyed discovering how many items listed on eBay are new and fixed price vs. auction—over eighty per cent! However, I still found the opportunity to choose some vintage, like-new designer pieces that were absolutely gorgeous.