Yael Malkin estimates that she's microbladed at least 5000 eyebrows. With a cult following, she's become one of Toronto's most trusted and sought-after permanent makeup artists, who books out weeks (months!) in advance. Yael, in fact, has become so widely recognized for her microblading talents, that she now continually fills Phi Academy workshops, educating both brow beginners as well as bonafide beauty pros.
Over the years, brow trends shift: skinny plucked brows, unkempt 'boy brows', thick dark Kardashian brows—we've lived through it all! But Yael predicts that 2020 will be about perfecting an"airy and natural" look, which she loves.
Wax, tint, pluck, thread—there is no shortage of ways for humans to fashion their eyebrows, but Yael makes a strong case for microblading. It's a higher upfront investment, but worth it.
When did you really begin to fall in love with eyebrows?
The moment I picked up tweezers! I plucked my family and friends into 90's Pamela Anderson brows! Later on when I became a makeup artist, brow shaping was always my favourite part of the job and so microblading became a natural progression for me.
There are a lot of beauty options for eyebrows today, why do you think microblading is the way to go?
Microblading is absolutely the lowest maintenance. You only have to receive a touch-up every 1-3 years, and there's always a guideline in your skin for cleaning up the brows. It's also an enhanced version of your own brows, which is something that cannot be achieved with shaping alone. Also, think of the time you save from having to draw on your own eyebrows everyday with makeup.
What makes a good microblader?
Having passion for what you do everyday is essential to being a strong artist. If the love isn't there, it will always show in the finished work. A good microblade artist will strive to learn all they can, and never stop. The same stands for educators. I don't ever feel like there isn't more room for growth.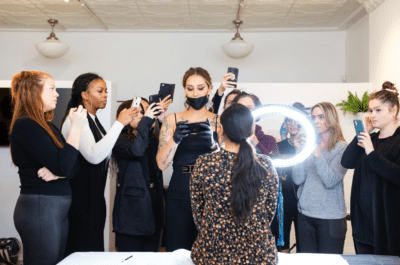 What do you predict the brow trends will be for 2020?
Natural natural natural. Airy and fluffy natural brows! The younger generation doesn't pluck the same way we did, and we're realizing how fresh and youthful the natural look is.
Why do you love what you do?
I can give back. It's truly so rewarding, being able to make a woman feel beautiful. Give them extra confidence. I often give women their eyebrows back after they've lost them to chemotherapy or alopecia. It's a win/win, what's not to love?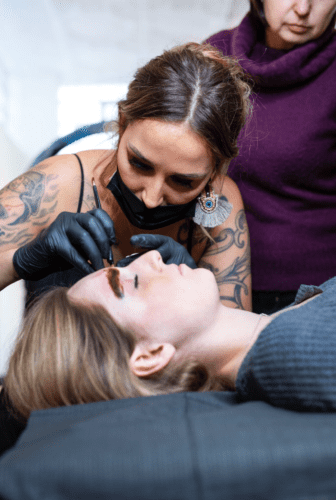 What's the number one request you get from clients?
Natural brows! I'd say 99% of my clients want the most natural appearance possible.
What's the number one worry you hear from clients—who are trying microblading for the first time—and how do you calm their nerves?
There are a couple of standard preoccupations. Many women are afraid of the pain, but for 99% it's very tolerable and you're numbed halfway through the procedure with a topical anesthetic. Another common fear is having unnatural looking brows, the blue or red brows many of us have seen on people. Our pigments don't contain the metals that cause this change in tone. We also pre map the brows, so our clients get to see their shape prior to the procedure. This makes a big difference in building the confidence from our clients.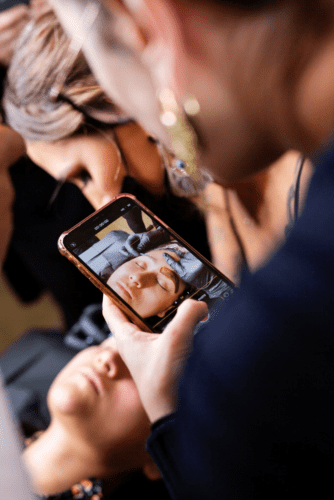 Who do you think has the biggest brow influence right now?
I get a ton of women showing me photos of Kim Kardashian's brows. They're beautiful, so I'm not surprised!
Anything else you want to share?
Microblading can be a really lucrative business and it's not surprising that so many people are jumping on the bandwagon. Most of my classes are Toronto based, but I'm working on organizing workshops across Canada!
Brows by Yael is located at 1144 Queen Street East. For a full list of services, to book an appointment, or find out how to sign up for a microblading workshop, visit www.browsbyyael.com.