As if Toronto summers couldn't get any hotter. We are SERIOUSLY pumped for the 12th annual Toronto Burlesque Festival, which kicks off Thursday, July 18 and runs until Sunday, July 21 at Mod Club Theatre and Revival Bar. This sizzling, one-of-a-kind spectacle will rouse all kinds of feels and tingles inside of you, so if you're a dance lover, in the mood to be dazzled, or just in search of some effusive entertainment unlike anything you've seen before, hit up one (or ALL) of the many incredible events happening during this year's run. (Get tickets here.)
In anticipation of this totally sensuous fest, we chatted with Midnight Wolverine, Coco Framboise, Sweetpea and Zyra Lee Vanity, four performers we'll have our eyes on during the fest! Each of these burlesque bombshells represent body-positivity, diversity, and an inclusive definition of beauty.
---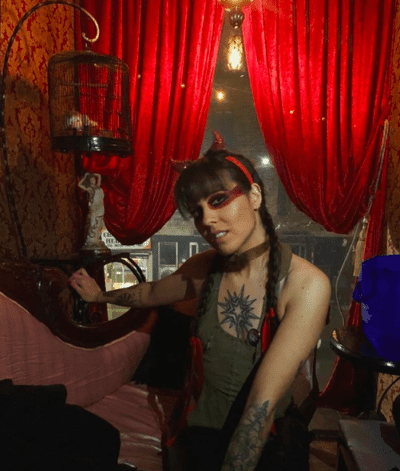 What do you love most about burlesque?
So, so much! I love how unapologetic burlesque is. It doesn't matter your skin colour, body type, ability, or how out there and weird you are, burlesque allows you to be, showcase, and celebrate yourself. For myself, I also love how I can use burlesque as a form of political expression, to create statements, messages, and stories. It's an amazing and unique art form to be able to do that.
Who inspires you?
I'm inspired by the entire burlesque community, and of course the Toronto community specifically because this is where I've been learning and growing as a performer. I've found so much lateral love, acceptance, appreciation, and encouragement here. It's this community that has made me feel comfortable enough to be my own expressive, artful, weird self. A huge personal inspiration for me though is Lou Lou la Duchesse de Riere. She is this Indigenous queen making massive waves. To me, seeing that Indigenous representation is everything because it's seeing myself represented. I'm also inspired by Virago Nation, an all-Indigenous womxn burlesque troupe out of Vancouver who are challenging the narratives and stereotypes of Indigenous womxn.
Can you tell us about how you chose your name? We love it!
Thank you! I love it too, haha. I'm also a drag king/boylesque performer, so I wanted a name that could be used for both my more femme and masculine selves. I identify as two-spirit and a shapeshifter, so my name had to represent that. The wolverine is known as a shapeshifter and trickster being in some Indigenous legends. It is also a very mean, ruthless, and powerful being despite its size. And that's who my burlesque persona is: this kind of trickster, intimidating, and powerhouse being. Wolverines are also nocturnal, and night represents the time for transformation and unseen happenings, hence midnight. I interchange Midnight Wolverine and Mx.Wolverine, the latter being
What's some advice you'd love to share with your younger self?
It gets so, so much better. You will find people and spaces where you feel safe and comfortable to explore and understand your true self. It's okay to screw up; it's what you are willing to learn and grow from that will make you the amazing person you are. Never feel ashamed for who you are, your identity, your sexuality, or how you want to express yourself. It is not up to anyone but you to do what feels right and joyful for you.
---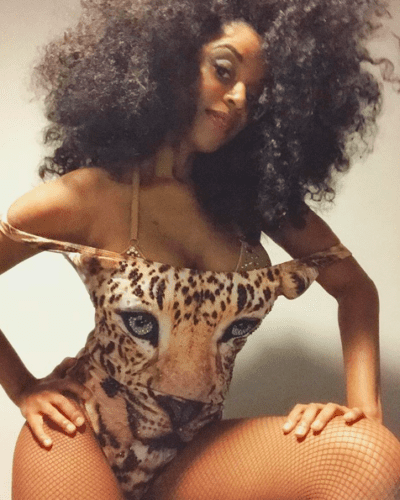 Can you share with us about what Toronto Burlesque looked like that first year, and how it has changed/grown?
The first year of the Toronto Burlesque Festival was a madcap adventure. Very grassroots. Very much held together with glitter and glue. Heaps of fun and held in some different venues from the ones we have used in more recent years. Since those early days, the festival has expanded in scope and evolved in its curation. We have always experimented. We have had multiple immersive shows with scripts that folded local and international artists into larger narratives. We have brought in artistic collaborators to co-curate with us. It's been such fun to see that growth over time and to see so many new artists discover burlesque each year.
For those who are new to the Toronto Burlesque community, how would you describe it?
I would describe the Toronto burlesque community as a vibrant, rebellious mix of innovative artists. There are so many genders, ages, body types, ethnicities, and styles mixing it up in our community. There's classic burlesque, comedic, satirical, political, nerdlesque, circus-based, drag, and more. There's room for so many perspectives and approaches and it's all expanding exponentially.
What are some things you love outside of this space?
Oh gosh. I can be pretty reserved in order to balance the time I'm performing in the public eye. That said, art and creativity really do drive my world. I like to take in arts and culture events around the city. I'm a member of Choir! Choir! Choir! Sometimes I volunteer as a designated dancer for Queer Slowdance. I am a multidisciplinary artist making all kinds of things outside of my burlesque practice. I make photos and videos, I write, I dance in many other forms, I dabble in songwriting, illustration, painting and acting. Some of my favourite people to create for are my madcap friends, and we slide into each other's DMs most nights of the week to crack each other up with custom memes and ridiculous videos we make while responding mostly in GIFs. I often say, the real me is in the DMs and it's true. It's probably my favourite time of day.
You've been Artistic Director to the fest for twelve amazing years, and now you're leaving your post. What an amazing contribution you've made! How are you feeling now?
Right now, I feel the usual pre-festival frenzy of tasks and checklists. It's mostly mental and tactical. That usually shifts at some point into actual excitement. I don't know how I will feel afterwards, but I anticipate a different kind of excitement to lean into everything that comes next.
---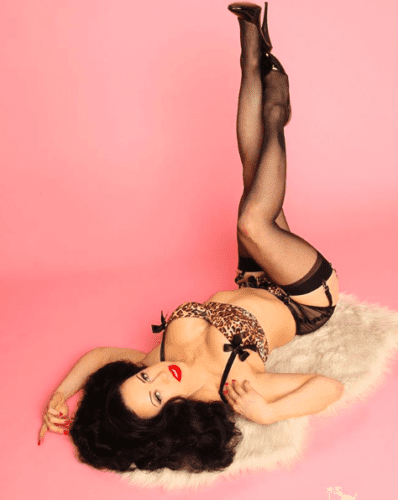 When/why/how did your journey with burlesque begin?
I didn't know what burlesque was when I bought tickets to my first show in the summer of 2003. Some friends I was in a writing group with sent me the ad for the show. The ad looked like beautiful pinup girls in lingerie, and whatever that meant, I was down to experience it.
That first show was called Burlesquefest, starring Catherine D'lish & Devotchka! Within a minute of witnessing Catherine onstage, I was all in. It was like a beam of light shone down from stripper heaven and illuminated my existing sensual sensibilities, exhibitional tendencies, and reignited my performance passions! Burlesque seemed to be the perfect opportunity for that dream to become reality while expressing even more of my whole self (and has it ever).
That fall/winter, a local troupe had started up in Minneapolis in a space that used to be a burlesque bar in the 60s. I went to one show. Then another. I approached the emcee at the end of the second, thanking her for the show and admitting I wanted to try it. She told me to put something together and come back the following Wednesday to audition, and I did. After the audition, she told me to come back on Saturday to perform, and I did, and then every weekend after in that space for the next three years, and then on.
When you're up on stage, what's going through your head?
It depends on the act and what it's meant to convey. Sometimes I'm thinking, "I want to have sex with all of you right now" or, "Pussy magic coming at you!" Sometimes it's internal boss-babe power-hollar, like a Xena warrior stripper. Other times it might be, "I really love you all. Thank you for being here and being with me right now." Sometimes it's, "I really hope that ____ holds up or comes off right."
What's a hilarious/fascinating fan moment you've had?
I was performing in the ring at a wrestling event and I spotted a sign in the second row, "Sweetpea on my face." I thought it was funny, albeit a little ambitious, and planned to find the guy after the show to give him shit. Turns out it was the wife of a couple who've followed me for years. I still gave her shit, then took a photo with them and the sign…and then took the sign home with me!
Advice for your younger self?
Bravely follow that ringing bell of joy, whether [it's] dinging from your head, heart, or underpants (and especially when it's all three). Life is too wonderful (and short) to be afraid to follow your passions or be overly concerned with what others think. Being a speck in this cosmos, life's meaning is what we assign it. Make yours amazing, be grateful for it, and you'll be surprised at how it responds.
---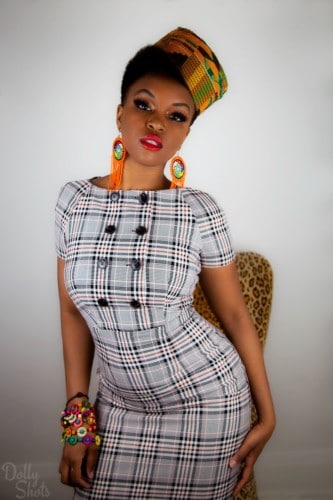 When/why/how did your journey with burlesque begin?
My journey with burlesque began during my university studies. I was taking a course on sexuality and popular culture and as part of my research for an assignment, I watched a documentary called Immodestly Blaze: Burlesque Undressed. I loved the celebration of female sexuality and the glamour that was displayed. I very much wanted to emulate that. I began to google burlesque in Toronto and the very first live show I attended was "Tim Burton Burlesque" produced by Peepshow To. Afterwards, I started kittening (the act of picking up the performers clothing) for Reveal Me Burlesque, and made my debut at the Girlesque Debutant Showcase in January of 2013, followed by Reveal Me Burlesque in April of 2013.
What do you love most about burlesque?
What I love most about burlesque is that I get to be in charge of my creation from beginning to end. I love that I get to design the costuming, pick the music and create the choreography. Being fully in charge of each creation allows me to express myself in whichever way I desire without limitations. My work is truly mine and a reflection of my creativity and the diverse aspects of me. I also love the glamour of it and designing costumes that make me feel my very best and super confident.
You won Queen of Burlesque in Panama – AMAZING! How does this make you feel?
Appreciated! It's really nice to have my acts celebrated and awarded. It makes me feel like my hard work has not only paid off but is valued and seen. I'm happy I'm able to inspire and excite others with my acts. I'm so honoured to have been crowned Panama Queen of Burlesque and will cherish that title forever.
The Toronto Burlesque Festival runs July 18-21. Get tickets now!