We're lucky to have a wealth of film festivals in this country, but the Canadian Film Fest (CFF) is the only one devoted entirely to homegrown films. "We are a 100% exclusive Canadian film festival," says Festival Director Ashleigh Rains.
Bern Euler founded CFF in 2006 so that Canadian filmmakers could see their work on the big screen. Now in its sixteenth year, the festival has become an invaluable event for the Canadian film industry. "When the festival started there weren't a lot of options if you didn't get into TIFF to screen your work," says Rains, sharing that CFF programs 10 feature films, and 20 to 30 shorts every year. "We also offer an industry series to Canadian filmmakers which is an opportunity to network, do professional development, hear panels and pitch projects."
One glance at the nominations for this year's Canadian Screen Awards and it's obvious that Canadian film is currently experiencing a golden era, with a broad range of storytellers creating powerful content that has universal appeal. "That stigma that Canadian films are lesser than our southern neighbours or don't compare to what's going on in Europe is not true. The diversity of content and voice, the creativity and the passion that goes into these films is phenomenal."
While the pandemic forced CFF to move online, it's a move that has enabled the festival to reach a much bigger audience. Partnering with Superchannel, the festival now has a Canada-wide reach. "It's a great platform for filmmakers to get their film in front of a large audience."
This year's Canadian Film Fest kicks off on March 22 with the world premiere of Tehranto (dir. Faran Moradi), starring Sammy Azero (In the Dark, Easy Land), Mo Zeighami (Three Sisters) and Navid Negahban (Tehran, Homeland), an unlikely story of love and family when Badi and Sharon, two young students with very different upbringings from a divided Iranian community, accidentally fall in love.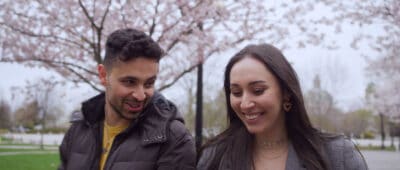 Katie Boland's highly-anticipated directorial debut We're All In this Together will premiere on March 24 and tells the story of a woman who goes over a waterfall, the viral video that captures the event, and the family meltdown that transpires as a result. We're very curious.
Another title receiving big buzz is Jeremy LaLonde's Ashgrove, premiering March 26. Written by and starring Amanda Brugel (The Handmaid's Tale), the film follows Dr. Jennifer Ashgrove, one of the world's top scientists, as she battles to find a cure to a crisis that affects the world's water supply.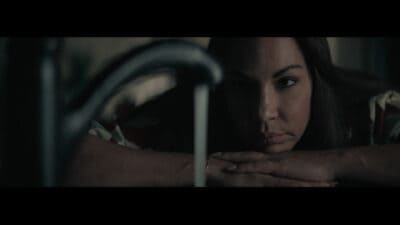 On April 2, Carmen (dir. Valerie Buhagiar) will close the festival. Starring Natascha McElhone (The Truman Show, The Devil's Own, Californication), this joyful and poignant film tells the story of a woman nearing 50 who must find her voice after her life of servitude to her brother in a tiny Maltese village abruptly ends.
For those who've never experienced Canadian Film Fest, or who perhaps aren't familiar with the exceptional talent in our industry, Rains encourages film lovers to give CFF a chance, and confidently says, "We won't disappoint." We know it to be true.
Canadian Film Fest will premiere exclusively on Super Channel Fuse beginning March 22.