Pineapples, pretzels, piña coladas and beer: Bathing Belle bathing suits are known for their brightly coloured prints that are both playful and cheeky. Founder and designer Danica Salajko grew up in the bathing suit biz and has many memories of playing with scrap fabric as her mom and aunt toiled away on sewing machines.
While other swimwear companies go for sexy or simple designs, Danica's prints are like a fruit punch-packed beach party onto themselves. We feel like they instantly make a trip to the local pool or lake more fun. Curious to know her history, and how she comes up with her designs, we reached out to Danica in her Roncy studio to ask some questions.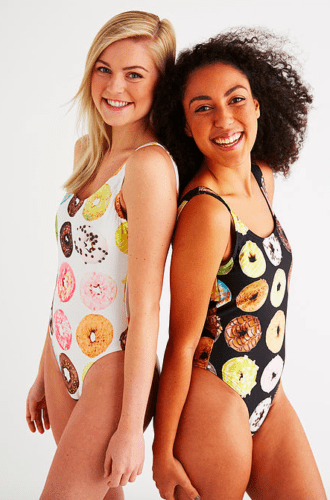 SDTC: What made you want to start a bathing suit company?
DS: I grew up in a swimsuit family. My aunt and mom opened a custom swimsuit shop in the early 90s in Toronto. Through the years, I learned how to make patterns, cut and sew my designs. I graduated from the fashion design program at George Brown College. Opening my own swimsuit shop is always something I wanted to do. I love working with my hands and creating something that brings smiles to the people I make them for.
I decided to start this business [in 2009] because through the years I've listened to ladies struggle to find a swimsuit that actually fits! I want to help take the stress out of swimsuit shopping. My team and I work with you to help find the right style and fit for your figure. We make swimsuit shopping fun!
What was your first print, and what have been your favourites since? Or maybe this summer?
The first two prints that really got a lot of recognition were the puppy print and the French fries! My favourite prints this year: OMG, Cosmic Wonder Dogs, and the Sparkle Unicorns!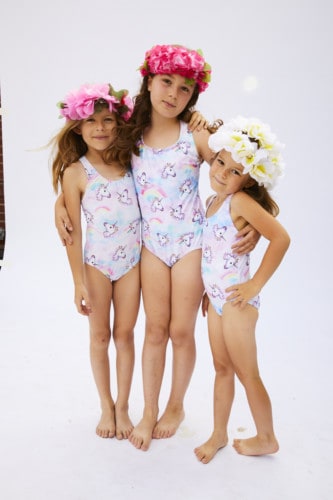 Where does your design inspiration come from?
My inspiration comes from things that make me laugh, moustaches, penis jokes, sausages!
Do you have a favourite swimming memory from your youth?
No! Actually, I can't swim! I failed yellow in swimming. It kind of scarred me for life. I consider myself a professional sun tanner; George Hamilton Cocoa Butter classic, here I come!
Got a favourite Toronto pool?
I love High Park pool! It has a waterslide!
Do you consider swimming to be a beautiful thing? Why?
Even though I can't swim, I still consider swimming a beautiful thing. I actually prefer to watch others swim!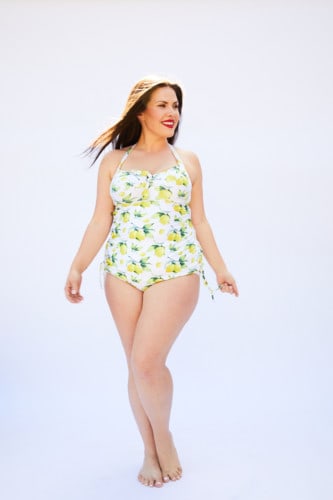 Got a favourite summertime snack?
Does beer count as a snack? There's nothing like cracking an ice cold Beau's on a hot summer day!
What's the most enjoyable part of running Bathing Belle?
The most enjoyable part is no longer operating this venture out of the basement (or the crypt, as I like to call it) of my house. I'm happy to finally have a store where I can really showcase all the amazing styles!
What's on your summer bucket list?
I would still like to sneak away to a cottage this summer!
Visit Danica and check out the Bathing Belle collection at her second-floor shop on Roncesvalles (355 Roncesvalles Ave–upstairs, above the Old Country Shop). Hours: Monday to Saturday 10-6. Closed Sunday. You can also browse the online shop here.