Comedian and writer Carol Zoccoli was born and raised in Brazil and now calls Toronto her home. She's currently a teacher and performer with Second City's Education Company and has appeared on CBC's The Debaters, NBC's Breakout Festival, Hubcap Comedy Festival and more. Her new show, How To Beat Up Any Man, opens at Second City this spring.
We chatted with her about the show this week.
SDTC: So what was it like growing up as a woman in Brazil?
CZ: Brazil is a sexist country. The president in charge has said to a congresswoman that "she's so ugly that she doesn't deserve to be raped." That's the climate. I grew up in a tough neighbourhood, and I had to define for myself what it meant to "act like a lady," because if acting like a lady involved letting men do heinous stuff and [then being] quiet and docile, that didn't sound right to me. So I'd make boys and men alike respect me, by beating them up, even though I'm just 4'11″.
Did you actually have to beat up men?
Yes, definitely! There are so many stories, and I had to leave some out because the show is only sixty to seventy minutes. One story that is not on the show is when I beat up my landlord. He was claiming that I was making a noise that didn't come from my apartment, and he wasn't someone who you can have a healthy discussion with. He was aggressive and tried to intimidate you to get his point across. In one discussion, he tried to intimidate me physically, so I beat him up to let him know that the trick of intimidating a woman physically doesn't always work. People called the police on me, but thankfully I didn't end up in jail. After beating him up, the unfair complaints ended and I had peace. Sometimes you only need to beat up a man to make your life better! LOL.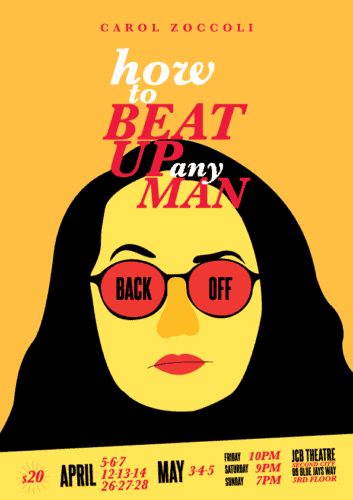 How did your show How To Beat Up Any Man come together?
The idea for this show came to me when I went to a "Women in Comedy" meeting in Toronto. When the comedians started talking about the challenges of dealing with a male-dominated environment, I thought I could bring a lot to the table, because of my experience hanging with gangs in Brazil. But after listening to them, I noticed the abysmal difference in growing up as a woman in South America as opposed to Canada. I didn't feel like talking in the meeting. I felt out of place. But this show is what I wanted to say to those women: We have the strength to survive and thrive even in environments contaminated by the worst kind of toxic masculinity.
So cultural shock was the first impulse to tell my story. I saw the differences between growing up as a woman in Brazil and Canada, but at the same time, I understood that those differences are superficial and our human experience is universal. I think that men can also connect with the show. Men have the experience of being repressed by other men. Men are also victims of toxic masculinity.
But in writing the show, I realized that I couldn't tell this story in a strict stand-up format. All the complexity of womanhood, with its quest for strength and acceptance, with its discrimination and strict rules, with its ruthlessness and love…all of that deserved a platform where I could use more storytelling tools. So I invited director Clara McBride to help me give the story a deeper and more theatrical feature.
It's the first time I'm doing a one-person show, so the challenge of writing, producing and performing my story with an open heart takes strength, especially because I'm opening up a lot of dark memories.
Walk us through a typical day in your life.
I wake up, have some breakfast and just go around beating up men. Hahaha, just kidding! #notallmen
What drew you to the world of comedy?
I was doing my MA in Philosophy at the time and I just needed to get out of the house and be in an environment where I could be dumb and laugh. Stand-up comedy as a genre was at its beginnings in Brazil. When I started doing stand-up back in Brazil, we needed to explain to the audiences what stand-up comedy is before the show! So it was exciting doing something totally new for me and for the audiences. I started making a living as a comic early on in Brazil, so my realization was that I was already making a living!
When I moved to Canada six years ago, I had to start over. And doing comedy in English has forced me to find new ways of doing comedy, since I can't rely too much on language.
What is your mantra these days?
"Don't judge yourself." When we let the critic inside our head have a voice, we can't do anything. Especially if you're doing a one-person show, don't listen to the critic voice inside your head!
How would you like to see the Canadian comedy scene change?
I wish we had a stronger industry in Canada. The number of opportunities we have do not match the level of the comedy we have here. There are so many great comics here. I consider myself lucky to be among them, learning.
How To Beat Up Any Man hits the stage at John Candy Box Theatre (99 Blue Jays Way) this April. Grab tickets here.