Virtual Kindergarten hasn't been easy—but the finish line is near! CBC Kids wants to help celebrate your child's milestone by including them in their National Kindergarten Graduation Ceremony.
CBC Kids Kindie Class of 2021 is a Facebook LIVE event to honour Canada's littlest of graduates and will take place on Saturday, June 19th at 1pm EST via CBC Kids' Facebook page. Right now, they are trying to include as many kids as possible in this special event; if you'd like to have your child recognized, they are asking parents and caregivers to submit a photo between May 27th and June 1st.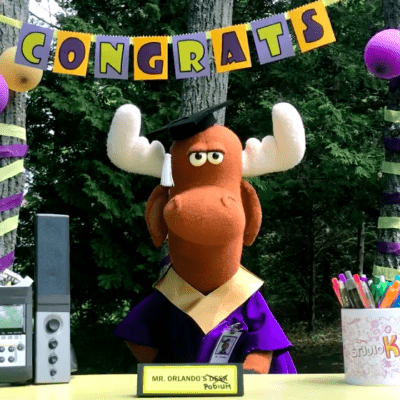 The super fun virtual event will be hosted by Gary the Unicorn and co-hosts Tony, Janaye and Mr. Orlando. All of them will guide your kids through live games and activities that will celebrate everyone getting through this year. We think that seeing themselves on TV, and being acknowledged, would be a really nice way to end the school year.
Check out last year's grad show here, and head to CBC Parents if you want to submit a photo.