After watching Poly Styrene: I am a Cliché, I feel embarrassed that I never knew of Marianne Elliott, the trailblazing punk icon, known as Poly Styrene, who was a successful independent artist as well as being the frontwoman of popular London punk rock band X-Ray Spex.
In an era associated with Johnny Rotten, Sid Vicious, and numerous other angry white men, Poly Styrene gave people an alternative rebel to look up to, especially women of colour. From the moment she hit the stage, at the young age of 19, with her big smile, metal braces, powerful voice, and zany futuristic fashion, she was an instant role model. But to Celeste Bell, she was first and foremost "Mum".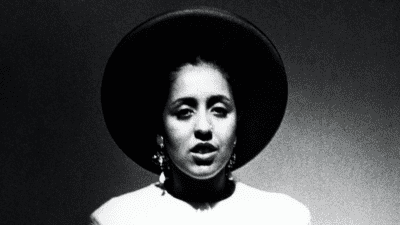 While Celeste always knew her mother was famous, it wasn't until after her death, in 2011, that she began to understand just how profound an impact she had had on people, and culture as a whole.
After an intense period of grieving, Celeste started to dig through her mum's massive archive of work and was blown away by just how much she found. "I was struck by how prolific she was in terms of the visual arts," she tells me, sharing how she discovered mounds of unpublished work, from song lyrics to poetry, but also diary entries that date back to her youth. She began piecing together a book, and decided that she also wanted to make a film, but the neither would just be about her mother, "It was necessary for me to also talk about my relationship with my mother, in both the book and the film." A relationship complicated by Marianne's struggles with mental illness.
Poly Styrene's songs tackled race and identity in an era in Britain when racial tensions were at a boiling point. With a white mother and Black father, Marianne confronted the unique struggles that come from being biracial, or what the British commonly referred to as "half-caste" at the time. "It's like saying you're not whole, you're just a part person… a fraction," Celeste says in the film, sharing how she and her mother both hated the term, and how that disgust was expressed in Marianne's poem "Half-Caste", one of the many artifacts shared in the film.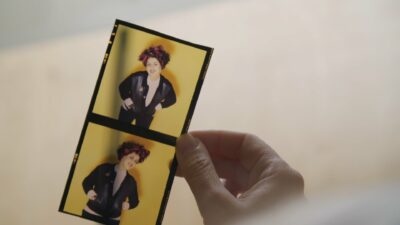 Like her poetry, Poly Styrene's lyrics were fearless and emotive. Songs like "Oh Bondage, Up Yours!" and "Identity" captured the tensions that were felt in the streets of London, and all over the UK, at that time.
With old diary entries read by actress Ruth Negga, and train-of-thought narration by Celeste, the documentary retraces Marianne's steps, from the tough neighbourhood she grew up in to an early and influential Sex Pistols concert on the Hastings Pier, and the Hare Krishna manor she later lived in with Celeste.
The film also takes audiences to New York City, where Celeste walks the streets, trying to see things through her mother's eyes. This physical retracing is cut with archive material and interviews from a range of notable subjects including Neneh Cherry, The Raincoats, Don Letts, The Bodysnatchers, and The Slits and Sonic Youth's Thurston Moore, who describe events, like an X-Ray Spec's concert at New York's renowned CBGB's bar, where Poly Styrene front-row fans included Blondie, and other scene legends.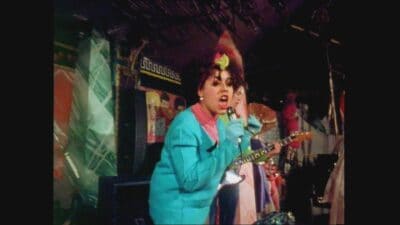 It was during that drug-fuelled time in New York City, in the mid-seventies, when Poly's suffered a mental breakdown. "She was misdiagnosed with Schizophrenia, when she had acute bipolar disorder,"Celeste explains in the film. "The first time she saw herself singing on the telly, she was in a psychiatric ward."
That was in 1978, when Poly was just 21, and it would mark the beginning of her long battle with mental illness.
Celeste doesn't shy away from sharing the hard times in her life when her mother was incapable of caring for her, and how social services were forced to intervene. But she also examines the gifts that her mum gave her. "I think I am who I am because of her. My mum used to sing in the street. We would be walking down the street, or we'd be in the tube, and my mum would just start singing, and I would be really embarrassed. Or she would wear crazy clothes, and I'd be really embarrassed. That kind of chronic embarrassment was a constant feature of my childhood," Celeste tells me, smiling. "Now, I find myself doing the same things. I appreciate the kind of strength that my mother had to be herself and not worry about what other people thought. That's what she was constantly drumming into me: be an individual, don't just follow the crowd, don't be afraid to stand out. I'm not as eccentric as she was, and not as brave as she was to be an individual, but it's a constant learning process."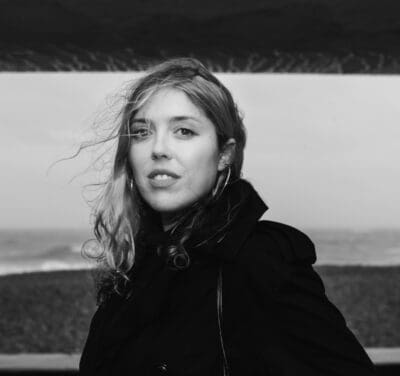 Poly Styrene: I am a Cliché is now playing at theatres and on VOD.