Ever since it first premiered at the Toronto International Film Festival (TIFF), Chandler Levack's I Like Movies has been steadily growing a cult-like following, in Canada and all over. The tender coming-of-age story gives an honest portrayal of teenage life—the awkwardness, the confusion, the naivety, the moodiness—but I Like Movies is also a love letter to film, and more specifically the bygone era of the video store.
The story is largely inspired by Levack's youth, as a movie-loving kid growing up in Burlington, Ontario, working at the local Blockbuster, dreaming of a future career in filmmaking, and nerding out on indie hits like Welcome to the Dollhouse, Ghost World, and other classics from the nineties and early aughts. But 17-year-old Lawrence Kweller (Isaiah Lehtinen) isn't a carbon copy of young Levack, although there are many similarities. "We're both really ambitious cinephiles with anxiety problems, who imprinted on popular culture in maybe a less than healthy way," Levack says, cracking a smile. "I'd like to think at the time that I had a little bit more self-awareness and kindness than he did."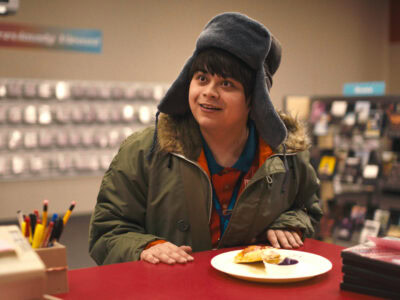 It's the year 2003, and Lawrence is in his final year of high school. He's completely movie obsessed and determined to attend the film program at NYU's Tisch School of the Arts (even though his mother has repeatedly told him it's not within their budget). His days are spent working on his school's end-of-year video with his only friend Matt Macarchuck (Percy Hynes White), who is as equally awkward, in a hornier and ganglier way. But the real highlight of Lawrence's week is when he hits the video store on Friday night to pick his pile of flicks for the weekend. He's a known regular amongst the staff, and is elated when he lands a job there.
His demanding schedule, combined with a self-important attitude, (he's certain he's a future auteur), causes a rift between him and Matt. Leaning into the video store staff for community, Lawrence develops a crush on his older manager Alana (Romina D'Ugo), who helps him get real about his future.
Writing Lawrence as a boy allowed Levack some narrative distance, which in turn helped her to craft a more honest portrayal of her own experience. "I think there's something about reversing the gender of a character, you can kind of be more truthful and autobiographical… If I made that character a young woman it would have been too much."
Lehtinen has been lauded for his performance, which has earned him several accolades including winning Best Actor in a Canadian Film at the Vancouver Film Critics Circle Awards 2022, as well as being named a "Rising Star" by TIFF, but the supporting cast deserves applause too. Every scene that Lehtinen has with White, D'Ugo, as well as Krista Bridges, who plays Lawrence's volatile yet devoted mother, is totally absorbing. The casting of I Like Movies is brilliant, and it's a joy to see so many homegrown actors shine (it's actually shocking the film didn't receive more Canadian Screen Award nominations—and I'm not alone in thinking that).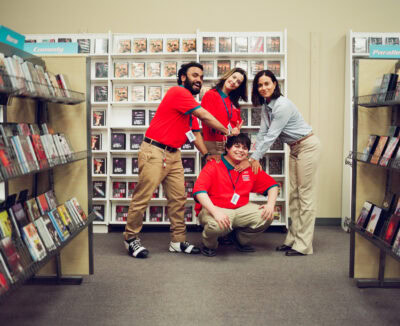 With clever dialogue and dramatic scenes that elicit nonstop smiles and laughter, I Like Movies is a film that is an absolute pleasure to watch—a story that audiences will enjoy. But Levack also manages to bravely and carefully delve into heavier issues, exploring themes of anxiety, suicide, and sexual assault, without weighing things down. For a debut feature, it's a feat, and demonstrates her talents as both a writer and director, however the real magic of I Like Movies is the nostalgia it inspires, and the questions it raises, namely: What have we lost? What else was taken when streaming giants killed off video stores? Levack doesn't name it, but audiences can feel it.
"There's something holy about it, the ritual of renting a film… a physical object that you get to have temporary ownership of makes it so much more special. I feel like when media is just all interchangeable and kind of disposable, and there's often no [tangible] monetary investment in it, then your emotional relationship isn't as deep," Levack says sorrowfully. "I think that's why so many people start watching a movie and turn it off and look at their phone."
Watching I Like Movies, one cannot help but reminisce about the era when weekends often started with a trip to the video store. Slowly choosing what to rent was an event in and of itself, and almost as fun as watching the film. Unlike now, where we rapidly flick between genres and titles, we took time to wander the aisles, picking up VHS tapes or DVDs to see the cast, flipping them over to read the blurbs on the back. Of course, peeking into the X-rated section was also part of the experience, as was judging the staff member's picks and seeing whose taste you most aligned with.
If you lived through this era, you had a favourite spot. For some it was the local Blockbuster, but cities were also full of smaller neighbourhood joints with big personalities. Torontonians who watch I Like Movies will undoubtedly strike up conversations about Videoflicks, Queen Video, Suspect Video, Black Dog, or the many other gems that coloured our blocks. But as Levack reminds me, video rental culture isn't totally dead, "Eyesore Cinema on Bloor and Dufferin is still going. It's an amazing independent video store. If anybody wants to keep supporting video store culture in the west end of Toronto, you should go to Eyesore."
I Like Movies leaves audiences gushing about their genuine love for film, excitedly listing off titles that have deeply influenced them. For cinephiles, there's nothing better. Levack has made a movie about movies that movie lovers will cherish and talk about for years to come.