As part of our year-long partnership with HomeSense, we've enlisted TV Host, Interior Designer and YouTube DIY creator Cheryl Torrenueva to help us spruce up our balconies, gardens and patios this summer. If you're lucky enough to live in a home with an outdoor space, you're going to want to soak these tips in!
And, be sure to scroll to the bottom of the post to see our budget-friendly outdoor furniture and decor finds from HomeSense, including a PINK bar cart, which we all need in our lives.
SDTC: What are some trends that we're seeing this summer in outdoor spaces?
CT: If you're planning on incorporating some cool trends to your outdoor space, make them count! I love the idea of blurring the lines between the indoors and outdoors so it feels like you've just added extra square footage to your home.
Built-in seating is making a comeback, and can give you a custom feel, but don't worry, it doesn't have to blow your budget. Try creating bench-style seating with planks of reclaimed wood placed on top of blocks of concrete for a modernist feel. You could even create a DIY day-bed made of stacked recycled wood palettes and lots of fun outdoor pillows on top.
Going natural and organic this season is key! We're moving away from "over the top" luxe landscaping. It's about celebrating your harvest and mixing low maintenance plants with your fresh herbs and vegetables; bring the "farm to table" experience right to your home to share with your guests. Materials like salvaged wood and cool railway ties work best – the more distressed the better! We're straying from stark modern sensibilities and focussing on comfort and feeling like we are walking into a space that has lots of character.
Also, try mixing different patterns. Experiment by pairing a variety of scaled patterns from large palm leaves with smaller tribal prints in black and white, to textured fabrics like cut velvets; the more the merrier! Jewelled-toned hues like amethyst purples, sapphire blues and jade greens are staying strong.
Can you speak to some larger 2017 interior design trends that can be translated into an outdoor space?
Marble and stone is super hot right now, whether it's real or faux. You can add a hint of glamour to your space by sprucing up your outdoor dining table with a faux marble paint effect, or incorporating a marble cutting board or printed marble fabric napkins into your table scape.
Rose gold and coppers finishes are a great way to add a soft and elegant vibe to your current decor. Consider using outdoor spray paint, like Rustoleum in rose gold to dress up old metallic plant pots or your dining table base.
Celebrate ceramics. Think muted softer neutrals with a variety of textures as opposed to brighter glossier tones. This allows the look to feel more natural and approachable as opposed to feeling like you bought everything new. You can take this trend outside by incorporating a ceramic floor tile to separate your dining area from your patio.
When designing an outdoor space, should you have a focal point like a garden or a water feature, or is that an antiquated way of thinking?
Having a focal point in your outdoor space is a great way to add drama, but these days, things don't have to follow any specific rules. I find it way more interesting to create multiple vignettes and play with heights. You want to be able to tell a story and spark conversations at many different levels.
Let's say your focal point is the gorgeous garden in the centre of your backyard, you could set up an intimate lounge area to one side with a bistro set where you can enjoy your morning coffee. Add an outdoor area rug where you can place large oversized floor cushions to read a book or play with the kids. Then to the other side of the garden, there may be a good opportunity to set up a dining space. If your space is limited, I love the idea of a long multi-purpose table with stools (counter height) that can be used as a serving area, or even to set up a bar when you're entertaining.
What are some key pieces (furniture or decor) that you can add to your outdoor space to give it a little refresh, without breaking the bank?
With stores like HomeSense, you can easily update your outdoor space without feeling too guilty. I like to hunt for accent cushions that have different patterns on both sides of the pillow so I can switch things up depending on my mood.
If you've got furniture that is still sturdy but just needs a little pick-me-up, try painting the legs of your table or chairs in a fun bright colour to get the dipped effect. Just a bit of painter's tape and some spray paint can bring new life to your prized pieces.
I also love shopping at thrift stores because I don't have to worry if things only last for a few seasons. I look at pieces that have an interesting silhouette and either freshen them up with a coat of paint, reupholstery or by giving it a whole new function. Something as simple as a collection of wicker baskets can be transformed into wall art hanging on your fence!
Can you share your top 3 decorating tips for outdoor spaces?
LIGHTING: I like having different types of lighting, like uplights that light up your shrubs, trees and plants. Then add something dramatic by hanging multiple lanterns over your dining table at different heights. And of course candlelight in votives set at every place setting adds a little romance. This gives you more space on your table for all the yummy food!
LAYERING WITH FABRICS: I love collecting interesting fabrics. Anything from a patterned throw to a silk sari can be used as a table cloth, or even suspended from a tree to create some shade over a lounge area. You can also wrap existing pillows in fashionable scarves to change up the look.
CREATE A COLLECTION: Your collection doesn't have to be expensive and it could be anything – various sized plant pots full of succulents on a table, or a bunch of reclaimed wine crates stacked on top of each other to create a DIY outdoor shelf. There is strength in numbers and collections can add lots of visual interest in the most simple way.
Based on Cheryl's insights, we've rounded up 9 pieces we love from HomeSense that are sure to add a hint of colour, whimsy and fun (hello pineapple sling chair!) to the outdoor nook of your dreams.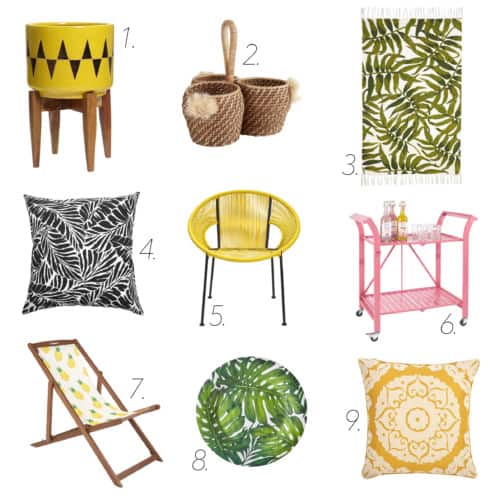 1. Ceramic Planter with Teak Stand $49.99 (Compare at $75)
2. Woven Beverage Caddy $16.99 (Compare at $24)
3. (27×45 cm) Printed Cotton Rug $19.99 (Compare at $30)
4. Palm Print Outdoor Cushion $24.99 (Compare at $40)
5. Mid-Century Inspired Chair $99.99 (Compare at $150)
6. Outdoor Bar Cart $79.99 (Compare at $120)
7. Pineapple Sling Chair $69.99 (Compare at $95)
8. Melamine Dinner Plate $4.99 (Compare at $7)
9. Medallion Cushion $39.99 (Compare at $60)